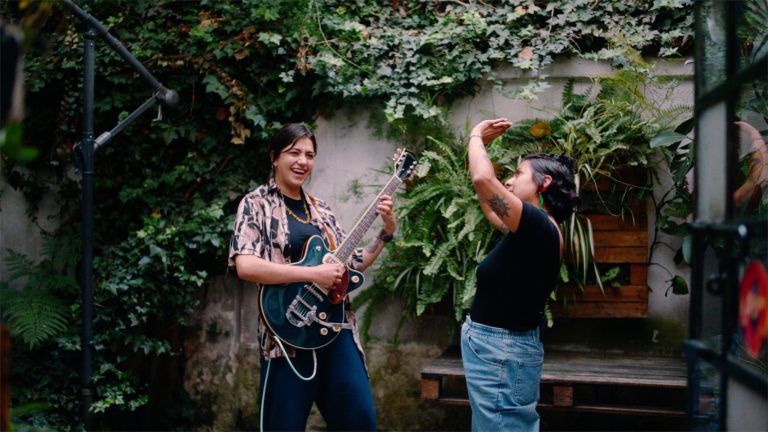 New Colombian Music Vault #10
29 September, 2022
The vaults have been opened, but only for a moment, as Jenna Mackle smuggles in her essential selections from the land of sabrosura…
---
Romperayo – Asi No Se Puede Muchaches
A new release from one of Bogotá's favourite cumbia fusion bands, Asi No Se Puede Muchaches is sure to excite the auditory senses of every psych-tropicalismo music lover. 
Romperayo's newest release, although with a strong grip on their typical Caribbean-influenced style, takes their music into new and wonderfully weird territories. Tracks like "La Segunda Parte de la Reforma Agraria", and "Sangre en la Uña", showcase the band's experimental side, amplifying their much-loved Bogotano-style cumbia fusion more than ever before. 
---
La BOA – La Bestia
La Bestia, referring to a freight train that many Latin American migrants travel on to take the perilous journey across the US border, is the latest release from La BOA. Birthed during the pandemic, La Bestia showcases the band's speciality in mixing styles from across the globe; Afrobeat, jazz, funk, and of course many infectious genres from the Caribbean Coast of Colombia. 
"Déjalo Llover", featuring one of Bogotá's most prolific rap artists, N.Hardem, diligently display's the group's quintessential love for Fela Kuti's Afrobeat style, combined flawlessly with their guest's hip-hop touch. 
---
Flash Amazonas "Ululo"
The Colombian-Japanese duo, Flash Amazonas, has returned with an upcoming album set for release in October 2022. The second single of said album, "Ululo", is the perfect taster of the avant-garde experiment that ensues when these two cultures collide. 
With psychedelia, discord, and angsty punk-esque vocals, "Ululo" certainly doesn't scream 'Colombia' upon first listen. However, it is the fusion of cultures, the experimental mix of differing and unparalleled sounds, that gives "Ululo" its place within this celebration of new Colombian music. Also, check the accompanying music video, the perfect visual partner for this slab of 'hyperbolic existential realism'.
---
Cerrero & Viivi María – Cumbia De Las Almas Extrañas
A new style of collaboration from renowned producer Cerrero and Finnish accordion player, Viivi María. Taking centre stage on this track is Viivi's playing, which infuses the usual Colombian Caribbean accordion styles with a breath of fresh air, while never going to far from the roots – the traditional aura of accordion cumbia is still present and correct. Cerrero completes things with flawless production, true to his somewhat dark and hypnotic style. 
---
Las Mijas "Ronca (Carta Para Una Mija)"
The latest release from two of the most acclaimed female singer-songwriters in Bogotá, La Muchacha and Briela Ojeda. It's the latter, Ojeda, who leads this song, whose lyrics are focused on rest and self-care. In truth, it's very typical of Ojeda's style, rather that the politically-driven and gutsy work of La Muchacha.
In typical Briela Ojeda fashion, "Ronca" is a musically modest piece of work, choosing to focus on vocals and just an accompanying electric guitar. However, it is the exquisite lead vocals, beautifully accompanied by those of La Muchacha, that creates a simple but impeccably-crafted contrapuntal vocal conversation that makes this song one you'll want to listen to over and over again. 
Watch Las Mijas performing "Ronca (Carta Para Una Mija)" live below:
---
La Perla – Callejera
Surprisingly, despite being on the Colombian music scene for some time, with a number of international tours to their name, Callejera is the first album to be released by the female trio, La Perla. 
The album showcases the group's talent in bullerengue and other traditional Caribbean forms, with "La Selva" the most recognisable of its songs. Never forgetting the band's Bogotano roots, the album opens with "Tabogo", and takes us on a journey through a variety of genres, while always firmly rooted in La Perla's signature style. Through the beautifully arranged "Palalma", featuring Briela Ojeda, the mystical, jungle-esque "Florion" and through to the final song and most distinct of the entire album, "Pal Mambo", made with the Frente Cumbiero crew. 
The fusion of styles and the incorporation of many notable musicians from the contemporary Colombian music scene is a testament to La Perla's position in the musical landscape of the country right now.

Follow Sounds and Colours: Facebook / Twitter / Instagram / Mixcloud / Soundcloud / Bandcamp

Subscribe to the Sounds and Colours Newsletter for regular updates, news and competitions bringing the best of Latin American culture direct to your Inbox.
Share: