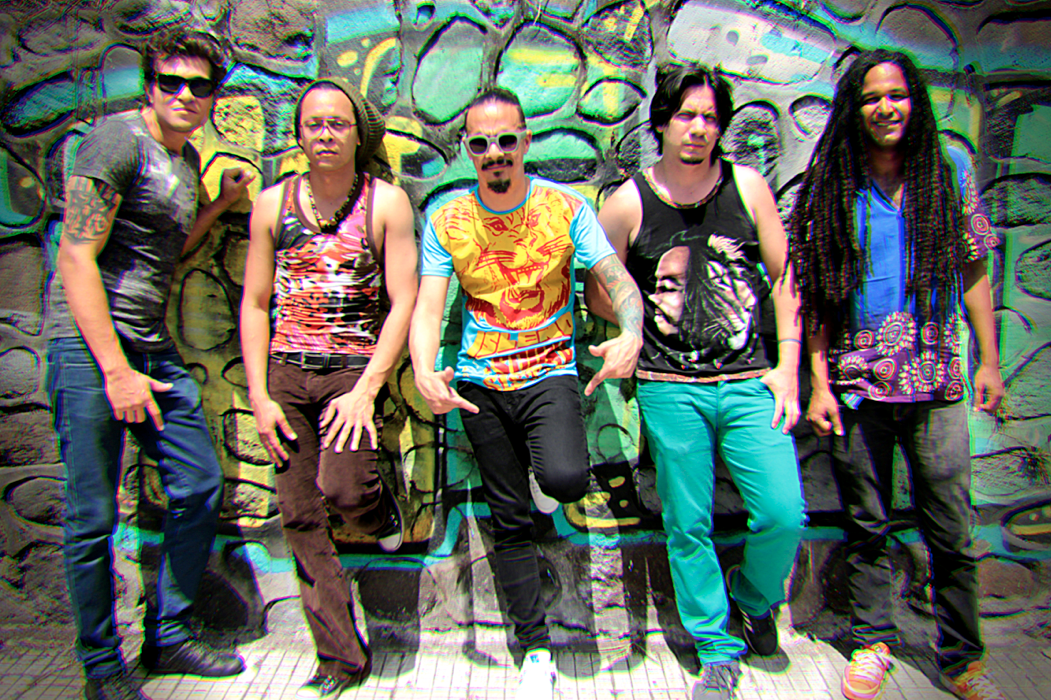 New Video by Colombia's Colectro feat Tostao: 'Leslie, Sistema Correo de Voz'
22 September, 2015
Colombian artists are no strangers to concocting songs for the women in their lives.
The great Joe Arroyo had two:  "Tania (1974)" and "Catalina del Mar (1980)." Los Hermanos Zuleta had an ode to a heartbreaker by the name of "Indira." The late Diomedes Diaz sang about having to return to the mountains to see "Zunilda." And the mid-1990s brought us Carlos Vives' offering, "Pa Mayte."
The Bogotá-based, but Barranquilla-bred, Colectro, is carrying on the Colombian tradition with their latest single, "Leslie, sistema correo de voz (voicemail)," which features Chocquibtown's Tostao as a special guest.
We spoke with lead singer, Gonzalo Prieto, who, like the rest of the band, is from Barranquilla (more on their origins here), about the new track. The upbeat tropical single features an adventurous video, which was shot and produced by Christian Mejía of GatoVerde Films of Bogotá.
Sounds and Colours: Ok. Who is Leslie? Did she break your heart, and are you still getting her voicemail?
Gonzalo Prieto: Leslie isn't a real person, but she's that woman who all men have want badly, yet does not want a commitment with a man. She has the power not to even bother with them. She is that coveted girl that just doesn't pick up her phone for anyone.
S&C: What is the meaning of the cute dog in the video?
GP: Piper, our protagonist dog in the video, somehow represents the average man who likes going out, partying hard. However, though we men seem like "dogs," we often end up falling in love very easily, and acting like complete fools because of it. We liked the idea of starting the video with a couple, the women leaving the house, and the dog going after her. We wanted it to be from the perspective of the dog, a search, and an adventure. And, of course, there's the ending, which reveals that the dog is, well, a dog, in the end!
S&C: Tell me about the sound and the musical style of this song, which makes one want to dance! Do you feel your sound has evolved as you have grown as a band?
GP: "Leslie" is a lighter, more of a commercial, radio-friendly, song for us. We wrote this song to let our fans know we're in a broader space. This doesn't mean we've left behind our signature "coletera" style, but we find a conceptual balance.
And, working with Tostao with great. He has extensive commercial success and experience because of his work with Chocquibtown, so it allowed us to explore and learn more about how to approach more people with a song that is excellent for any party, since it's easy to dance and sing along to. We also got an amazing opportunity to work with a wonderful musician who worked closely with the master, Joe Arroyo, on the musical arrangements of his songs with flutes, saxophone, and trumpet for many years. I am speaking, of course, of the master, Juventino Ojito, who gives "Leslie" the tastiness that is the tropical son sound that so many associate with "El Joe."
S&C: What is next on the horizon for Colectro?
GP: We've been in the studio all this time, putting the finishing touches on our full-length deabute album, Coletera, which we recorded in 2013 and 2014 with Tambora Records. There are 11 songs in total, and we'll be releasing each song, one by one, until the entire record is out.
"Leslie" is the first single, and is available on Spotify, Deezer, iTunes, and other online retailers, worldwide.
Keep up with Colectro on Facebook.

Follow Sounds and Colours: Facebook / Twitter / Instagram / Mixcloud / Soundcloud / Bandcamp

Subscribe to the Sounds and Colours Newsletter for regular updates, news and competitions bringing the best of Latin American culture direct to your Inbox.
Share: