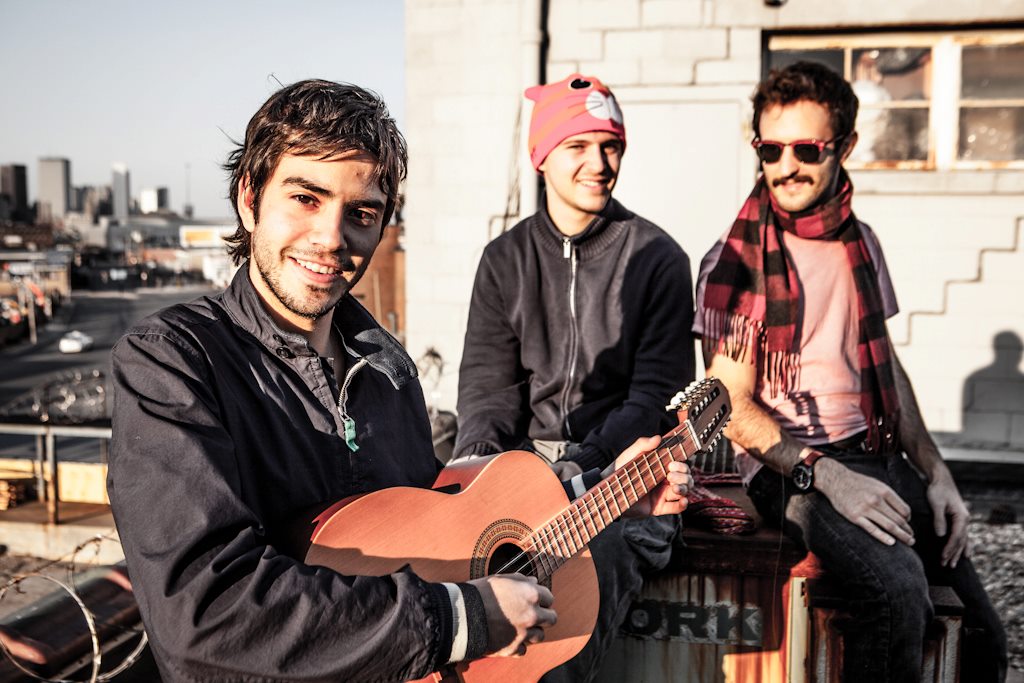 courtesy of the band
Numasbala's 'sacudón' offers music that is designed to shake
17 June, 2013
Any band that opens for Bomba Estéreo piques my interest, and that's exactly why I went digging into more about Numasbala. The Berklee College of Music alums opened for Bomba in New York this past April.
The eight-piece New York City-based band describes their sound as sacudón and "reggae-funky-rapattackaton-afro-gypsy-ska." They are: Fabio Montenegro, lead vocalist and bass player from Colombia; Felipe Piedrahita, backup vocals and guitarist also from Colombia; Javier Samayo, a Guatemalan who supports on vocals and plays keyboards; David Cornejo, a drummer from Peru; Michelle Walter, a vocalist from Guatemala; and three Americans: James Hall, trombone, Dos Allen at alto sax, and Michael Gennari at bari sax.
Check out the Q & A below, in which their responses are filled with good vibes!
Sounds and Colours: You all met at Berklee, a school which I imagine the school has so many talented people. How exactly did your musical tastes/preferences lead you to link?
Numasbala: Music and the school brought us together, curiosity and exploration made us start jamming and playing, and friendship and love for each other and for what we do has kept us together. Spanish language also helped us link. The bands and styles that we like are a strong connector, and we all shared in the mix new artists and styles that some of the other members didn't know but got to listen and like. All this said, we must express that what connects us goes beyond what our senses can experience. For us what connects us is that we know that Numasbala is both a channel and a vessel through which we can forever grow and explore ourselves. It is this love, respect and gratefulness for both the ship and the river, which holds us together.
Explain "sacudón" and also your band name.
Sacudón is music that is designed to shake. Vibration generates all that there is and it is through movement that we create ourselves. Sacudón shakes so that we can see things from a different place, so that we can change, so that we can grow. It is this concept that is engraved in every note we play. Our style is obviously a reflection of our musical tastes and influences, but more importantly it is a reflection of what we are aiming to accomplish as artists. To move you, be it body, mind or spirit is all we look for.
Numasbala – No more bullets, no more hate, no more fear. No more of that which doesn't let you be happy and peaceful. Numasbala – Beautiful power Numasbala – Love is all you are.
What musicians/artists are you most influenced by?
Fela Kuti, Femi Kuti, Calle 13, Manu Chao, Bob Marley, The English Beat, The Strokes, Upsessions, Fabulosos Cadillacs, Cultura Profetica, Grupo Niche, Juan Luis Guerra, Joe Arroyo, and many artists from Fania Records.
What's next for the band this summer?
Play, record, smile. We have three gigs coming up in the NYC and Brooklyn area, and we're excited about that. Also, we are going to start pre-production on our second album. Apart from that, we'll be practicing, experimenting with new music and new sounds, reading, writing, living and smiling. The rest is confidential. A secret to discover.
Summertime is festival/concert time in NYC. What fellow indie bands are you excited to either see or play with this summer and why?
Excited to play again with our friends from EMEFE and Escarioka. As for bands to see… all of them! Its music! It's all beautiful!
Listen to Numasbala on their Soundcloud, and find them on Facebook for show information and updates.
[soundcloud url="http://api.soundcloud.com/playlists/2774019″ params="" width=" 100%" height="450″ iframe="true" /]

Follow Sounds and Colours: Facebook / Twitter / Instagram / Mixcloud / Soundcloud / Bandcamp

Subscribe to the Sounds and Colours Newsletter for regular updates, news and competitions bringing the best of Latin American culture direct to your Inbox.
Share: