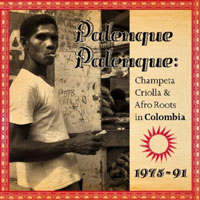 Review
Palenque Palenque: Champeta Criolla & Afro Roots in Colombia 1975-91
As any student of Columbian music will tell you, in the 1970 and 80s, the hot sound systems of Barranquilla and Cartegena were not into disco but were looking to their African roots and mixing it up with Caribbean Creole as well as Colombian hits for the sounds of the day; this was what became known as Champeta. Picking up on the lead of the sound systems, local musicians caught the vibe and immersed these influences into their music so you get a bit of everything from traditional African folk songs to Highlife and Afrobeat on these 21 tracks.
The opener "Esclavo Moderno" is typical as its tropical voodoo beats mixes it up with Dick Dale and is "Burumburumbum" Hawaiian jazz limbo boogie? "Tungalala" has an echo from Soweto and "Naga Pedale" is straight from Haiti; or is it the other way around?
In contrast "Dejala Corre" gets into a bit of a Brazilian groove and "Tetero" is some jazz-bongo-pan-pipe-funk and for some space-jazz funkin' ala Columbia, La Tromba give it some of "Calaba Calabao".
The whole CD is brilliant and whilst there is a Sean Connery as 007 gets captured by Colombian tribesmen cool about all this, Wganda Kenya's "Pim Pom" is pure Afro-mod genius of the Fela kind, with Fela turning up metaphorically again as Lisandro Meza do a cover of "Shakara." It's hard to imagine he's also not involved in Rabel Y Su Grupo's "Manaye".
Each time I listen to this album I get new favourites and if Aberlado Carbono is still alive, he's got to reform his Conjunto; it's the Gypsy Kings on speed with blood transfusions from the crypt – the wind cries quiero a mi gente (apparently this avant-garde pioneer can still be heard playing with Anibal Velasquez).
So who do we thank for doing all the diggin' to find these lost gems from the other side of the world? Once again Miles Cleret (Soundway head honcho) has gone to the man that knows his stuff and you can't get much more of an expert that Bogota's Lucas Silva who owns Palenque Records.
The whole album is totally addictive good time dance grooves, ideal for DJs with a box of 7″s and an audience that want to party and it's that man Wganda Kenya (originally signed to another of Colmbia's major label's Disco Fuentes – check out the equally fantastic Soundway comp Colombia! The Golden Years of Discos Fuentes that came out a little while ago) that ends the CD with a track called "Yoro" that's so drenched in Charlie Gillett vibe that it almost brings a tear to eye.
The extensive sleeve notes get into the sound system culture of the ghettos that were as big as and as dedicated as any from Jamaica or Wigan Pier as they kept their exclusives under wraps and generally competed to best the best.
If you ever wondered why Brighton exile Will Holland (Quantic) went off to live and record in Colombia, Palenque Palenque: Champeta, Criolla & Afro Roots in Columbia 1975-91 will convince us why.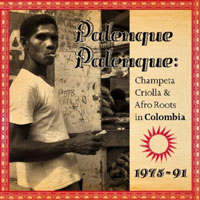 The trouble is this album is so good; you just can't fault it or stop moving to it. If you live in a ghetto or not, this will take your mind to another place. And whilst the 90s brought in the Colombian equivalent of Post-Punk, Dancehall, Nu-jazz (or whatever comes next in the ever evolving new sounds of the world), this CD represents truly a "magical era" – Shacalao for Columbia – we love you Soundway!
Artist: Various Artists
Album: Palenque Palenque: Champeta, Criolla & Afro Roots in Columbia 1975-91
Label: Soundway Records
Release Date: June 2010
You can buy the album on CD HERE or vinyl HERE.
This review was originally published on Fly

Follow Sounds and Colours: Facebook / Twitter / Instagram / Mixcloud / Soundcloud / Bandcamp

Subscribe to the Sounds and Colours Newsletter for regular updates, news and competitions bringing the best of Latin American culture direct to your Inbox.
Share: