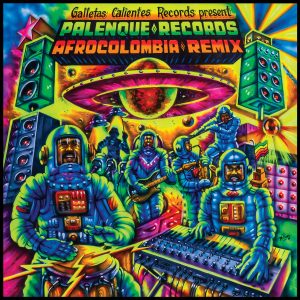 Review
Palenque Records AfroColombia Remix
The musical magic of Afro-Colombia has once again graced our ears. This instalment comes from Galletas Calientes Records and a group of DJs and producers who span the Global Bass scene. On Palenque Records AfroColombia Remix they deliver an intriguing five-track remix of traditional Afro-Colombian numbers. The premise? To pay tribute to a champion of Afro-Colombian music, Palenque Records, celebrating 20 years of their musical activism. The result? A showcase of the evolutionary shaping that Afro-Colombian music has undergone, with today's modern rendition of original tracks moulded into a dance-floor manifest accompanied by a very appropriate title.
"Kumina" opens the door to the compilation. The original rendition has its roots in champeta, a popular genre in Afro-Colombian culture. Meaning knife, champeta has been viewed as grassroots punk music, a sound of the street that can't be controlled. The 'knife' is symbolic of slicing norms and discrimination in two. Remixed by producer Solo Moderna from Holland, a new dynamic arrives. A distinctly minimalist choppier club sound transforms the original melody into rich, chirpy beach bobber. The introduction of jarring chords serenaded by dominant sampled vocals and the addition of psychedelic wisps delivers the feeling of imminent abduction into an Afro-Colombian intergalactic carnival. A tune presumably welcomed by those wanting to escape mother nature's earthly grasp.
An interpretation by German producer Motin arrives next in "Mario Palo". Tribal drums and call and response vocals are two elements which reign supreme in the track originally by Sexteto Tabalá. Relaying music derived from the sugar plantations, the simple yet effective tools of emphatic percussion and a strong voice box symbolise strength against oppression. Thankfully this message is largely retained, albeit receiving that common electronic instrumentalisation and a groovier feel with the introduction of echoed melodic flute pipings. A near bout of silence is faded in towards the end adding a last unexpected punch of intensity and a final hurrah to the track. Definitely appropriate for the modern day dance floor.
Chirpy sound bites are next on the bill in the remix of "Mini Kutoso" by French DJ Rafael Aragon. This upbeat and floaty Afro-house number delivers a distinctly different flavour from the original. A song rife with champeta sound-waves, laced with tasty sax and strong call and response vocals was laid down by Viviano Torres and his group Anne Swing. Aragon's rework retains some vocal snippets but in the melody department opts for a stripped back feel, leaving the sax to one side. Although a tuneful strain is attained with the weaving in of guitar and keys it seems to somewhat lack that organic feel. But what can I say, I'm a sucker for the sax.
The hefty number of "Patacore" is thumped in as the penultimate track. "Patacore" is an energetic religiously-inspired dance deriving from the percussion intense musical rhythm that is currulao, a sound encapsulated by José Antonio Torres (aka Gualajó). In a track awash with drums, hoarse and rangy vocals, and featuring a marimba for melody (a xylophone-type instrument typical of the Colombian Pacific coast) a collective sense of the tribal community is attained. Is it retained? Well, in the remix, US producer Dj Sabo brings along its club-friendly cousin to the party. Sabo sneaks in sampled nuggets of marimba and original vocals, paying homage effectively. However an organic and powerful four-four kick drum and whispered vocals deliver a darker almost haunting feeling alongside the addition of spacey shrills and shrouds of key. The heaviness of the mix has arrived.
Is there a cherry on this remix cake? Yes, and a sweet one it is. Dusting off the mix is the "A Pila El Arroz" remix coming from Bogota-based collective Ghetto Kumbé. The original from legends Son Palenque is a percussion-infused, vocal lain, beach feeling number, just look at the video. The biggest transformation of the mix is undergone in this last track and a masterful one it is. Stripping back the vocal presence, thrusting in plucky strings and adding a completely new element, the insatiable groove of a saxophone results in a dance floor-fuelled, melody rich bootie shaker. The most accomplished of the mix in my humble opinion.
Overall this remix album delivers an interesting variation of sounds. Not one particularly linked in terms of flow, but one rich in diverse sounds and samples. The DJ collective have largely respectfully retained the original tracks' messages but given them a chopped up, club-friendly remastering fitting of modern dance culture.
Palenque Records AfroColombia Remix is released by Galletas Calientes Records and available from Toolbox Records, Bandcamp, Juno, fatbeats and discos papkin (Japan).
[soundcloud url="https://api.soundcloud.com/playlists/260588553″ params="color=ff5500&auto_play=false&hide_related=false&show_comments=true&show_user=true&show_reposts=false" width="100%" height="450″ iframe="true" /]

Follow Sounds and Colours: Facebook / Twitter / Instagram / Mixcloud / Soundcloud / Bandcamp

Subscribe to the Sounds and Colours Newsletter for regular updates, news and competitions bringing the best of Latin American culture direct to your Inbox.
Share: