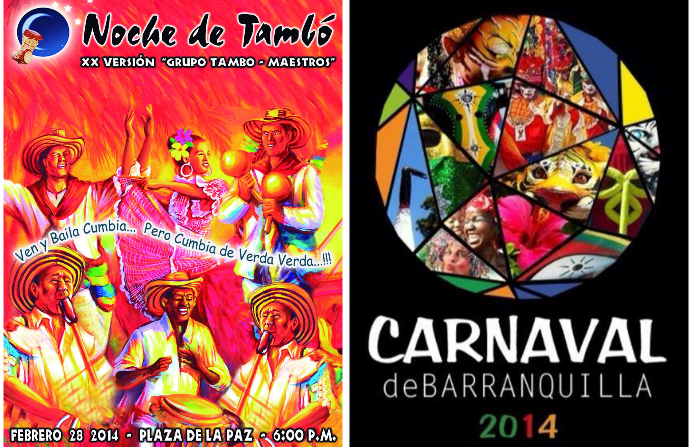 Songs & Mixes To Transport You To Carnival in Barranquilla
26 February, 2014
In just a few short days it will be "Noche de Tambo" in Barranquilla, Colombia — the unofficial kickoff to the big Carnival weekend in the port city. This night of nonstop cumbia, which takes place on Friday, Feb. 28, will, this year, pay tribute to Adolfo Echeverria, one of the masters of the genre, and author of classics such as "Amaneciendo," "Las Cuatro Fiestas," and "Inmaculada," among others.
On this raucous night (a tradition since 1995), revelers dance cumbia after cumbia in a "wheel" in Plaza de la Paz. Expect regulars Los Gaiteros de San Jacincto, the amazing Sixto Salgado "Paito" (watch this incredible performance clip), los Cumbiamberos de Magangué, and Pedro "Ramayá" Beltrán, to be among the performers.
For those of us who can't be there, a couple of things: Sounds and Colours will be curating voices from Carnival via various social media channels and turning them into a story via Storify. The link to the "evolving story" is here for now, but we'll be updating all Carnival long.
To get an idea of what the official Carnival festivities are like, we urge you to watch the "Lectura del bando: Barranquilla (first up in our Storify story)," which took place last month. The lectura is a Barranquilla Carnival tradition, and it features traditional costume and dance performances by the various "comparsas" who will be in performance mode throughout all of Carnival. Each comparsa has a team uniform or costume, and dance or move in a pre-arranged pattern of choreography. And you'll hear nothing but classic Carnival favorites.
La reina (queen) of the 2014 Carnival, María Margarita Diazgranados Gerlein, plays a large part in many Carnival traditions, and as you'll see in the lectura video, she is front and center for most of the dances (yes, being well-skilled in dances such as the AfroColombian 'el mapalé' is a requirement for la reina. Check her out at 24:55 in the video.), with several costume changes.
(Ed. note: I'm not sure I've ever seen champeta on the big stage at the lectura, so it's a pleasure to see her dancing to Kevin Florez' hit, "La invite a bailar," a big hit in Barranquilla in early 2013.)
Also for those of us who can't be there, our friends at M.A.K.U. Soundsystem have come out with a mix of Colombian classics to tide us over. Put together (using vinyl!!) by Niño Lento (Maku's guitarist, Camilo Rodriguez), "Colombia Special" is also intended to offer some "peace of mind" during "these troubled times," which we think means the situation in Venezuela, and the Ukraine, for that matter. (The tracklist includes loads of classics, and closes out with a newer track by M.A.K.U., called "Fire."
[soundcloud url="https://api.soundcloud.com/tracks/135955445″ params="auto_play=false&hide_related=false&visual=true" width="100%" height="450″ iframe="true" /]
By the way, M.A.K.U. was just featured on a Colombian show, "En Órbita," which airs on the national television channel, Señal Colombia. Watch here.
As for a Colombian mix with a more modern swing, our friends at Freaky Colectivo have arrived in Barranquilla for Carnival, so we're sharing their 'Qué Golosina Mixtape Vol. 1' to celebrate their upcoming show at the Berbetronik party, which also features Mr. Black (he of the monster hit, 'El Serrucho'), Bomba Estéreo, and Systema Solar.
[soundcloud url="https://api.soundcloud.com/tracks/118010055″ params="auto_play=false&hide_related=false&visual=true" width="100%" height="450″ iframe="true" /]
Finally, I polled some family members in Barranquilla to ask for two of the most popular songs blasting out of cars this Carnival season, and they responded with some interesting selections.
As mentioned earlier, "El Serrucho" by Mr. Black ("El Rey de la Champeta") has not let down since its release in late summer 2013. Serrucho is the Spanish word for saw, as in the tool. In the song, Mr. Black talks about going 'sawing' on this party night. Make of that what you will.
And "Comadre para el Palo" is a comical number by La Nomina del Pin (an orchestra put together in 2005  by Joe Arroyo's former timbalero, Ricardo Ojeda 'el pin.'). Known for releasing comical songs each year, this year's hit is about a womanizer who is monitored closely by his jealous wife, who threatens to scold him with her broomstick every time she catches him flirting with women in Barranquilla. It's a riot.

Follow Sounds and Colours: Facebook / Twitter / Instagram / Mixcloud / Soundcloud / Bandcamp

Subscribe to the Sounds and Colours Newsletter for regular updates, news and competitions bringing the best of Latin American culture direct to your Inbox.
Share: