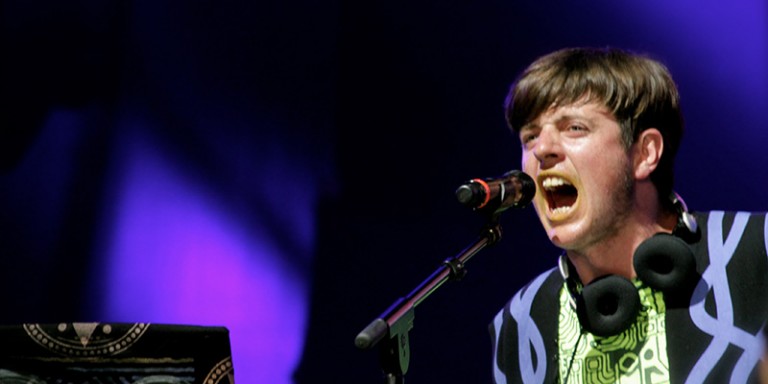 Juan Felipe Valbuena
Taking Techno Into A More Spiritual Place: An Interview with Dani Boom (El Leopardo/Systema Solar)
13 May, 2016
Colombian DJ Daniel Broderick, aka Dani Boom, has been a busy member of Bogotá's underground music scene for close to 20 years. From underground techno DJ gigs in the days when electronic music was barely finding an audience in Bogotá, to opening for the likes of Frankie Bones and touring the world with a successful techno-folk group, to say his musical trajectory has been colourful would be an understatement. In fact, his life, his music and his world vision are not just colourful, they're positively psychedelic.
He's currently developing his solo project El Leopardo and is a founding member of Systema Solar, one of the most successful electro-folk groups to emerge from Colombia in recent years. Exhilaratingly mixing the contagious energy of Colombian traditional music with the euphoric lift of techno and lyrics based on unique cultural references, the band are known for their incredible stage energy and are about to release their third abum. Their live show is akin to a tropical acid trip through every region of Colombia with a group of elated friends in search of world peace.
I had the opportunity to interview Danny at his home in the run-down centre of Bogotá to talk about, amongst others subjects, his creative process, family life, the future of his career and spirituality.
Before you started playing with Systema Solar, you'd had a longer career as a DJ. How did you experience the transition from underground independent techno DJ to member of a successful techno-folk group?
I thinks it's been a natural process. I'm a still a DJ, I am still a techno-head but back in the day I was more ravey and looking more for a kind of electronic rage. And then when I started producing I started mashing up techno and traditional stuff. I was influenced by what was going on in Colombia at the time, by other groups and musicians who were doing that kind of work, like Sidestepper and other bands. So it was quite a natural process and I think the result is pretty good.
I went from DJing and playing other people's music, to making my own music, and then to working with a collective. As a result I've been able to travel to different places in the world playing our music, our own lyrics, and sending our message. And although we're like an organization and there's management and record labels involved, it's still independent. We still make our own decisions really.
Systema Solar is well known for their live performance. Is this the most exciting aspect for you as a DJ/producer?
In terms of rush, yes, but sometimes when you're at the studio and a track that is coming out is really powerful, it´s also very exciting. You know it's really good and it hasn't been played out, but you expect people to get the same thrill as you do or even higher, and when it happens you think "Yes! I knew it! I knew it!".
Being on the stage is great, but being on the road is difficult. It's a lot of work for fifty minutes on the stage, but then it's something that you've been working for all your life and you get a lot of energy back from the crowd. I think you have to be strong energetically not to be affected. I think that might have something to do with my recent back problems for example. You're giving a lot of energy and receiving a lot of energy.
I've been lucky in the sense that it all works, that we can make a living which these days is not easy. At any time in history it hasn't been easy, but now its even more difficult because you have to play live to make money rather then sell records.
How does your creative process work? Is it based more on discipline or inspiration?
I think it works both ways. Sometimes you've got lots of things popping out of you and you can create them very quickly, but sometimes you want to say something and you don't know how to, so you just have to say "ok, I'm going to work it out". You have to go round and round, you have to go back, you have to keep looking, keep looking, and sometimes the idea even just dies. Not everything that you start gets finished. I think hundreds of tracks that I have started have never been finished and will probably never be finished.
With the band, often we have the lyrics for a song, and we make a track for it, but it doesn't work. Then you make another one, and then it doesn't work and then you change from that one and that doesn't work either and then suddenly it works. Or it might not ever work and you just have to bury it. It can take forever to make a track good. "El Botón del Pantalon" which was one of our biggest hits, was made during a five year process. It started off as one track, and then it became another, then it became another track, and then we left it for a while, and then later it became "El Botón del Pantalon".
What was the most important moment in your musical life?
I think a very interesting moment of my life which I remember with a lot of love and gratitude is when we were making the first Systema Solar album and my son was just born. It was a beautiful moment because the music wasn't out yet but it was very exciting. We knew we had a really powerful album where techno and a band musical process was coming together. We were mashing things up and it was exciting.
Personally, it was also a very beautiful time for me. I was living with Andrea, and at the time she was pregnant with Emiliano and then we had a small baby. I used to wake up at four o'clock in the morning when Emiliano woke up, and I'd put him in the baby carrier, and work in the studio from 4 until 7am. He was just a tiny baby. It was beautiful. He would fall asleep and I would just keep going, and the music was coming out. It was amazing, and artistically very rich.
You seem like a spiritual kind of guy. In what way does music and spirituality mix for you?
Well, I think that spirituality is a very personal subject. It's really about a query, a question. For me it was very spiritual back in the day to go to a rave and dance hardcore. I think everyone in their way is spiritual. They understand or feel that there are greater powers than the powers of oneself.
I think that spirituality has always been there for me, but now it's more about trying to find peace. It's no longer about very loud and euphoric music, but probably more about meditation or listening to other types of music. We're close to the Amazon here, which has a lot of power. And I've been lucky enough to get close to that recently, though its always been present. I did a yage [ayahuasca] session which was really powerful. Also, within Systema Solar there is a real celebration of life. There is a lot of spirituality in the group.
Maybe right now my spirituality is more evident from the outside because I'm more and more interested in plants. I'm not so interested any more in other drugs and highs, and more in states of consciousness. Cocaine which was a very important drug for me has totally changed for me now. I used to think cocaine was spiritual and obviously its a very powerful plant, and needs to be used delicately but I've moved out of that stage of my life into a more quiet one. I don't need so much adrenaline or the rush to feel alive. I can feel alive now just drinking a coffee.
Did becoming a father change your relationship to music?
Absolutely. For one thing, life changes completely when you become a parent. That's no secret. Everybody says it and it's true. With music, well it was difficult, especially travelling. Basically when you have kids you want to be with your kids, but then if you're only with your kids and you forget about yourself, then you're not teaching your kids anything. You need to find the balance, the time to be with your kids, but also the time and the spiritual freedom to be on your own and do your shit. I stopped touring, so I could stay with my kids longer, but then the kids were like "Dad, why are you not on stage any more?". They were asking me to go on stage and then you look back and you say "I don't know, why am I not on stage? Why don't I go back to stage? I mean, I've been working all my life to be on stage and now that I can be on stage I don't want be on stage? No, hold up, I just want a bit of everything" .
If your daughter told you she wanted to embark on a musical career what would you say?
I would encourage her to do it. She said to me the other day "Dad I want to be a Dubstepistista". She loves reggaeton and she's taught me how to appreciate reggaeton. She's taught me lots of things. But it's not an easy one, and children are mirrors and they can be a frightening mirror. They can reflect back to you your best and worst parts and when you see the bad parts it can be scary.
Have you talked to your daughter about the sexist elements of reggaeton music?
Absolutely. At one stage I talked a lot about how shit I thought it was. They talk so much shit. Why don't they write interesting stuff? And then my daughter said very wisely "if it had interesting lyrics, it wouldn't be reggaeton". Basically, reggaeton is pornographic hip-hop and rap, and that's what's fun about it as well. I think one of the great references in reggaeton is Tego Calderon. He´s the godfather of reggaeton.
And if you listen to El Tego, it's amazing. The way he puts things. If you look back today at the reggaeton of years ago, you find can gems. Beautiful tracks, from Don Omar, from Tego Calderon, from Daddy Yankee.
Is there a particular DJ gig you would really like to do some day?
I think I've played many dream gigs, but dreams keep coming up, which is great. I would love to try to take the mantra of techno into a more spiritual place. The other day talking with a friend I came up with this idea, the high five maloca [a long house for meetings and community activties found in many indigenous communities in Colombia and Brazil, akin to a town hall]. It would be a modern day healing session in a maloca, with techno subwoofers. A combination of the traditional mantra, yage, low music frequencies, and techno beats.
It'd be interesting to try it. To have a party which is not around euphoric encounters, but more introspective with the aid of intimacy and repetition.
El Leopardo is a bit like that. They're not necessarily super hyper energetic songs, more like a deep down sort of thing. I think I'm preparing that kind of music for the following stage of my life. To be able to have a way to perform music which doesn't demand so much euphoria and requires a bit more introspective meditation.
Do you see yourself being involved in music in your old age?
I have a lot to do at the studio, and I think I have a lot to do on the stage still. I think I'll be on the stage and not in the studio, especially after seeing The Rolling Stones recently. They give you amazing power to keep going. They're over seventy, and they keep rocking and are full of energy and joy. It was really good to see them. It was like fuel to keep going. What makes them great is not perfection at all, it's their energy, their vibe, and the conviction behind what they do.
I also see myself playing the guitar, which has always been my instrument. I'm building a table-top guitar with with my friend at the moment. I'm trying to find a way to include the guitar in my set. I want it to sound like a synth, so it's going to be like a string synth.
Keep up-to-date with Dani Boom and El Leopardo via facebook.com/daniboombogota. For new El Leopardo releases check out facebook.com/polenrecords.
Finally, here's a great remix of a Los Corraleros de Majagual track (written by Calixto Ochoa) by Dani Boom:


Follow Sounds and Colours: Facebook / Twitter / Instagram / Mixcloud / Soundcloud / Bandcamp

Subscribe to the Sounds and Colours Newsletter for regular updates, news and competitions bringing the best of Latin American culture direct to your Inbox.
Share: