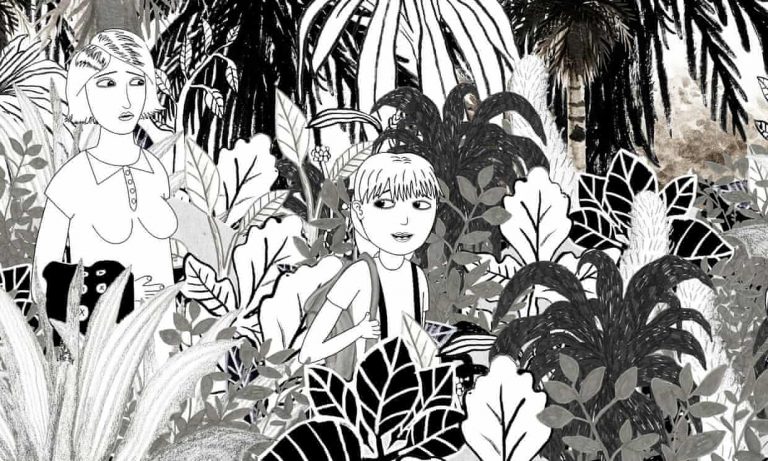 Virus Tropical
14 July, 2020
Virus Tropical (2018, dir. Santiago Caicedo) is a beautifully-animated coming-of-age film based on Ecuadorian-Colombian artist Power Paola's 2011 autobiographical graphic novel by the same name. We've long been fans of Power Paola's art at Sounds and Colours (she did some of the illustrations for our Sounds and Colours Colombia book!), and her foray into film has only made our appreciation for her work grow.
The film follows the character of Paola from the moment of her conception to the day she leaves home as a young adult. There isn't a strongly-defined plot beyond watching Paola grow up. Instead, the film takes us through episodes in the life of her unconventional, female-dominated household, exploring themes like family, independence, belonging, and social pressure through a feminine lens.
Paola is conceived despite her mother having been sterilized, prompting an incredulous doctor to first diagnose her mother with a "virus tropical", and eliciting all sorts of comments from judgmental onlookers ("¡Está poseída por haberse casado con un sacerdote!"; "Tiene agua"; "¡Está agarrada por el diablo!") [She's been possessed because she married a priest; she 'has water'; she was screwed by the devil].
This is only the first of many instances where women are on the receiving end of societal judgment, at times refusing to be constrained and defying expectations anyway. Paola, her sisters, and the older women in her life repeatedly contend with the pressures to be good wives and mothers, to date, to fit in in new places, to meet beauty standards, and more, all while trying to become their independent adult selves.
Virus Tropical approaches these topics in a refreshing way, with surprisingly interesting characters and a great sensitivity for the nuances of family relationships. It is humorous and clever, but never ceases to be sweet, a tone that is complemented by its soundtrack. Pairing a coming-of-age tale with indie rock might not sound particularly groundbreaking, but many of the songs are charming, original, and lighthearted ("El Marciano" by fellow illustrator and musician Amadeo Gonzales is especially fun).
That same opening scene of the artist's conception features a fantastic sequence where drops of rain during a Quito storm in 1976 morph into thousands of spermatozoa, one of which fertilizes an egg cell, beginning a visually arresting process of cells splitting and multiplying. We see sequences like this throughout, where things grow mitotically, at breakneck speed – like an uncontrollable tropical virus, as its original theme says.
At other times, the film's dynamic animations capture childhood imagination and creativity beautifully (an honourable mention goes out to the sequence in which Paola becomes totally immersed in drawing, reimagining the domestic scene around her in different artistic styles with total freedom). Though they are usually brief, the depictions of urban landscapes are also a treat because, like every scene in Virus Tropical, they are teeming with life and full of texture.
This dynamism suits Power Paola's art style perfectly, and makes Virus Tropical mesmerizing to watch. Perhaps this is due to Power Paola's role as the film's art director, or because she reckons she did over 5,000 new drawings for the film, or because director Santiago Caicedo studied art, too. In any case, the result is an effective unity between the original drawings, animation style, soundtrack, and story in this rich and enjoyable film.
Virus Tropical is available to stream now on MUBI (in several countries, including UK) and Amazon Prime Video (USA)
The Virus Tropical graphic novel can be found here, translated into English by Jamie Richards

Follow Sounds and Colours: Facebook / Twitter / Instagram / Mixcloud / Soundcloud / Bandcamp

Subscribe to the Sounds and Colours Newsletter for regular updates, news and competitions bringing the best of Latin American culture direct to your Inbox.
Share: