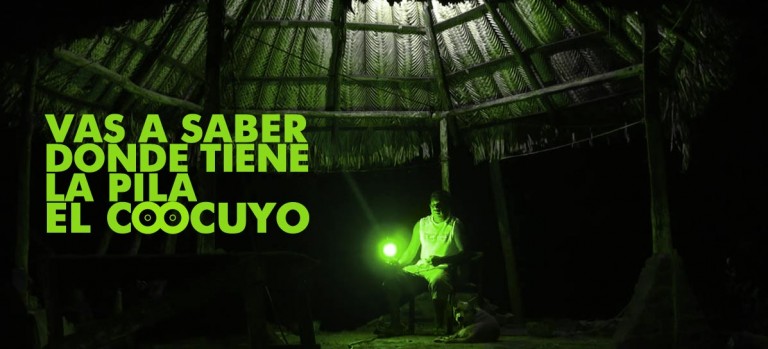 Coocuyo, the Electronic Music Portal Inspired by Cuban Beetles
25 April, 2016
Coocuyo is, at first glance, an electronic music portal promoting Cuban electronic music of varying genres. However, after interviewing Desiderio Sanzi, the portal's Italy-based creator, the project becomes more difficult to define and takes on a broader creative mission. The idea for Coocuyo was born during Sanzi's three month journey around the island on a motorbike, documented in the film Ahora Sí Llego, where he met a young DJ on a beach. He asked him what he really wanted to do when he grew up, to which the boy replied: "This is what I want to do. Being a DJ is my life. This music is my life".
The name Coocuyo is taken from a beetle native to Cuba which is impossible to find by day. The coocuyo comes out at night and is lit up by a green light that shines from its back. This green light on the coocuyo's back takes on a new meaning in the project's name to represent the energy and drive of the island's home-grown electronic music enthusiasts, producers and DJs. The DJs and producers, like the beetle, explains Desiderio, are fairly nocturnal too. A joke made by a popular Cuban comedian asks ¿Donde tiene la pila el coocuyo? or 'Where does the coocuyo keep its battery?'. In this case, it is the motivation from the project's so-called 'green-blooded' Coocuyos (the DJs and producers) that keeps the project going.
What is Coocuyo about? What are you hoping to create?
I think of it as a movement of musicians, in which I am the link providing an online portal listing the Coocuyos, their releases, our events and videos. Over the years I have visited Cuba many times and I saw the incredible energy of these artists, but they didn't have a shared point of contact. The metaphor of the coocuyo allows us to bring together different musicians with different ideas, tastes and ways of working. Each DJ and producer has his own style; the EDM ones might not be into underground and have completely different ideas, but the shared identity of Coocuyo strengthens them.
So it's a way of uniting and promoting Cuban DJs and producers with a shared collective vision despite their differences?
The movement is for Cuban musicians, and of course the identity of Coocuyo is Cuban, but not exclusively. We don't have to be closed-minded about it and we could have guest artists from anywhere. This is a home-grown effort, relying on the talent and energy of the Coocuyos. DJs and producers get in touch from all over, and some of them are really really young but they are just so motivated and into the music. We have more than 50 artists now including Djoy de Cuba, Leonardo Milano de Cuba and Bjoyce.
What does the future hold for Coocuyo?
I originally wanted to make a film about the Coocuyo musicians, and then launch the portal, but it just happened the other way around, so I am hoping to do that. I would also really like to put on a festival in Cuba with the Coocuyo DJs. I'm not talking about putting on a festival with famous international artists to draw peoples attention, but something to grow and cultivate the energy from the island. We could also potentially do a series about the Coocuyo artists at the Havana Biennale.
Who knows what the future brings for the project, but I think it can be much broader than just the portal. It is a way of exporting the social and cultural context of this music in different forms and showcasing the really strong capabilities of these DJs and producers.
Find out more about the project and upcoming events here.

Follow Sounds and Colours: Facebook / Twitter / Instagram / Mixcloud / Soundcloud / Bandcamp

Subscribe to the Sounds and Colours Newsletter for regular updates, news and competitions bringing the best of Latin American culture direct to your Inbox.
Share: