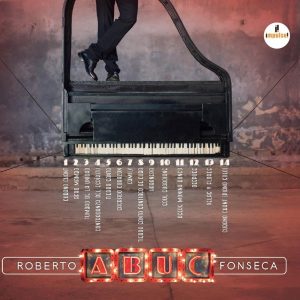 Wherever pianist Roberto Fonseca lays his hat he always remembers home. Cuba. For those doubting Thomases out there merely spell his latest album ABUC back to front and alakazam! Knocking around for many years, he has collaborated with some of the best in the business, such as Cuban kings' Buena Vista Social Club. Fonseca's latest release, his fourth studio and first solo album, attempts to replicate the integral and varied sounds of his treasured homeland. In a bid for authenticity he hasn't held back; with ABUC's quasi vintage recording process often reeling in the past and all of its textures. The 14-track aural tour mixes old with new, all anchored by the pianist's touch.
The Cuban-American musical meeting birthed a key member in Cuba's musical family tree, Afro-Cuban jazz. A trait illuminated by Fonseca's choice of opening track, a fully orchestrated rendition of US veteran pianist Ray Bryant's 1956 hit "Cubano Chant" . The inclusion of New Orleans player, Trombone Shorty, weaves the message deeper. With a beam of trombone limelight, Shorty steals the show with his wholesome sound in this big band opener.
Exuberance and diversity in sounds aren't lacking in Cuban music, which ABUC's second number, "Afro Mambo", conveys with its sharp trumpet bursts, joyous cackles and cascades of other infectious soundbites. It bustles with the majestic welly of the 1940s and 50s and their zestful dance-floors. Although its full force is somewhat delayed, only really hitting home near the half-way mark.
Tempo is taken down a peg for a couple of tracks. The first "Tumbao de la Unidad" delivers a stripped back, minimalist yet romantic approach. An amble down recollection road follows in "Contradanza del Espíritu". A sound structure both melancholic and epic is gradually constructed; key by key, toot by toot, drum by drum and a flute finally piping in, with a lengthy solo midway from Fonseca adding a wisp of intimacy.
Effervescence gradually bubbles up next in "Tierra Santa". Dripping in brass, spattered with a mixture of percussion and of course Fonseca's piano finesse. Next "Sagrado Corazón", which, although initially featuring a particularly smooth melodic snippet evolves into a largely staggered and chopped sound.
In the most disparate tune on the album, the melody-rich "Family" the pace is picked back up through drums, chirpy vocals and the keyboard which dips into a more modern sound. The track fluctuates through speeds; bouts of keyboard intensity give way to slower swaying sections which then pass the baton on to zipping trumpet fuelled pockets.
"Tierra Santa Santiago de Cuba" follows as a distant sounding street band interlude, a fleeting reprise from three songs earlier. The operatic heartfelt slow jam of "Habanera" is next on the bill. Then Fonseca surprisingly opts for a serious and deeply effective gear change, embracing the sonic evolution of modern times with the funk-fuelled hip-hop beat of "Soul Guardians". Rustled up is a mixed infusion; courtesy of a hip hop beat, a Cuban emcee, a reggaeton rhythm, the ever trusty piano and soulful vocal spurts. The live instrumentation creating an exciting and relatively untouched beverage in the hip-hop saloon, as opposed to a more conventional sample heavy track.
A salsa laced ribbon is draped on the next sharply wrapped, little jazz package, "Asere Monina Bonco" with the late Policarpo Tamayo's sublime flute skills standing out. The final slower track arrives in "Después", a personal favourite from the album. The entrance of silky vocals come from Mercedes Cortés Alfaro, Fonseca's mother and a professional vocalist. A soft percussion department with trumpet interludes from Buena Vista old boy, Manuel "Guajiro" Mirabal, helps create another reflection-filled slice.
The album's penultimate and spoken word number "Velas Y Flores" relays a message literal and clear as Fonseca illustrates his pride in his coveted Cuba, with background drums and keys delivering a dash of musical levity. In a cyclical nature the album is dusted off with a speedy rendition of its first track, albeit with a piano solo punch. A personal wave goodbye from Fonseca to the eclectic ABUC.
Four years after his last album Yo, which has a strong African focus as well as Cuban, Fonseca's most recent solo attempt is exclusively bound to Cuba. Although the production quality may appear somewhat shoddy to the modern day ear, Fonseca's attention to detail in replicating past processes in order to maintain original sounds exemplifies his rare devotion to his cause.
The musical ship of ABUC and the sonic voyage it embarks on is dotted with tranquil sections, fit for reflection whilst at other times struck by the might of the storm. Consistency is not a trait that can be expected from mother nature and neither can it be expected from this album. Times change and music evolves. It's no easy feat to deliver the full sound spectrum of a nation's history in 53 minutes, but ABUC's portrayal gives it a pretty decent stab.
ABUC is available from Amazon UK, Amazon US and iTunes.

Follow Sounds and Colours: Facebook / Twitter / Instagram / Mixcloud / Soundcloud / Bandcamp

Subscribe to the Sounds and Colours Newsletter for regular updates, news and competitions bringing the best of Latin American culture direct to your Inbox.
Share: