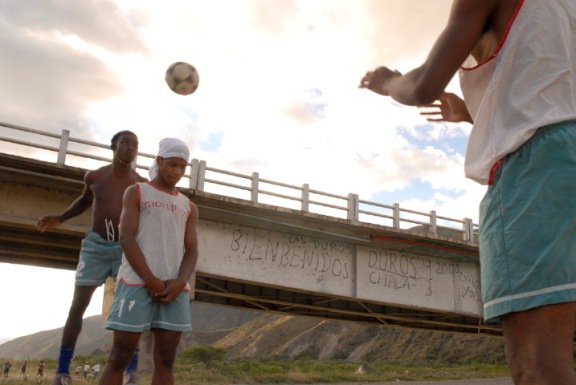 Dreamtown
01 June, 2016
Ecuadorian film-maker, Betty Bastidas' documentary, Dreamtown (Original title: Ciudad De Los Sueños), on the Valle del Chota, Ecuador, covers a familiar theme in the Latin American context: the route out of poverty provided by football.
The El Chota example, though, is somewhat different. It adds racial overtones to the usual script of rags to riches. El Chota is predominantly black. The Dreamtown of the title alludes to players such as Édison Méndez, Agustín 'Tin' Delgado and Ulises de la Cruz, who have come out of grinding poverty to achieve great things. Football, in the absence of anything else, is a tantalising promissory note.
The film cuts to Édison Méndez playing the ball over a defender to Tin Delgado, who smashes it between the upright and goalkeeper with the outside of his right boot. Cue: a fantastically euphoric, breathless and hyperbolic commentary which ends with g – o – o – o – o – o – a – l! Does anyone do it better?
Back On The Margins
Bastidas' subjects are an interesting, engaging, articulate and intelligent lot and surprisingly without rancour. It is one thing to know and understand your predicament, it is quite another to be so sanguine (or is it resigned?) to the iniquity of it all. They understand how slim their chances are but they are prepared to graft and make sacrifices.
One of the coaches at Club Deportivo El Nacional [CD El Nacional], Edwin Tacuri, says later in the film, "Men don't regret what they've done, they regret what they haven't done." Only two out of the three hundred who come through the coaching system each year can expect to go on to play at the top level.
CD El Nacional, the top flight Quito-based club, is the step up, and from there, who knows? This is what Aníbal and boys like him are after. Over the vanishing point lies Real Madrid, Manchester Utd… and, perhaps, a call up to the national squad.
Cruz Control
The action moves to Ulises de la Cruz thumping in a couple of blinders, one in a World Cup qualifying game against Brazil (the occasion of Ecuador's first entry into the World Cup proper in 2002) and the other in the colours of Hibernian in the Edinburgh derby with Hearts.
El Chota's residents are descendants of slaves brought to work in the region's plantations during the 16th century. Emancipation withstanding, not much has happened since. El Chota, where de la Cruz was born, had no basic services and life was hard. Discrimination based on skin colour is manifest and neglect total, as de la Cruz remarks: "People here never felt free. The past is full of pain and anguish. It is hard for us to see ourselves living in another reality."
Meritocracy and the Line of Least Resistance
When Ecuador qualified for the World Cup in Korea/Japan in 2002, seven of the squad came from El Chota. Merit is a wonderful thing and vox pops speaking of that time say that it helped give Los Choteños a new sense of worth. On one level this is heartening but it is also entirely lamentable that the life chances of so many people operate on a binary level: poverty and/or football. As the film makes plain, in the choice between education and football, education comes a poor second, because to many, it is simply unaffordable.
Investment and Commitment
Carlos, a would-be professional football, is one of seven children. His mother would like him to be in school…
In an office Ulises de la Cruz is looking at artificial surface samples for his football stadium with a six-lane running track (reduced from eight for reasons of expense) on land in Pincuiucho. From his international peregrinations, de la Cruz has returned to El Chota, determined to do something for his community. His foundation, FundeCruz, is footing the bill as it has with similar community-based projects in his home town. Later de la Cruz answers someone who says, "You done all these things for the town but what have you done for me?" with: "My commitment is to the town not individuals."
No Choice
Aníbal and his brother Leo are at different levels of la ruta de futbol, spurred on by one very uncomfortable reality. Their father, Raúl Chalá, is bedridden with a heart condition, for which there is no money (an operation would cost $20,000), no medication and no hope. All around him people eke out a living by whatever means they can, usually by cleaning, gardening, or day care jobs. Aníbal left school because there was no money for books.
Realms
"The freedom that black people have had comes from sport. We want to develop other realms," says de la Cruz. "Football gives you a career for 12-15 years. Other things matter. It should be football and education not one or the other." In the context of the film, these realms often involve a choice of whether to patch up your mother's ramshackle house or go to school (Carlos), or else gamble what little there is on a career in football (Aníbal). When Aníbal haggles with the cobbler over the cost of repairing his boots (he knocks him down from a $2.00 to $1.50) you realise just how parlous the whole project is.
The postscript, over the four years that the film was made, shows Carlos working in construction, Leo still trying for football glory, Aníbal playing for CD El Nacional and de la Cruz as a member of Ecuador's national assembly for Rafael Correa's ruling Allianza País party.
Glory, place, space and context aside, Bastidas' film shows just how profligate the world is with its greatest resource: people. It also shows in a very effective and non-polemical style, the dogged pursuit of success against all the odds. In so doing, it makes a compelling case for the value of shortening the odds and increasing the options.
Dreamtown is screening at the Ecuadorian Film Festival in New York (June 2-5 2016)

Follow Sounds and Colours: Facebook / Twitter / Instagram / Mixcloud / Soundcloud / Bandcamp

Subscribe to the Sounds and Colours Newsletter for regular updates, news and competitions bringing the best of Latin American culture direct to your Inbox.
Share: