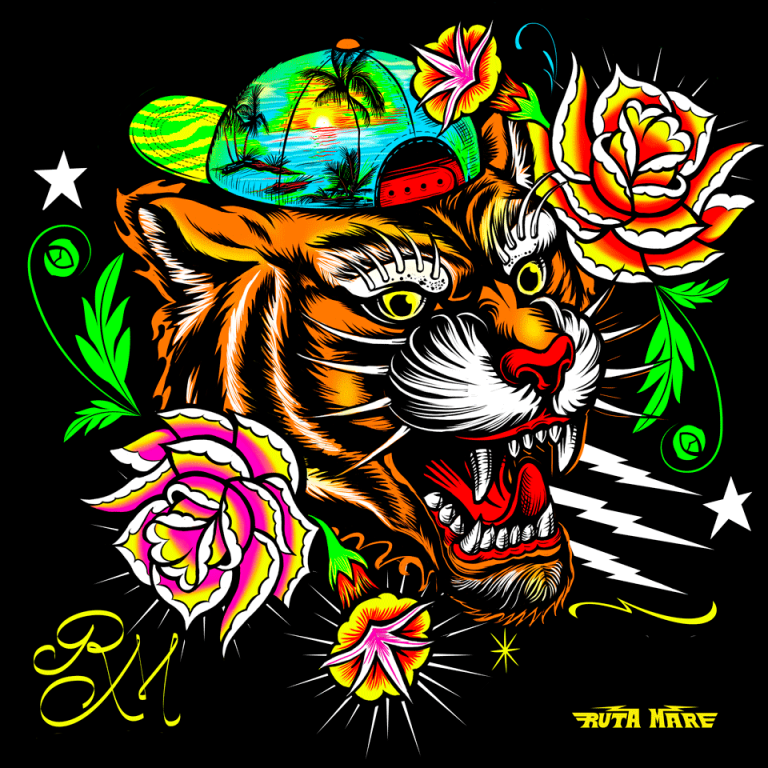 El Buga's Desengrase Mixtape (Samples, Remixes & Originals From Peru)
16 November, 2017
El Buga and Sounds and Colours bring you a mix of some of the finest electronic sounds influenced by Peru's tropical music legacy, featuring artists from across the globe who have sampled Peruvian classics, originals by the different producers who make up the local electronic music scene in Peru and the remixes they have made for international crossovers. Labels like Terror Negro, Dorog Records, Matraca Netlabel, Renacer Records, Regional and Tiger's Milk are all present, as are tracks by Olaya Sound System, Tribilin Sound, Novalima, Bareto, Deltatron and ShuShupe.
The mixtape work as a tribute to the culture of Peru, that was recently celebrated at the University Of Santiago in Chile, for the first edition of Festival Cultura Migrante. The event brought together different artists and researchers in various fields from Peru, such as Alfredo Villar (DJ Sabroso), who talked about the cumbia explosion in the country and its development to become what is known as chicha, and Animal Chuki, who on the same day performed in a theatre from the 30s located in one of the University's facilities.
The next day, the popular art duo Ruta Mare (who created the cover for the Peru Boom compilation on Tiger's Milk) showcased their work with an exhibition of silk prints on paper, t-shirts and embroidered caps. Also on the programme was a variety of activities involving food, films and lectures on migration. It was an event that looked towards the integration of these two neighbouring countries, leaving behind discrimination and differences that should be left in the past.
Listen to Desengrase Mixtape below:
Tracklist
Panchasila – Cariñito Dub
Olaya Sound System – Desaparecer (Pangolin Sound System Dub Remix)
Animal Chuki – El Solcito
Bareto – La Pantalla (Tommi El Mariachi GCMN Remix)
Quapac – Corazón Del Sol
El Paso – Tambobambino (Fuck Dub Remix)
Pigmalião – El Camiño Para Zaña
Novalima – San Antonio (Aero Manyelo Remix)
Ucayali Maestro ft. Doña Herlinda – La Bendición De Herlinda
Sonidos Profundos – Zukubus
Paulopulus – Golden Ragga
Deltatron – Cristalino
Los Wembler's De Iquitos – Dos Amores (Meridian Brothers Remix)
Chakruna – Cumbia Achorada
Tribilin Sound – Bilongo Con Sandunga (Umoja Remix)
Los Chapillacs – Marcha Del Chullachaqui (Deltatron Remix)
Dengue Dengue Dengue – Simiolo (Manduka Remix)
Shushupe – Warung (Qechuaboi Remix)
Real Cumbia Activa ft El Catorce – Selvática
Los Destellos – Descarga Fatídica (Sibu & Joe Nagall Edit)
Los Guyabera Sucia – Mad Dumbia
La Inédita – Fayah (Tribilin Sound Remix)
Pangolin Sound System – Estado De Emergencia (Inti Fari & Petardo Remix)
Sistema Beat Andino – Cumbia Explosiva (Loko Bonó Steppa Version)
Mr. Zebre ft. Rebel-I – Legal (Professor Skank Remix)

Follow Sounds and Colours: Facebook / Twitter / Instagram / Mixcloud / Soundcloud / Bandcamp

Subscribe to the Sounds and Colours Newsletter for regular updates, news and competitions bringing the best of Latin American culture direct to your Inbox.
Share: