Peña by Secret Stash Records (A Personal Account)
24 May, 2011
I arrived in LAX [Los Angeles International Airport] from Jorge Chaves International in 1991. I brought with me my tapes of Eva Ayllon and some of Arturo Cabero. The music I was taking with me was a symbol for me to come back one day. I was told life in the north was promising and the opportunity of having a better education was open to everybody. I stayed in the US until 2005. On December of that year I arrived back in Lima after 14 years… Yeah! 14 years!
Everything looked small. It was much faster to go by foot from city to city… I was back in my motherland, a metropolis, but motherland to me. I was born in Lima, Clinica del Empleado in the city of Jesus Maria. Anyhow… The story of Peruvian folklore starts there for me… That is how I got to understand the feeling of Afro Peruvian and costa [from the coast of Peru] tunes.
The series of Peña by Secret Stash, does take me back. I fell in love with Afro Peruvian records when I returned to Lima. Starting with Peru Negro, then jumping to Eva Ayllon and Arturo with Aviles. I only found good records from the female singers on my second trip, when I found Victoria Santa Cruz and Lucha Reyes, Chabuca Granda and Lucila Campos. Finding these LPs took me back to the 80s when I started to listen the music of my land. Arturo Zambo Cabero's Exitos was one of those LPs that took me back immediately. Every track brought back memories. I was so impressed that I still remember most of the lyrics. "Cado Domingo A Las Doce Despues De La Misa" took me back.
You see, in Lima, back in the day, when I was young and lived there, Pops and Moms used to organise gatherings at home for special occasion. Some of the most vivid ones I remember were the Peña parties. My parents had friends that sung Afro Peruvian songs, from Landos, to Marineras, to Tonderos to Negroides etc. I must have been around 6 or 7 years old when these parties happened; they used to get loud and would go on until the early hours of the next morning. Around 40 to 50 heads drinking and singing along with the musical trio, which was formed by a cajón, guitar and a couple of big spoons to assimilate the sound of castañuelas. That I remember vividly.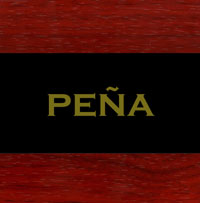 As much as my records are dear to me, the sound of Peru is even dearer. Peña is one of those compilations that hits home. Aside from the contemporary sound of the songs interpreted by beautiful voices, the entire project has taken me back to the day of those parties at home, but in a more mellow way.
The selection of titles couldn't have been more exact for the times and the opportunity to show more of the riches of Perù.
Peña I and II are a must-have for all those who want to experience an old and new world sound that will massage your soul as well as make it move.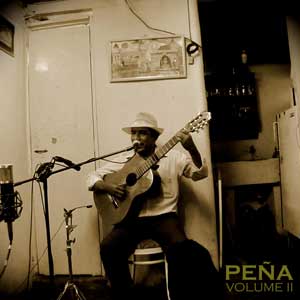 The Remixes are a beautiful extension to both compilations. Secret Stash Records is moving the Peruvian Cultural world of music in the right path. This is a great way to learn and start your journey to the beautiful costal waters of Perù and the amazing Andes that connect the country.
I cannot forget about the package. A wooden cover, red marble texture that gives honour to this genre of music from a third world land.
I cannot wait to listen to the Rhythms of Black Perù. Secret Stash Records is invading your ears with Perù.
You can buy Peña I as a CD and DVD in it's wood packaging at Amazon. The record is also available from Secret Stash Records and iTunes.

Follow Sounds and Colours: Facebook / Twitter / Instagram / Mixcloud / Soundcloud / Bandcamp

Subscribe to the Sounds and Colours Newsletter for regular updates, news and competitions bringing the best of Latin American culture direct to your Inbox.
Share: