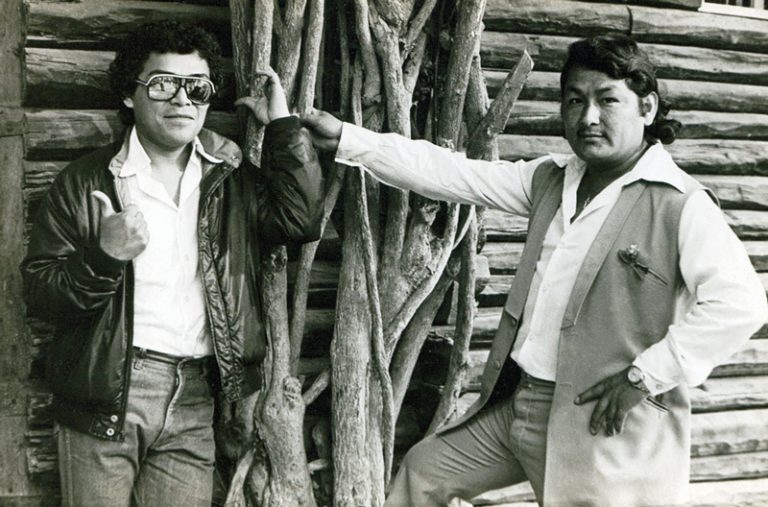 The Story Behind The Relaunching of One of Peru's Most Important Chicha Record Labels
07 June, 2017
If you ever get lost in  the south of Madrid, you may stumble upon a handful of picanterias emanating slowly-cooked fumes of seafood and fried yuca. The trail spreads into neighbouring locutorios, call-shops where you can find stacks of corn and sweet potatoes to purchase alongside USB flash drives.
Since the 1980s, the Spanish capital has become the largest hub for Peruvian immigration. Hence, it is no wonder that Jalo Nuñez del Prado, manager of the legendary chicha label Horóscopo, has chosen this city as his home-base to relaunch an era of sonic explorations and struggles between the melancholy of the Andean landscapes and the uncontrollable, urban drumming of rock and roll and guaracha. Thanks to Nuñez del Prado, Discos Horóscopo, the powerhouse of migrant culture in 1980s Lima, has resuscitated its legendary catalogue starting with an LP by iconic chicha legend Chacalón. Hitting the stores in late June, it will be the first of a series of reissues available on streaming platforms and on vinyl. Subsequent releases will be supported by a recently launched crowdfunding campaign.
Tracing A Path to Chicha Gold
The journey undertaken by Jalo Nuñez del Prado to acquire the licensing and management rights of Horóscopo – who had previously made a name for himself with his indie-rock label Plastilina Records -begins in 2015 in the locality of Barranca. In this sleepy harbour-town 175 kms north of Lima, Juan Jesus Campos Muñoz has secluded himself from the frantic pace of the capital, concealing his days of glory as the founder and restless producer of countless Horóscopo releases currently residing on lofty shelves behind family pictures. Campos had shielded himself from modern communication, which was a good enough reason for Jalo to risk a bumpy ride across the 'Pasamayo' – an infamous bottleneck pass along the coastal highway – to pursue his goal, knocking on doors like a Jehovah's witness with another sort of revelation in mind.
His persistence bore fruit and soon he found himself talking a sceptical Juan Campos into an enterprise that had remained unspoken for over 30 years. The chance to write history all over again now rested on Jalo's hands – and this time he knew that the circumstances were ripe for the whole world – by now familiar with Colombian accordions and the vibrato guitars of Amazonian cumbia – to relish the unique aesthetics of true 'chicha', migrant music gestated in the Andes and born in the capital.
The Origins of Chicha
Cumbia is a popular phenomenon borne out of the economically and socially disadvantaged, but where the gravitational forces that attracted musical creativity in 1960s rural Colombia were held together by folk tales, libido and an admiration for exuberant natural surroundings, the situation for the Peruvian chicheros in the harshness of the ungrateful city of Lima set the conditions for entirely different dynamics. The daily routine of an Andean migrant in the 1980s was determined by his ability to adapt to an alien and unfavourable economic system, amassing any skill and ceasing any opportunity he was presented with. In this scenario, musicians were often placed together not by long-time comradeship but by their need to play as often as possible, in as many bands as they could. This everyday struggle extended all the way to the top of this new industry. Juan Campos' Horóscopo record label is the prime example of a success model made possible by sober hard work, dedication and a 'Midas touch', that took the man from car-repair technician to events organiser to producer and curator of a music scene that changed the pace and colour palette of a grey cityscape, exhausted by the fumes and noises of public buses and malfunctioning traffic lights.
Enter Chacalón, The Pharaoh of Peruvian Cumbia
No other chicha artist embodies the pathos of the migrant experience with such warmth and honesty as Lorenzo Palacios, better known as Chacalón, whose voice is suitably remastered in Horóscopo's first LP reissue in the series. Unlike many of his peers, Chacalón endured extreme poverty as a child, being forced to sleep in the naked streets of Cerro San Cosme, one of the many arid mountains in Lima that became the makeshift home of countless families on the verge of subsistence.
To keep himself alive, Lorenzo sang huaynos (inherited almost naturally when breast-fed by his mother), boleros and guarachas in different venues trying to gather as much loose change as a city already troubled by its own political uncertainties could spare a poor soul. His charisma eventually led him by the end of the 1970s to venture into the arena of music revolutionaries, and cross paths with one brilliant guitarist named Jose Luis Carballo.
Carballo was at the front of a school of guitarists that had tinkered with their own formula to obtain an undiluted, piercing fuzz-tone. Carballo himself had become obsessed with Eric Clapton's playing style, for which he appropriately named his band La Nueva Crema (the new Cream) and hired Chacalón to take centre stage. Juan Campos quickly recognised the opportunity and thus a happy alliance was founded and celebrated under the auspicious signs of Horóscopo.
With La Nueva Crema, Chacalón's vocal lamentations of bad hangovers and lost or lousy lovers – with the implicit nod to 'macho' attitudes – are constantly enhanced by Carballo's guitar licks that accompany him like a bird hovering above his angelic shoulder, elevating every truth out of Lorenzo's being with a bittersweet cry, one that also brings back the beauty of the Andean world that had been left behind in exchange for a wasteland of wires and concrete.
Carballo's compositional skills push beyond simple successions of notes. A proof of this is one of the album's highlights "Por Ella La Botella" (roughly translatable as "I down the bottle because of her"; see video below) that slaps the listener awake into an irresistible, funky groove that grows larger than the sum of the elements of its guaracha percussion. "Maria Teresa"'s intro on the other hand unveils the legacy of the criollo guitar school of the northern coast, an amalgam of European waltz, Andalucian flamenco and Afro-Peruvian cadences, only to surprise us again in the break with an arpeggiated chord progression reminiscent of classical music.
The Relaunch of Discos Horóscopo
There is so much to tell and be told about the records and artists of Horóscopo's oeuvre, which includes other legendary bands such as Los Shapis, Pintura Roja, Grupo Alegria and Los Destellos. And we are eager to discover its impact on new disciples with whom we raise a glass of chicha from a distance, and spill some of it onto the floor, as an offer to Pachamama.
To find out more about Discos Horóscopo's plans to re-release 10 of the most iconic albums of chicha history and to help fund the project please go to their Indiegogo crowdfunding campaign.
Chacalón y la Nueva Crema's debut album is available digitally now via Spotify, and will be released on vinyl in June.

Follow Sounds and Colours: Facebook / Twitter / Instagram / Mixcloud / Soundcloud / Bandcamp

Subscribe to the Sounds and Colours Newsletter for regular updates, news and competitions bringing the best of Latin American culture direct to your Inbox.
Share: