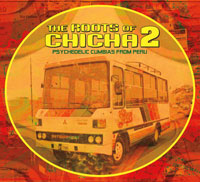 Review
The Roots of Chicha 2
After the surprise success of The Roots of Chicha, released in 2007, there is no real surprise that a second volume has been issued. Both releases feature Peru's chicha music, also known as Peruvian cumbia, or as the tagline for these compilations say "Psychedelic cumbia from Peru." Olivier Conan, who compiled these releases has previously brought up regrets about the first compilation, feeling with more time and knowledge he would have made better choices. This regret is misplaced as that first volume was an excellent primer to the genre, full of joyous, excitable songs that, most importantly, sounded like something you'd never heard before. That release took many of its songs from the Amazon. This second volume, The Roots of Chicha 2, acts more as a companion than a sequel, still mining cuts mainly from the 60s and 70s, but this time from the cities (mostly Lima), with bands from the Amazon and the Andes only making fleeting glances.
Los Destellos, the one surviving group from the first volume, open the record nicely with "Constelación," an instrumental surf guitar nugget, not sounding unlike the Brazilian guitarist Bola Sete. It is followed by Compay Quinto's "El Diablo" and Los Ribereños' "Silbando," both of which have a heavy Cuban influence and, in truth, don't sound too far from Colombian cumbia. Now I'm a big fan of this type of music but after the first Roots of Chicha I expected something a bit different, something that really stands out from the plethora of traditional South American releases on the market.
Chacalón y la Nueva Crema's "A Trabajar" is more like what I expected from the record; pleading, upfront vocals over a psych guitar line. Even better is Los Shapis with "Aguajal", one of the real discoveries on this release. Sang in the huayno style, with no trace of the Afro-Cuban sound on some of the other songs, it stands out as something very different indeed. It's also one of the most recent songs, coming out in 1981.
There are plenty more highlights on the album. "Colegiala" by Los Ilusionistas is a silky, guitar-led groove with a sing-along chorus that in another version was apparently the theme tune to Nescafe commericals in the 80s, there is something irresistibly danceable about Ranil y su Conjunto "Mala Mujer" and everything by Manzanita y su Conjunto is worth some attention, especially "El Hueleguiso" with a guitar line far more incendiary than anything Carlos Santana ever achieved.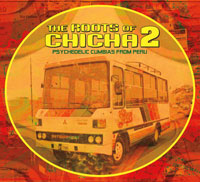 It's such a shame to keep comparing this compilation to its predecessor, but as that had such an impact, it's hard not to. The key to its success was the quality, invention and variety of music on offer, as well as the novelty of listening to music that had rarely been heard outside of Peru. Now that novelty has died down. The quality and invention remain though perhaps there could be more variety. When Olivier expressed his dissatisfaction with some of the choices on the first volume maybe it was these choices that made it so unpredictable and therefore such a fresh experience. Here, we've lost a little of that exuberance but we still have an excellent compilation, and certainly an excellent companion. Artists such as Los Shapis, Manzanita y su Conjunto and Chacalón prove that there's still a lot more to be discovered about chicha, a style that should gain many more followers as a harder-edged version of cumbia.
You can buy The Roots of Chicha 2 from Amazon HERE or from iTunes HERE.
Artist: Various Artists
Album: The Roots of Chicha 2
Label: Crammed Discs
Release: 4th Oct 2010
More info:
Crammed Discs

Follow Sounds and Colours: Facebook / Twitter / Instagram / Mixcloud / Soundcloud / Bandcamp

Subscribe to the Sounds and Colours Newsletter for regular updates, news and competitions bringing the best of Latin American culture direct to your Inbox.
Share: