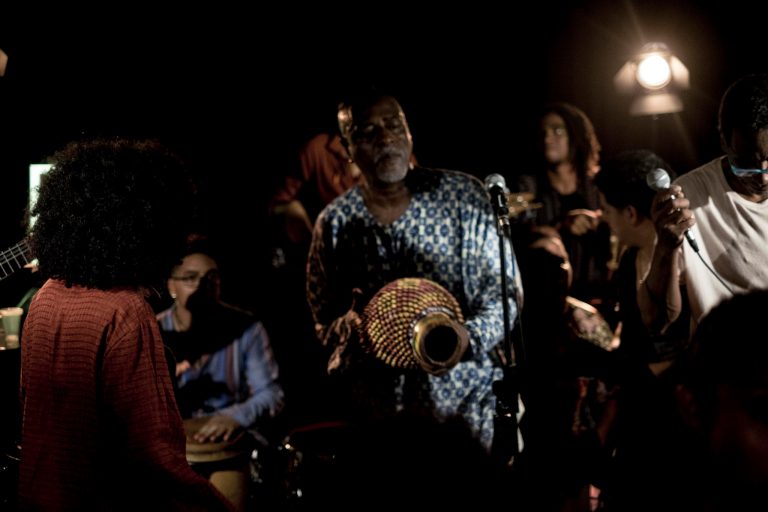 Henri Quispe / El Paradero
Two Peruvian Festivals Show the Evolution of Digital Cumbia, from the Jungle To The Club and Off In New Directions
28 June, 2019
Around ten years ago Peru's innovative digital cumbia revolution began with artists mixing classic psychedelic cumbia tracks with experimental electronic sounds and production, largely within the buzzing hive of the capital Lima. This intense wave of creativity has produced a rich catalogue of music from artists that have gone on to international recognition, the likes of Tribilin Sound, Dengue Dengue Dengue, Deltatron and Shushupe. Peru's producers have been boosted over the last decade through a number of compilation albums by international labels such as Tiger's Milk (UK), ZZK (Argentina), Hawaii Bonsai (Switzerland) and Lima-based Terror Negro Records, the Peruvian collective of friends and artists that helped shape the genre. Many of the scene's finest artists performed at Lima's bi-annual Perú Independiente festival, held over 30 and 31 March at the finale of Lima's sweltering summer. The festival was also a showcase of independent art, with hundreds of traders selling original designs paying homage to the luminous, psychedelic tradition of Peruvian pop-art, seen on posters in every town, village and city around the country advertising the latest chicha music concerts.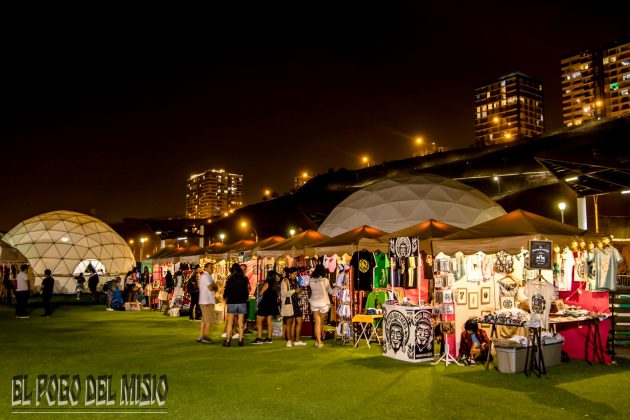 It Began In The Jungle
Saturday night of the festival hosted a set from Lima DJ Shushupe, performing with a crowd-baiting energy, leaping around the stage shouting at the bouncing audience, feeding back on the love for her diverse digital cumbia sound. The site of Perú Independiente sits directly facing the shoreline of the Pacific Ocean, as the sea breeze blows in in over this coastal capital. Much of Lima's electronic cumbia seems to buzz with a similar atmosphere with a deep, drifting flow to the soundscapes. Many Peruvian artists have equally looked to the jungle for inspiration, from bands such as Los Wemblers and Pax de Iquitos, named after the northern jungle city Iquitos only accessible by plane or boat. Such bands have been recording since the 1960s, yet only recently taking on a status of national treasure pushed by this new generation of Peruvian electronic artists. Alongside the digital cumbia movement, psychedelic cumbia bands from the 60s and 70s have gained greater recognition through widely published compilations such as Roots of Chicha and Peru Maravilloso, with Los Wemblers de Iquitos reforming in 2011 and completing a tour of Europe in 2018.
Shushupe looked to the jungle as an inspiration for her music, sampling many sounds from that environment for her music, aiming for a deep, trance-like sonic exploration. "I've travelled lots through the Peruvian jungle, taking samples from the sounds of the forest for my music. It's so rich in sound, you're constantly hearing so many animals and tones everywhere. There was a huge boom of bands from there in the late 60s and throughout the 70s, I've taken inspiration from these sounds and from travelling other countries, now I've played in Europe, Russia, USA. The music of Peru has really become international."
Many of the scene's electronic producers are harking back to the era before Peruvian cumbia evolved into the popular urban sound of chicha from the 1970s onwards, becoming a brighter, more upbeat tone that is heard today playing on sound systems of cafés, buses and bars across Peru. Many of Lima's upcoming bands performing at Peru Independiente however are exploring the possibilities of fusing the popular chicha sound with other influences. La Nueva Invasion, La Inedita and Olaya Sound System all mix variants of high-energy ska, reggae and hip-hop to create a festival-friendly sound now reaching ever-greater audiences.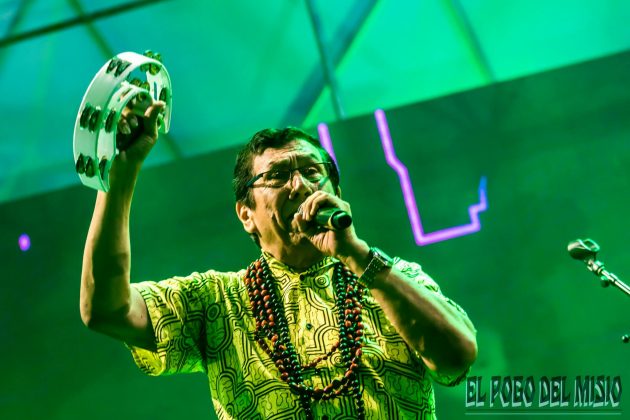 As beloved grandfathers of Peruvian psychedelic cumbia, Los Mirlos [pictured above and below], took to the stage for Sunday's headline set. There's something joyous about watching them shake a tambourine and slowly bop around the stage as thousands dance to classic tunes etched into the Peruvian pop-psyche. As teenagers and parents alike sing along to their songs, the band state: "thanks to all you young generation dancing to Los Mirlos, this is the same music your parents and grandparents danced to". Throughout their set and during those of many other bands performing over the festival, there are numerous homages to the jungle and the psychedelic influence it has created in the country's music and art.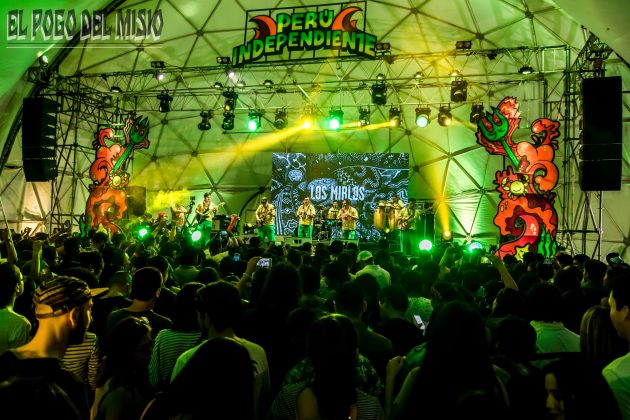 Here in the massive urban sprawl of Lima it feels like an attempt at reconnecting with another reality and history of Peru, with many songs paying tribute to traditional medicines such as ayahuasca, used by countless generations of indigenous and rural populations to create a deeper sense of connection to the natural surroundings of this huge, biologically diverse country. Aside from the electronic producers, one of the most successful Peruvian bands shaping new, progressive sounds from the psychedelic cumbia tradition has been Los Chapillacs of Arequipa. With a dense and modern production, fusing influences of ska and dub with the psychedelic sound, the band have had their music remixed by the likes of legendary dub producer Mad Professor.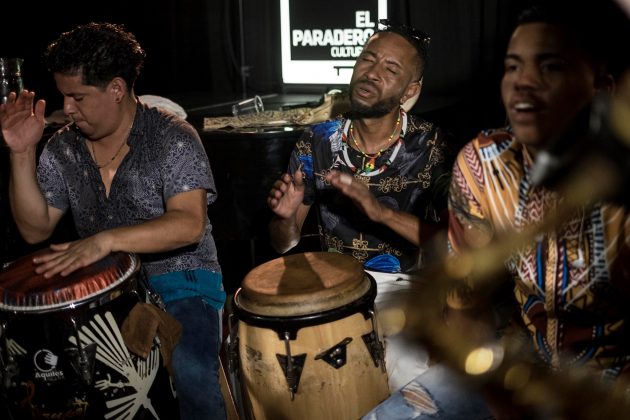 Afro Sounds of the Coast
Beyond the cumbia and chicha heard on every street corner, other cultures and musical legacies pulsate through Peru's veins. Festejo music originates from the Afro-descendent communities of Peru, with frantic percussion and a much higher intensity dance compared to the slow swagger of cumbia. Artists such as Lucila Campos, Lucha Reyes and Arturo "Zambo" Cavero (amongst countless others) have mixed various Afro-Peruvian styles to broaden the criolla music of mixed cultural heritage into a diverse catalogue within Peru's musical landscape. Lima producer Tribilin Sound has mixed classic artists from cumbia icon Chacalón to folk-legend Victor Jara, although most recently exploring the rich legacy of festejo music, reworking the songs of Arturo "Zambo" Cavero with electronic sounds on a new collaboration album with Rolo Gallardo, Proyecto Zambo. As Peru's digital cumbia movement has grown and evolved, many of it's leading artists are diversifying and mixing influences, such as Tribilin's festejo mixes, helping to broaden its reach in Peru and beyond.
One festival representing the broad, organic live sounds of Peru's Afro heritage is the Festival Afrodescendientes, which took place in April 2019 at the El Paradero cultural centre in Lima. A celebration of Afro music and dance in Peru, it featured artists such as Clave Yoruba alongside discussions, speakers and cajón percussion workshops from the likes of Lima's Afro-fusion legends Novalima. It had a packed, sweaty high energy atmosphere throughout, with bands charging through ten-minute songs as the dancing barely stops. Alvaro Isla, one of the organisers and musician with Que Tal Afro had this to share: "there are a million variants of Afro-Peruvian music … but we are all afro-descendants and part of the same family. This festival formed with the idea of leaving behind all the racism and division in society and attempting to unite us in something. We're trying to say that the colour of your skin doesn't determine your culture, you're not defined by it. Everyone can enjoy music from different traditions, it's something the world can share and exchange". Alvaro and Tribilin Sound can be found performing around Lima under the moniker Afrobomba, collaborating to explore new variations of Peru's Afro music.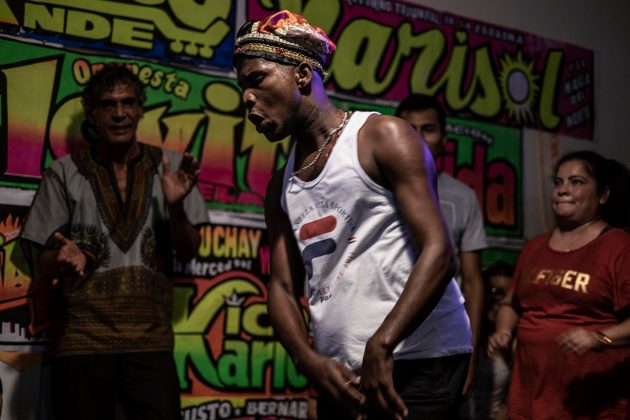 These two festivals are just a glimpse of the creative energy of the new music coming out of Peru, exploring musical possibilities that can be shaped by mixing traditionally popular sounds with progressive influences and production. After the digital cumbia boom that spawned so many artists, it seems that Peru's sonic exploration is just beginning to open up, with a diversity of artists and producers re-imagining sounds of the past with an ear towards the future.

Follow Sounds and Colours: Facebook / Twitter / Instagram / Mixcloud / Soundcloud / Bandcamp

Subscribe to the Sounds and Colours Newsletter for regular updates, news and competitions bringing the best of Latin American culture direct to your Inbox.
Share: