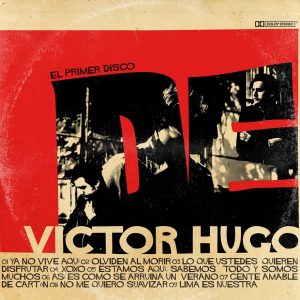 Review
Victor Hugo – El Primer Disco de Victor Hugo
Once in a great while, I hear an album that brings me back to my "rock en español" roots and reminds me of that epic era when Gustavo Cerati was out and about spinning honest lyrics with rockstar moves that made England shake for us, when Fabulosos Calavera delivered Los Fabulosos Cadillacs' most interesting salsa-rock-ska cocktail with a twist of tango, and when music truly marked not just an era, but a feeling. That's what Victor Hugo does about 20 years later. This Peruvian singer and vocalist of Mi Jardín Secreto manages to sound like rock god Cerati and rock icon Morrissey all at the same time. El Primer Disco de Victor Hugo is daring, weird, rough around the edges and completely and utterly rocking.
It's hard to know where to start with this record because each track seems like its own show. It's as if Victor Hugo is showing us his entire portfolio, and the portfolio is versatile. Let's say that my favorite track is "Olviden al Morir." This song is lyrically amazing ("hay tantas cosas que podría decir pero me temo que es mejor dejar callar esos momentos porque dudo que se me olviden al morir" / roughly, "there are many things that I could say but it's better to keep those things quiet because I doubt I'll forget them upon dying") and sounds as if Ulises Hadjis and Gustavo Cerati collaborated. It's playful, it's catchy but it's incredibly melancholy too. The second-to-last track, "No Me Quiero Suavizar" is also like this, with lyrics that remind me of Tom Waits' "I Don't Wanna Grow Up."
If there is a fault on this record it may be that it's weird – really, really weird. It's the kind of weird that sometimes is hard to follow, and that may put off some listeners at first. It's dreamy in a nightmarish sort of way and even in its poppier moments, it's still a somber record. It's also messy in its flow and its tracks tonally jump all over the place, but at the end none of this matters because the songwriting is so good.
There are songs on this album that are like a melodramatic soundtrack (I'm looking at you, "Lo Que Ustedes Quieren Disfrutar"), but for some reason, they all work together and are self aware in a mature way. Some are smooth jazzy ("XOXO") but work as mellow palate cleansers. Some are poppy with 80s ballad sensitivities ("Estamos Aquí, Sabemos Todo y Somos Muchos") and some sound like they should have been in The Good, The Bad and the Ugly ("Así Es Como Se Arruina Un Verano") but there's an element in everything that keeps the record sounding cohesive: it all has found sound in some way, shape or form. There are recordings used in almost every track of just people talking, street sound or other natural sound, elements that make producer geeks like me giggle. Not only that, but this record's urgency and immediacy gives it "ganas", unbelievable guts. It's a risky project that pays off, and by far one of the most powerful and interesting pieces of work I've heard this year. When listening to El Primer Disco de Victor Hugo, much like when watching Alfonso Cuarón's early film Sólo Con Tu Pareja you are keenly aware that you are in the presence of a master of his craft who is only going to get sharper and more poignant with time.
Find out more about El Primer Disco de Victor Hugo at elprimerdiscodevictorhugo.com.
Listen to the album in full below:
[soundcloud url="https://api.soundcloud.com/playlists/8669355″ params="color=ff6600&auto_play=false&show_artwork=true" width="100%" height="450″ iframe="true" /]

Follow Sounds and Colours: Facebook / Twitter / Instagram / Mixcloud / Soundcloud / Bandcamp

Subscribe to the Sounds and Colours Newsletter for regular updates, news and competitions bringing the best of Latin American culture direct to your Inbox.
Share: