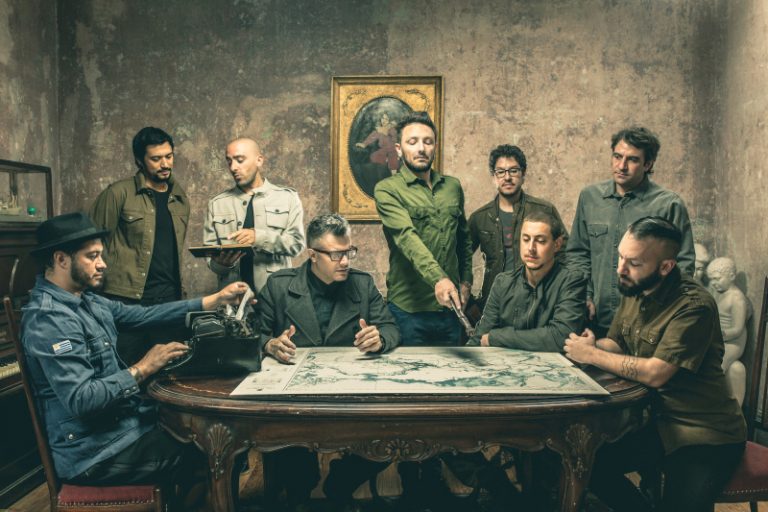 Persistence, Perseverance and Doing What You Love: An Interview with No Te Va Gustar
21 September, 2018
Trying to describe Uruguay's music scene at the turn of the 21st Century in simple terms is tricky, but perhaps describing it as the 'avant garde' cousin of rock en español is the closest we can come to summing it up. During the 90s Uruguay was invaded by western rock influences at the precise moment when pop culture was globally intermingling with grunge. Out of that scene emerged the musical masterminds of No Te Va Gustar (NTVG), a group who would bind the local classic rock of Los Estomagos with the powerfully humble Manu Chao. After 25 years, they're still going strong.
The popularity of rock bands that included a brass section eventually blossomed in South American reggae/ska forms that were new to the continent and were well received by the public; this was especially the case in Argentina and Uruguay. Examples go back as far as Los Fabulosos Cadillacs, Los Autenticos Decadentes and La Mosca Tsé – Tsé in terms of Argentinian bands. The Uruguayan bands were on the same page but their sounds were much more spontaneous, youthful and easygoing.
NTVG started out as a power trio in school but are these days a much-larger nine-member band. This past year they've been on tour supporting their latest release Suenan Las Alarmas, not to mention their combined repertoire of twelve studio albums. Their new album features twelve tracks produced by the honorable Hector Castillo, and includes special collaborations from Herbert Vianna and the Mexican group Flor de Toloache.
The group's saxophonist Mauricio Ortiz talks to us about the past and present of NTVG, their tour dates in the United States and Latin America, along with the learnings of band life. The future for NTVG includes a biography written by a close friend and an acoustic proposal for their next album.
So it's been almost 25 years together…
Well we started out as a school band trio in 1994. And then in 1996 we started to play the [songs that became the] first album, and after that there came musicians that later became band members and now there are nine of us in the whole band.
What was going on with the music scene in Uruguay in the 90s? What sounds drove you towards the making of your own music?
Well, I remember that during the time we would listen a lot to Manu Chao and to local rock bands like Los Estomagos, who were more orientated towards classic rock. We were looking for a sound that would bring both the instrumental variation that Manu Chao had along with a more classic rock sound. Back in the day there were bands such as La Abuela Coca that were pretty much out there when we wanted to come along as a band, especially regarding the idea of a bigger group with more instruments to add a variety of sounds to one's music.
So, what was happening during that time was that bands were interested in adding more sounds that could harmonize along with what was already installed as classic rock riffs. La Vela Puerca was another example of this type of proposal.
And NTVG would also go through that process where the first idea was to add some keyboards, later we would add another guitar and then brass with myself.
What is it like to have to coordinate nine people both in rehearsal and during live sets?
Its been a long journey and we've gone through a lot of shows. I personally consider that the live show is probably our forte; the music certainly feels a lot more alive. Especially considering everything we've been through. We started off in small town bars here in Uruguay, and then we started playing around different parts of the country to eventually shift towards other surrounding countries.
Considering the popularity of the band once touring out of the country, do you feel the music that came after was more concerned with showing Uruguay to the world or getting the band into the international charts?
No, we always had a pretty clear vision of what we wanted. But regardless, we feel that for every tour we allowed [ourselves] to absorb new sounds, new rhythms, or even musical styles. Once you head towards places such as Mexico or Colombia, its pretty nice to include elements [from these countries] as details to colour with [when making] new music. We normally have a clear base in terms of what we want to sound like but to have different elements to play with is something we enjoy a lot. Lately we've been interested in touring more in Latin America than in the past, where once we had the chance to hit Europe we toured all we could, so now we'd like to find more audiences around Peru or Bolivia.
What feeling do you get when you look back at your albums from Sólo de Noche (1999) up to Suenan las Alarmas?
Its pretty shocking as an experience any way you look at it. From rehearsal, to studio mixing, to meeting new people, and learning about other artists and other proposals, to touring. You start to learn fast that life is a long process of learning and working constantly. It's a way of life that forces you to learn.
How did the collaborations with Herbert Vianna [of Brazilian rock group Os Paralamas do Sucesso] and Flor de Toloache come about on the latest album?
We produced this album with Hector Castillo and we came up with the idea of including Flor de Toloache [watch "Los Villanos" above]. They're an all-girl band of mariachis and we really liked their voices. We met them in Las Vegas a year or two back, and we kept in touch because we knew we might like to play with them. So, on Suenan las Alarmas we wanted to make a song that was more a Mexican ranchera, and [there was] nothing better than a powerful voice from one of the girls to give us a hand.
And with Herbert we had met him a long time ago. NTVG opened for a show of his in Uruguay a way back. And we enjoyed the idea of having a Brazilian artist along to give the album a different stroke of Latin influence.
What advice would you give to bands?
Persistence, perseverance, and do what you love. And today, we have all the tools to get around much easier. I believe you can do it, it gets hard at times but it's possible to live off your band. A lot of hard work, organized order and no fear at all. You must get out and play wherever you can.
No Te Va Gustar are playing San Diego on Sept 22nd followed by shows in Argentina and Uruguay. Full details of all shows available at notevagustar.com

Follow Sounds and Colours: Facebook / Twitter / Instagram / Mixcloud / Soundcloud / Bandcamp

Subscribe to the Sounds and Colours Newsletter for regular updates, news and competitions bringing the best of Latin American culture direct to your Inbox.
Share: