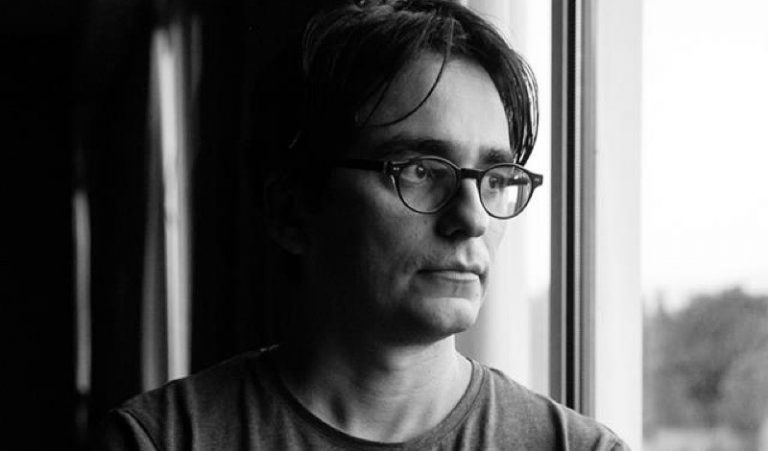 Andrés Duque – Intuitive Film-making in a Chaotic World
14 November, 2017
He never went to film school but Andrés Duque has established a reputation for very personal experimental films. His work, as well as his life in general, have been guided by intuition and disorder, as well as his formative years in Venezuela, the country he was born in 1972, and where he lived until moving to Spain in 2000.
A prime example of the way he works is the film, Ensayo Final Para Utopia (Dress Rehearsal for Utopia, 2012), which came about by chance when he volunteered to help publicise a project working to help orphan children in Mozambique. While he was there he met a group of dancers, who were gathering in an old cinema in Maputo called Cine Africa, and fell in love with them and what they were doing. At the same time, he went to the cinemateca to look for avant-garde films about the FRELIMO independence movement, films which were experimental and not simply propaganda. Andrés was fascinated by the images of bodies in the FRELIMO movies as well as in 25, a documentary about the Mozambican independence by Brazilian director José Celso, and he paired these images with dances that he shot in present Moçambique. To add yet another layer, Ensayo also contained images of his father, who was seriously ill at the time, with the idea of expressing the strong emotion he felt at that time.
Recently, at the 2017 DocLisboa film festival in Lisbon, with the title Nostalgia Over Lost Causes: Reflections on Venezuela, he presented a commentary on excerpts from Ensayo Final Para Utopia as well as from two other films, Color Perro Que Huye (Color Runaway Dog, 2011) and Primeros Sintomas (First Symptoms, 2015) – he has directed four feature length documentaries and three shorts in total over his career.

Trailer for 'Ensayo Final Para Utopia'
I arranged an interview with him after attending the festival and discussed how he navigates his life and his film-making on the fringes of society, and about his new project to make a film in a place he has never visited about a film no-one has seen.
You said that your first film was a way of getting to know yourself…
The year after I arrived in Spain, in 2001, I had to do a portrait of Ivan Zulueta, [which would be titled Ivan Z and nominated for a Goya Prize for Best Short Documentary in 2004], an avant-garde film-maker from the Basque country. He was very difficult to approach, because he had been hooked on heroin for many years, and it was only in 2003 when he finally let me into his house to make this film. Financial support or help from a producer were no use, I had to do everything by myself.
He also worked in a very DIY way, and I somehow felt that I should continue. When I made Color Perro Que Huye [released in 2011], I knew there was no turning back – "I'm not doing conventional film-making any more, whatever it takes I want to do everything the way I want it".

Trailer for 'Color Perro Que Huye'
Was that about controlling how your films are made, or about choosing the subject matter that interested you?
It's strange, because I never wanted to have control over things. What I like most is to detect something in the real world that is so strange, so over the rainbow, that I have to capture it. Of course, it has to do with personal things, with madness, schizophrenia that I've been familiar with. In madness there is a kind of reality that is very stimulating for me.
I like to seek out people who are very difficult to reach, and that defines a lot how the film is made. Because people who are schizophrenic or just beautifully mad – hehehe – it requires a minimum of equipment.
Apart from portraits I did this trilogy [that I discussed at the festival], about myself and my memories, that mixes a lot of materials, it's a cloud of images and emotions that I want to share.
In Color Perro Que Huye, there was a clip from the film Memories of Underdevelopment [a 1968 Cuban film set during the Cuban Revolution], and you said how you hate the cynicism of the main character.
I saw that film again after a long gap, and identified with the main character. Of course, you laugh about his thoughts on the revolution and capitalism, and how his life is disappearing. I think Memories is a very important film in Latin American cinematography, but I felt a contradiction because he was totally cynical. I am absolutely critical of capitalism and right-wing politics, but I don't trust Maduro and the Chavez revolution, because I know the country I come from is absolutely corrupt. They have been giving the people this idea of socialism that is just a way to disguise the reality that they are stealing a lot of money. Does Hugo Chavez's daughter really need to live in an apartment in New York if her father was a defender of socialism and the US is the imperial power?
I included this as a critical part, but my film tries not to get stuck in cynicism. It is a very personal view, which is the only way I can defend how polarised I feel.
You talked about the principle of disorder…
The word bochinche, is very common in Venezuela. Everybody uses it but they can't define it. A teacher I had said it was 'disorganized disorder'! When you think you have seen a logical pattern in Venezuelan society it suddenly changes into its opposite, so you don't know what to do.
It was really important for my creativity to have lived through that, because intuition is what I have tried to develop, not logic, it's the most important thing in my life in general. My films are more about the intuition of finding this person, I spend all the necessary time, just me staying there to find ways to connect, and suddenly it happens, and I shoot.
This is part of your own process of living?
Absolutely, it isn't separated. I never ask for money, I can't say to a producer I'm going to make a film about so-and-so, because I don't know. I was able to get some funding from an art foundation for my next film because they already know my work. I told them, I have a landscape, I want to go back to Russia, and there is a place called Karelia that has these elements that I like. I've never been there, I don't know what the film is going to be about, and they gave me the funding. I'm really excited!
There is something there, I don't know what to call it, but the way things have been happening, and how I have been finding information… I can put it like this: there is a mysterious film, that nobody has seen, but I know it exists. If this film exists it will be a bomb, it will be the centre of the film. The Republic of Karelia, which is on the border of Finland and Russia, is an interesting place, so I'm going to live there for a month by myself, and shoot in the spring.
They have a culture that has resisted Christianization and Russification. Finnish people think that Karelia is the true essence of their identity. They lost most of it during the war. It is a magical place, filled with the ancestors, shamanism, they are animists. Their culture is disappearing and there are only 80,000 people speaking their language now.
You were arrested for kissing your boyfriend in the street in Venezuela when you were 18. Is that correct?
It is still a homophobic country, and that is one of the things I hate about the Chavistas. At least the opposition accepts homosexuality.
I was in the remand centre for only about four hours, but I was going to be sent inside, where I would have been raped and probably killed, because that was what this policeman wanted. He didn't want money. Usually in Venezuela, you pay them and they let you go. He wanted us dead.
We were handcuffed and taken to the jail, and I saw a public phone and ran and called home. My father came and saved us – probably he paid money. I love my parents, they were always so respectful with me, my sexuality. They were raised as Catholics, but the moment I said I didn't believe in God, they said "we understand, don't go to church". They wanted us to experience freedom. I really loved them for that, because in school you learn fear: "Don't do that, watch out! Don't be different."
You can find out more about Andrés Duque's work at andresduque.com
Here's Andrés discussing his latest film Oleg y Las Raras Artes (Oleg and Strange Arts):


Follow Sounds and Colours: Facebook / Twitter / Instagram / Mixcloud / Soundcloud / Bandcamp

Subscribe to the Sounds and Colours Newsletter for regular updates, news and competitions bringing the best of Latin American culture direct to your Inbox.
Share: