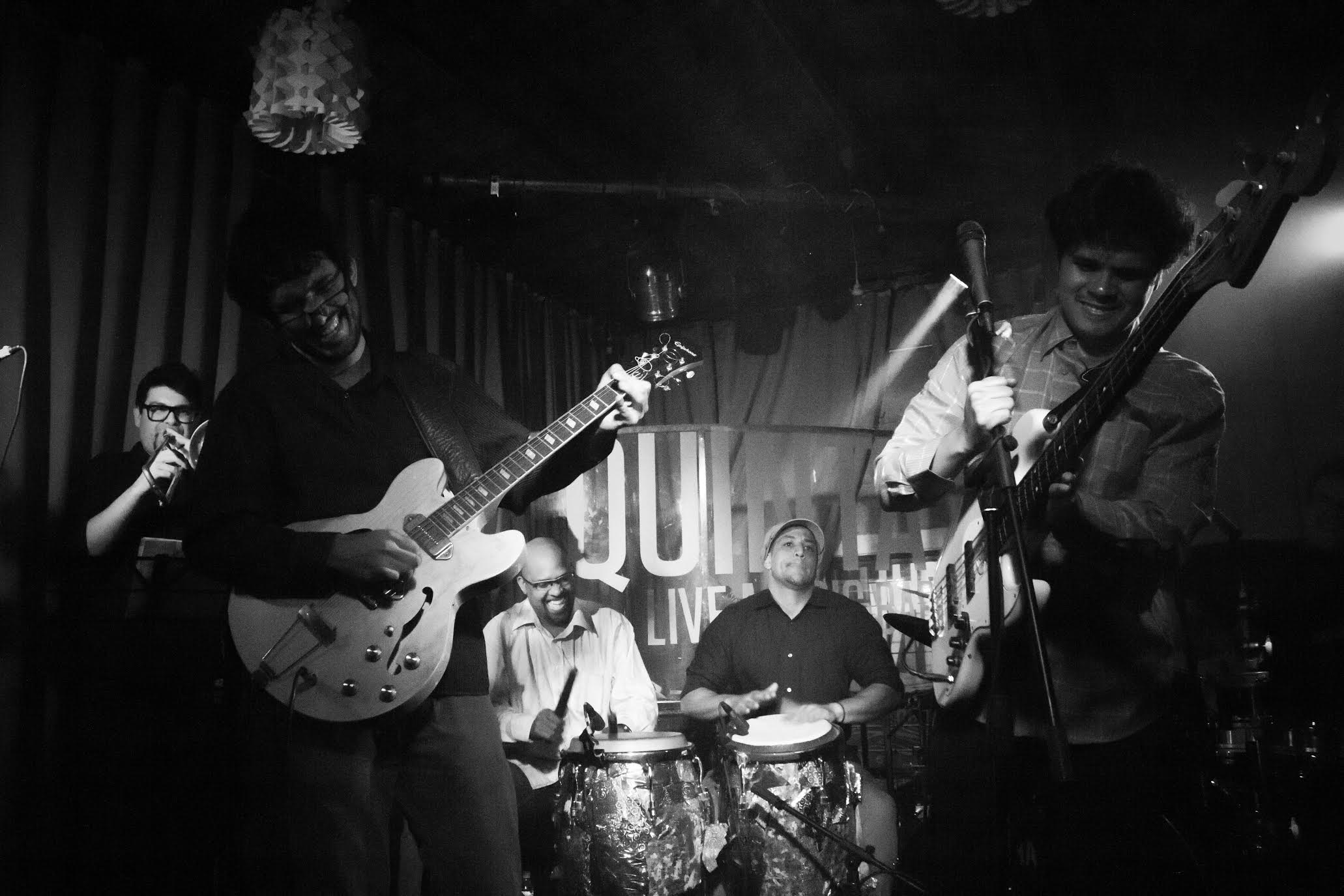 INTERVIEW: Raúl Monsalve from Monsalve y Los Forajidos on Afro-Venezuela
26 August, 2015
Monsalve y Los Forajidos, headed up by Raúl Monsalve is a Venezuelan group who specialise in taking the African roots of American music from their country and elsewhere, and mixing them to create a soulful and funky afrobeat sound. They are coming to London to play at the Southbank Centre on 28th August as part of the Meltdown Festival, and they will also be playing in Rich Mix on 3rd September as part of the 'New Sounds of Venezuela' event organised by Movimientos. Sounds and Colours caught up with Raúl Monsalve before the group's performances in London to discuss the place of African music in Venezuelan culture, and the artistic consequences of the current crisis.
Will this be your first time playing in London?
Actually I used to live in London, around five or six years ago. I did ethnomusical studies there. I played with lots of different people for around a year and it was really hectic. After London I went back to Venezuela, I played there and recorded a new album. Then I came to Paris.
How did you come together as a group in Venezuela?
We came together around the end of 2007. It was really just all my friends, although we were playing in different groups at the time. I picked some people out who I thought could work well together, who had some similarities and so we started to play a little bit of afrobeat and funk. Afterwards things changed, as lots of people, including me, left Venezuela. It was really difficult. I try to visit Venezuela every two years, and each time I go back the group is different. The band is changing all the time. At the beginning it was really a group of close friends.
So how did you start playing this kind of music?
I started to study the music of a region in Venezuela whose community has very strong links with Africa. Its an Afro-Venezuelan community. I got really involved in the music and became friends with lots of community members. I started to mix and make connections between afrobeat, funk and our Venezuelan music. For me there was a really clear link, they have the same roots and it was easy to do. I used to invite people from the villages and we mixed with electronic instruments and drums. They started to dance and it was so fluid. It was a really big moment for me because I had an idea in mind, and now I was seeing it work. Now I work with that as my inspiration. I wanted to mix these genres and I really love to see that all Afro-American music goes well with Afro-Venezuelan music.
Do you think Afro-Venezuelan music is now part of popular culture in Venezuela, or is it still seen as something set apart from the mainstream?
It's difficult for me to say because I am in Paris and I have lived here for four years. Each time I go back to my country I see that you can listen to Afro-Venezuelan music and it's becoming easier to get in touch with the music. However it's not at all in the mainstream. You see this kind of music live, at the beach. The whole of the Venezuelan coast is full of African-descended communities. It's part of our culture and it's something you grow up with, but it's not on the radio. I think some younger musicians, and people like me are starting to do some mixes and incorporating Afro-Venezuelan music into their work. It's going to make a change and it will become more accepted.
You say that the situation in Venezuela is very difficult right now, and that everyone is leaving. What do you think is happening in Venezuela? Also how do you think the situation is affecting the arts in the country?
That is a very difficult question. The situation in Venezuela is so complicated. I don't really want to talk about politics. It's too complicated. The reality of the country is that it is in crisis and it's very sad. I have friends and family there and I see that they struggle to find basic products like toilet paper, it's crazy. It's stressful for everyone. You talk about the crisis and you can spend hours and hours talking about it and it's really tiring.
At the same time, every crisis awakens an artistic movement so I'm really happy to see a lot of my friends doing very creative experiments. I just saw a picture of my friend who plays cuatro, a traditional Venezuelan instrument and he is an amazing player. He invited people who play traditional music to his concerts and it's great to see the modern and traditional together, with lots of people dancing, a real part you know. It's really nice to see. The younger generation of musicians are playing at an amazing level. There are really, really incredible musicians coming out of Venezuela now.
What other groups are coming out of Venezuela that you admire?
This friend of mine, Edward Ramírez, plays a mix of joropo and tuyero (traditional Venezuelan genres), but he is playing them completely in his own way. The drummer Orestes Gomez, who recorded with me in my album, is just incredible, I can't believe how good he is. The group Afrocódigos too. One of their percussionists will be playing with us in London. He has a really deep knowledge of Afro-Venezuelan music. Also Casa Escondidas, the new album from a group called Corales.
After you come to London are you going back to Paris?
Yes I teach music here in Paris, so after London I'm going straight back to work. We are also doing some concerts here. So until the end of September we are very busy, it's a really nice time for the group.
Monsalve y Los Forajidos will be playing at Meltdown Festival on 28th August, and at Rich Mix as part of New Sounds of Venezuela on 3rd September.
Listen/download "Abeja" by Monsalve y Los Forajidos below – the track featured on New Sounds of Venezuela, a free-to-download EP we released with Movimientos last week.

Follow Sounds and Colours: Facebook / Twitter / Instagram / Mixcloud / Soundcloud / Bandcamp

Subscribe to the Sounds and Colours Newsletter for regular updates, news and competitions bringing the best of Latin American culture direct to your Inbox.
Share: