La Familia
07 August, 2018
La Familia (The Family, 2018 / Dir: Gustavo Rondón Córdova) starts with a scene among feisty young rebels, the reality of Venezuelan youth at the edge of the slums of Caracas. There is a mix of boyish playfulness, mutual care, adolescent testosterone and hints of potential violence. Not long after, everything turns sour and a different perspective emerges that unites a son with his father in a very unexpected way. Several things struck me as achieved so well that I was engaged and moved.
The focus. Through camera work and photography the viewer gets taken into the inner world of father and son and you feel for each of them even though they are both far apart in their views. Pedro (Reggie Reyes) is a reserved adolescent facing the realities of a harsh environment and trying to make sense of his place in this world. Andrés (Giovanny García) is a detached dad whose inner struggles collides with his son's. As an adult viewer, I empathized with his position. How do you bring up a son under the circumstances of a very hostile place? Yet, as a boy, I would completely get where Pedro's logic lies. What do you aim at? What role models guide you? Who do you want to be? These everlasting questions are asked in an environment where you don't see any option that looks promising.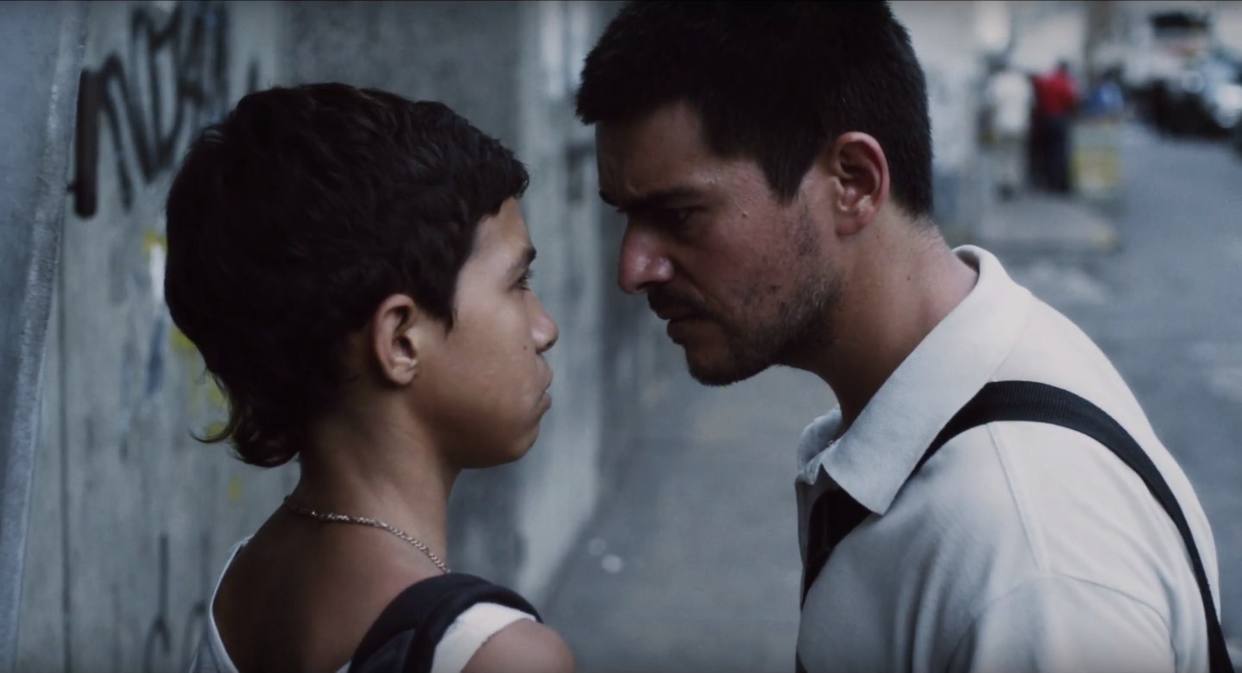 The colour. The movie is unexpectedly blue, green, purple and grey. The colour matches the mood to perfection and even the happier moments continue in those hues. Colour turns into emotions. Emotions are pensive and reflective and deep love and concern masked with I-don't-really-care attitude. But the characters are authentic and they truly care!
The space. There are times and silences during the film that give you plenty of space to have your own thoughts, which makes this film exquisite to me. The slowness gives you a moment to reflect. "What would I do?" The faces of the actors display deep emotion but you have room to interpret whether it is love, regret, contempt or nostalgia that they may be feeling. There is a minimalism of explanation that I truly enjoyed. Will a non-Venezuelan audience pick-up on everything is not said? I expect each person will fill in the blanks with their own projection.
The love. Love happens in the film as it develops, You come to understand each other's point of view. You engage with the characters and they shed a little light on what love means to them in their own terms. Body language did not express it but I felt it, it is there, demonstrated in a very particular way unique to Pedro and Andres. The focus stays on them, their reality, their connection and you witness how they evolve. https://hentai-moon.com/tags/femboy/ femboy hentai video watch online!
About the making of the film.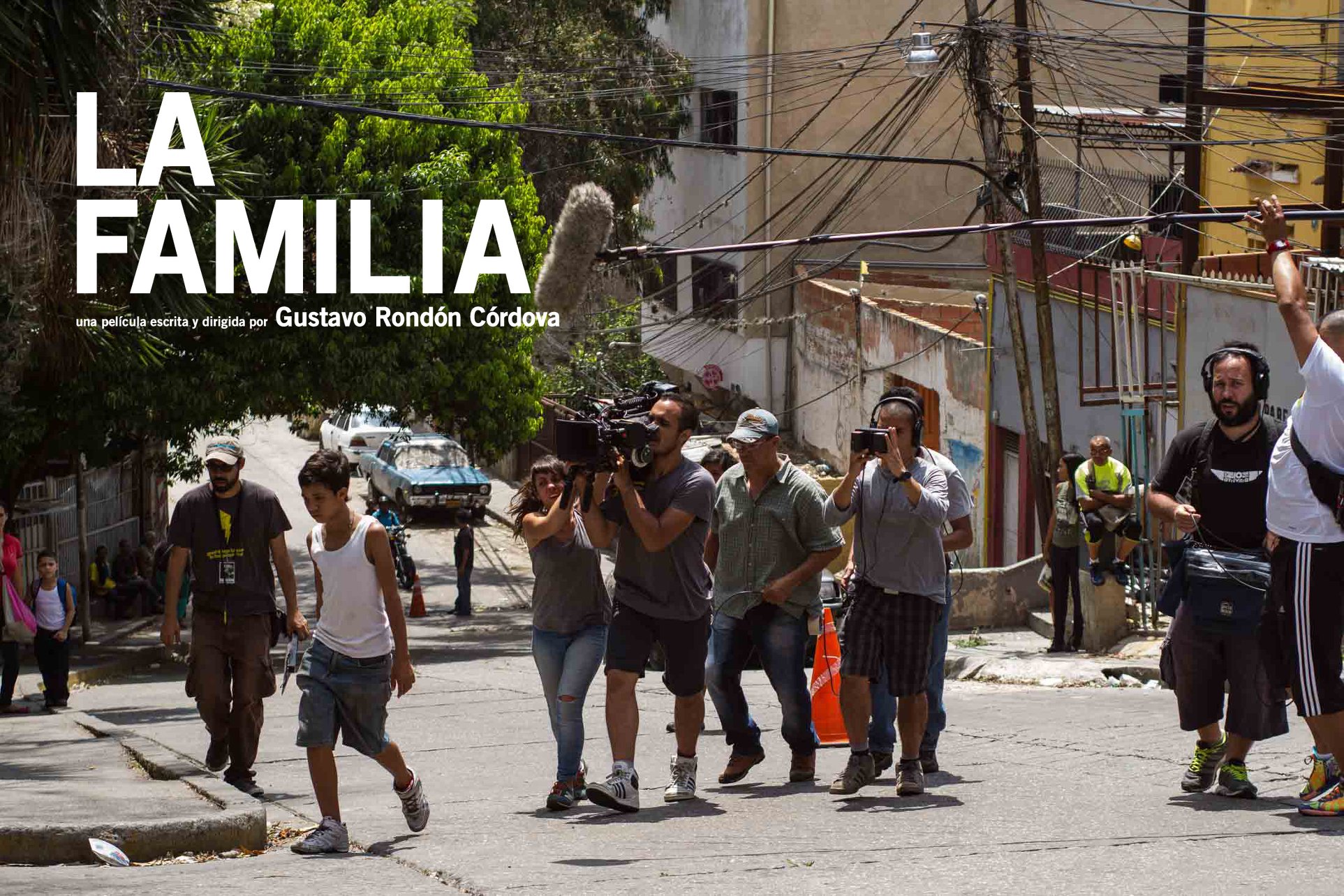 Pedro. The young actor Reggie Reyes, was a participant in several workshops held to develop the friendship of the children. As a group, they were given exercises and theatrical tools while the director mixed in as an assistant to the casting crew and didn't let in who he was. At a certain point, as they played and practiced and did try-outs, it was obvious that they had their Pedro. The director says "one day the camera we played with and did our try-outs would not move anymore, it would not pan to another child. That day we knew; I saw my colleagues and realized something had evolved. Reggie was there standing, motionless, solid. His intuition in front of the lens became concrete, his body became strong, severe, rough, and at the same time tender. He generated tenderness but not pity nor sorrow. We had the Pedro we always wanted, whom we had searched for everywhere. Reggie was a dry child, that moved us due to the strength of his personality and of his image, and of his tight body and of the youth he still maintained in his gaze and in his games."
Andres. Giovanny García played the role of the dad and is a well-known theater actor who came to the workshops to help with the children and the casting directors. He was interested in the project so he auditioned for some of the parts. Asides from being an actor, Giovanny had waited on tables, was adept at several handy jobs including mechanics, masonry, and other odd jobs. One day he auditioned for the main character next to Reggie. That was enough. He earned the role because of his capability as an actor, the realism he infused in his performance and the chemistry that flourished between him and Reggie.
Their chemistry. The actors Giovanny and Reggie had met only once, on a try-out. Their spark ignited instantly. Their relationship developed and deepened through the making of the film. Under the direction of Gustavo Rondón Córdova both the camaraderie of the crew and the feel-good environment helped cement trust and friendship within the mostly unprofessional cast members. The film was done in chronological order which was helpful to an actor trained on-the-spot to make his first film. The director allowed magic to happen as confirmed when Reggie, in his role of Pedro, garnered the prize of Best Actor for this film at Santiago de Chile Film Festival SANFIC 2017.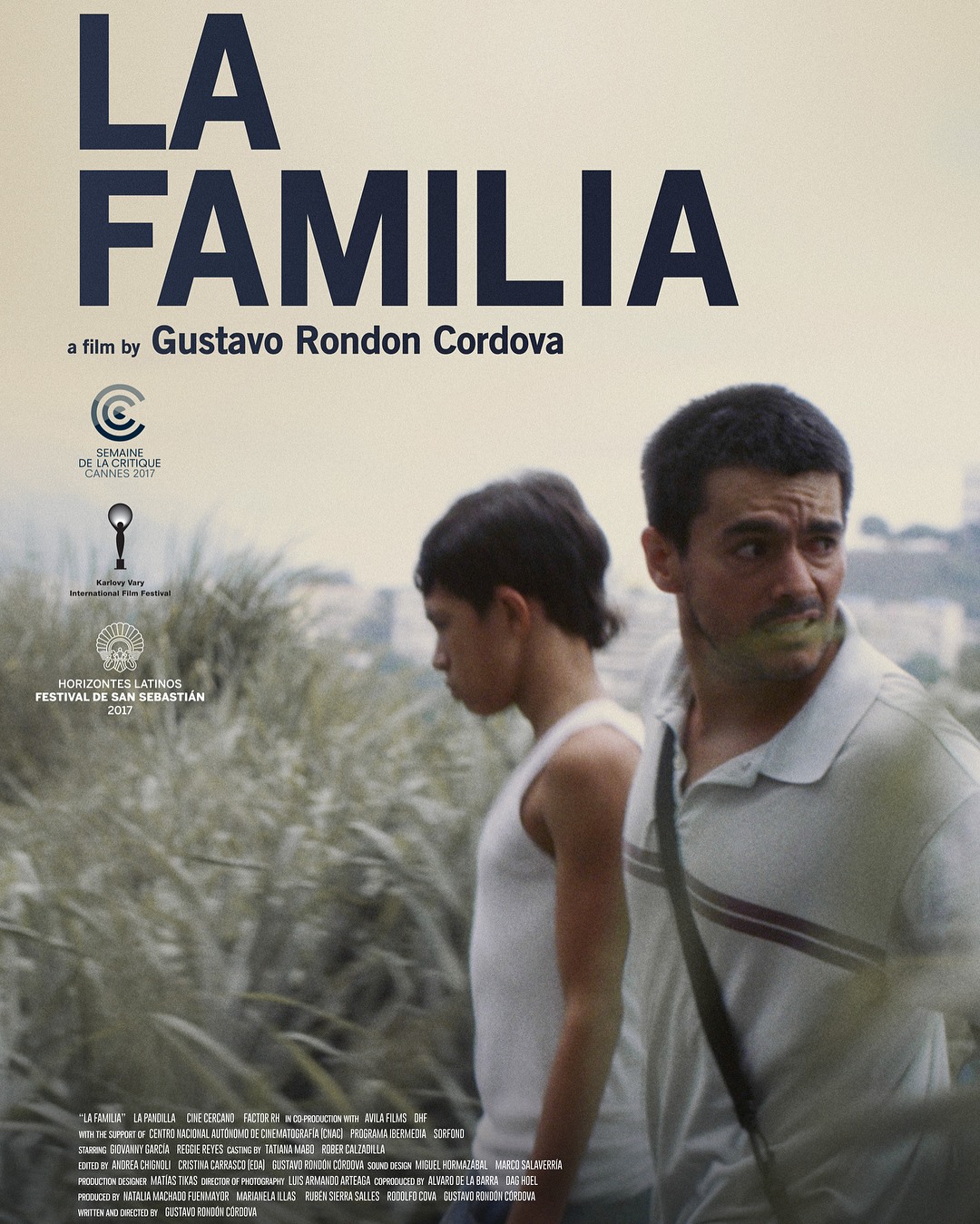 Gustavo Rondón Córdova is the writer and director and, together with Natalia Fuenmayor, the co-founder of La Pandilla. He holds a Bachelor in Communication Sciences from The Central University of Venezuela, as well as a film degree from FAMU, Czech Republic. His most recent short film, Nostalgia, was screened at the Berlinale Short Film Official Competition 2012.
La Familia, Gustavo's feature debut, world-premiered in Cannes Critic's Week 2017 and has been accepted in over 35 Film Festivals. After winning, in last March, the HBO Ibero-American Competition and Rene Rodriguez Critics Awards at the Miami Film Festival, the film is scheduled to open in the US on August 3rd, 2018 at the Tower Theater Miami. 
Check the Film Movement website for details of the latest screenings in the US.

Follow Sounds and Colours: Facebook / Twitter / Instagram / Mixcloud / Soundcloud / Bandcamp

Subscribe to the Sounds and Colours Newsletter for regular updates, news and competitions bringing the best of Latin American culture direct to your Inbox.
Share: