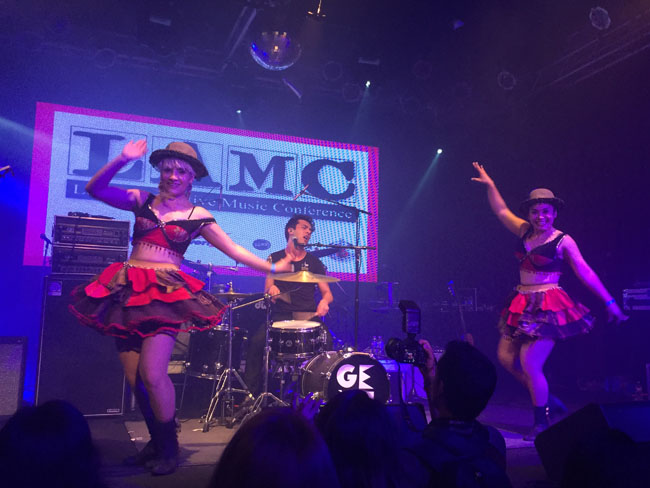 Gina Vergel
Feeding Our Hunger With Gepe
20 July, 2015
I'm the first to admit that working for Sounds and Colours is an opportunity for me to get an education in Latin American pop music. As the daughter of a father who lived and breathed tropical salsa and cumbia, and a mother who was all about the boleros or talk radio, pop music meant Madonna for "Americanized" me.
A few days before the Latin Alternative Music Conference (LAMC), I was contacted by the label of Chile's Gepe (also known as designer Daniel Riveros), who has been releasing music since 2004, and is dubbed by some as the "new 'guru' of Chilean folk" for combining the sensibilities of 1960s and 1970s Chilean folk (especially the music of Víctor Jara) with a minimalist electropop sound. He's been a Sounds and Colours favorite for a while now, but for me, he was new.
I had the good fortune of having a chat with Gepe the day of his absolutely energetic show at the Highline Ballroom for the LAMC showcase. (The man destroys the drums, dances, and swivels those hips something serious! And a very big kudos to his dancers, often decked out in Bolivian gear.)
We discussed his forthcoming album, "Estilo Libre" (freestyle), which drops via the Quemasucabeza label in August. The new record will have twelve tracks, and features collaborations with the Peruvian singers Wendy Sulca and La Lá, and Chilean musician Javiera Mena.
"It's my fifth record in my career and now I have a better perspective on what I've put out. My albums and my singles all have different sounds, but this record in particular is a compendium of different styles, and I chose that," he said. "It's a reunion of differing styles, however, it's the song that matters. It's the idea that matters."
"Hambre," which features Peru's Wendy Sulca, is gaining steam throughout Mexico, Peru, Argentina, Colombia and Chile.
"The cool part about that song and video is that it involves four countries, four minds from different parts of the world," Gepe said. "I wrote the song, and I'm Chilean, then I invited singer Wendy Sulca, who is from Peru. Later, we recorded the video in La Paz, Bolivia, in a new building of Andean architecture, designed by Freddy Mamani, who has a super interesting Andean style, and the video was directed by a Ian Pons Jewell, who is British. So it's a super interesting mix. There are lines that we cross that are surprising, and the song and video are super powerful."
As for the song's meaning, Gepe says it's about our hunger, and the basic idea that we're never quite satisfied with what we have. "We want more. It's about that anxiety," he adds.
Watch his funky video for "Hambre," featuring Wendy Sulca, below, and keep up with all things Gepe on Facebook.

Follow Sounds and Colours: Facebook / Twitter / Instagram / Mixcloud / Soundcloud / Bandcamp

Subscribe to the Sounds and Colours Newsletter for regular updates, news and competitions bringing the best of Latin American culture direct to your Inbox.
Share: