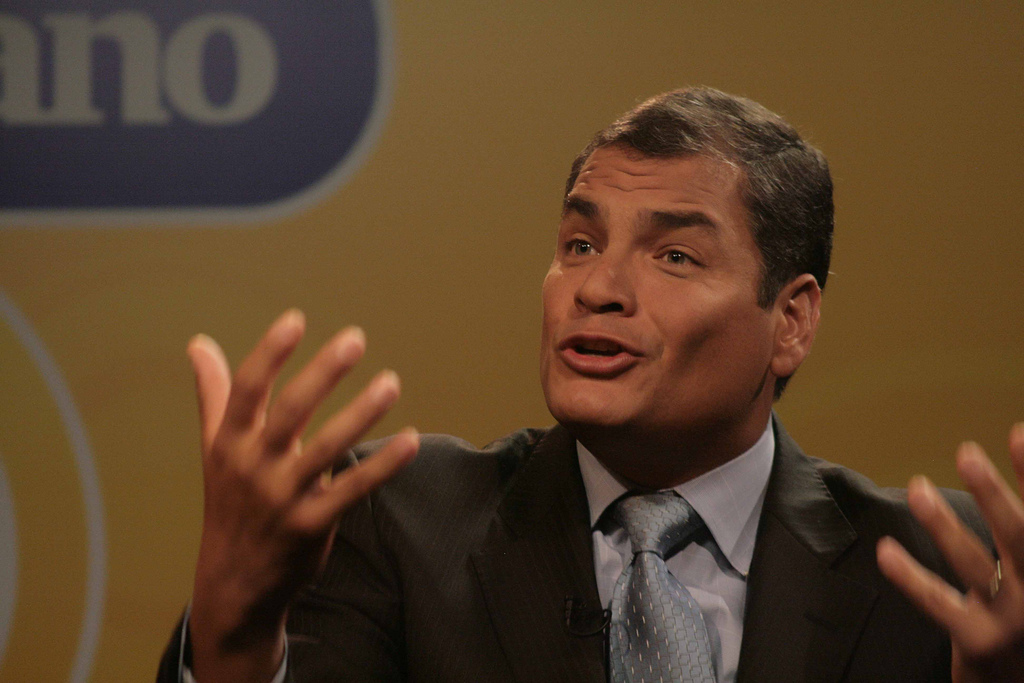 Indigenous Movements: Upcoming Challenges for Re-elected Ecuadorian President Rafael Correa
04 March, 2013
A green wave invaded the streets of Quito, the Ecuadorian capital, on Sunday, February 17th. Thousands of people, with Alianza País' green flags in their hands, gathered in front of the Carondelet presidential palace, in the Plaza de la Independencia square, to celebrate the victory of their leader, Rafael Correa.
As predicted in the polls, the Ecuadorian citizens elected their leftist president for the third time. Once again, this victory re-affirms Rafael Correa's power and leadership in Ecuador. With an absolute majority of 56.7%, more than the 51.9% in 2009, the Alianza País' leader won without the support from his once ally, the indigenous left-wing political groups who feel betrayed by his policy. But with a score of as little as 3.30%, these opponents – represented by the left coalition Unidad Plurinacional de las Izquierdas (Plurinational Union of the Leftists), composed of Pachakutik and MPD (Popular Democratic Movement Party) – could not compete. Although radically weakened by Correa's successive sweeping victories, the indigenous movements, who used to play a major role in the Ecuadorian politics, are still struggling for their cause. Could they threaten the established power again?
Rafael Correa, a new start
When Rafael Correa became president of the Ecuadorian Republic in 2006, he embodied hope for the 14.6 million Ecuadorian people who, until then, had only known an unstable political leadership. Indeed, after a succession of military dictatorships until 1979, from 1996 to 2006, seven presidents ruled the country before being expelled by massive civilian rebellions. The last one was Lucio Gutiérrez, a colonel who took part in the 2000 coup d'état along with Antonio Vargas, the president of CONAIE (Confederation of Indigenous Nationalities of Ecuador) and Carlos Solórzano, a former president of the Supreme Court. They formed a very short-lasting government of "national salvation" after, under indigenous protests, Jamil Mahuad was forced to leave presidency to be eventually replaced by his Vice President Gustavo Noboa. But Lucio Gutiérrez came back on the political stage and won the elections in 2002 thanks to the leftist and indigenous movement parties MPD and Pachakutik. After only few months, he broke this alliance and continued his predecessors' policy towards neo-liberalism. In 2005, accused of corruption, he was dismissed, under massive demonstrations pressure, and had to flee to take shelter in Brazil. He was replaced by his Vice President, Alfredo Palacio, until Rafael Correa, the Minister of Economy and Finances at that time, won the run-off elections with 56% of the votes and great support from the indigenous community and political parties, represented among others by CONAIE and Pachakutik.
Rafael Correa, following his South American socialist counterparts Hugo Chavez and Evo Morales, initiated a political, social and economic project through his "Revolución Ciudadana", Citizen's Revolution. This plan for radical structural changes was massively supported by the Ecuadorian population. In 2007, in the wake of a successful referendum and as a response to demands, a new constitution would show Correa's commitment for major changes through the new concept of "Buen Vivir" or "Good Living". And as a symbol of indigenous recognition, "Sumak Kawsay", the Kichwa translation, was included in the document.
"The Social Revolution has begun"
This new concept is based on economic and social sovereignty, principles of a fair, democratic, ethnic and intercultural society with social, health, environmental and educational improvements thanks to the States' resources as well as Ecuador's real integration among South American and Caribbean countries. This has led to policies promoted in the media with the famous slogan "La Revolución Ciudadana Está En Marcha" (the social revolution has begun) and supported by the Ecuadorian people. Indeed, since his first election, Rafael Correa has allocated $140 million in micro credits to finance self-employment to lower unemployment that had dropped from over 9% down to the historical level of 4.8% in 2012. The basic salary has been raised from $160 to $318 in 2013. As for Ecuador's social budget, it increased from $1,976.1 million to $8,688.7 million, accounting for 29.2% of the general budget and 10.9% of the GDP. He also modernized infrastructures such as the roads.
Thanks to all these measures, Rafael Correa maintained an increasing popularity among the population. And as a reaffirmation of legitimacy at the head of the country and a confirmation of people's agreement on the new constitution, the Ecuadorian citizens voted for constitutional amendments initiated by the president in 2011. Rafael Correa has succeeded in building a positive image not only in his own country but also among the international left-wing parties, especially in South America. Indeed, in 2009, he undermined his relationship with the United States when closing the controversial U.S. military base in Manta, in Manabí Province. He also condemned the Colombian "neo-liberalist" government and Marxist FARC. He also has the backing of the Cuban and Venezuelan governments and is a member of ALBA (Bolivarian Alliance for the Peoples of Our America).
The price for a "good living"
But all these popular social policies have a price. One of the first of Correa's actions to finance his Citizen Revolution, in 2008, was to introduce a potentially illegally-contracted moratorium on the country's foreign debts, saving $3.8 billion. The oil sector accounts for over 50% of Ecuador's export earnings and over one-third of all tax revenues. In 2007 – as Ecuador owns the third largest oil reserves of South America after Venezuela and Brazil, with 6.51 billion bbl mainly in the Amazonian Yasuní National Park – he also renegotiated contracts with oil multi-national companies and raised the windfall profits tax to 99%, increasing Ecuador's share of oil revenues from 70% to 80%. Recently, Ecuador signed contracts for $1.7 billion in investments with Canadian, US, Spanish and Argentine multi-nationals to exploit oil in the Amazon in association with Petroecuador, the Ecuadorean state company.
While continuing contracting with oil companies, Correa proposed to stop oil drilling in the Yasuní Amazon rainforest to the extent of a billion barrels of crude, in exchange for $3.6 billion transfer from foreign donators, triggering accusations of "environmental blackmailing". To compensate the loss in oil revenues, Ecuador's other option is mining exploitation, given the huge reserves of gold, silver and copper. Large scale exploration and exploitation projects are already being conducted in the Zamora-Chinchipe Province with the Chinese company EcuaCorriente who signed a $1.4 billion contract in March 2012.
To counterbalance the negative impacts of natural resources extraction and promote renewable power generation and plastic recycling, he introduced a "green tax" on vehicles and plastic bottles, and an additional tax on tobacco and liquor in 2011. The same year, he also raised the Overseas Remittance Tax (ISD), which applies on all the overseas transactions, from 2% to 5% in order to collect between $350 and $400 million annually.
Criticism arose from both the leftists and rightists, who stressed the impact of the new taxes on prices, Correa's populist policies as well as his control over the media. Intense disapproval also came from the police when, in 2010, Correa decided to curtail their bonuses, triggering an unsuccessful coup d'état with thousands of people protesting against the police uprising. According to his fiercest detractors, all his measures are superficial and meant to hide huge disrespect for indigenous rights and nature. Despite Correa's promises, the indigenous communities still feel like the "outcasts" of the Citizen Revolution. According to them, when exploiting natural resources, Rafael Correa forgot their ancestral right to Mother Earth. He has been accused of selling their land and water without their consent and giving power to industries that expropriate locals and contaminate the environment.
Correa vs indigenous movements, the indestructible man?
Correa has been facing opponent's protests, often resulting in conflicts between demonstrators and the police force, with the new 2009 water law as a turning point. According to the Indigenous and environmental movements, the text would pave the way for water privatization by granting authorization of "economic use of water for mining as a priority" and letting latifundias take control of irrigation water. In 2012, after the EcuaCorriente mining contract was signed, opposition intensified with a "march for life" that started on March, 8th in El Pangui, in the Zamora-Chinchipe Province, and finished on March 22nd in Quito, 700 kilometres away. According to the organizations, it allied about 30,000 people, including radical social organizations such as CONAIE, Pachakutik, MPD, ECUARUNARI (Confederation of Peoples of the Kichwa Nationality of Ecuador). In response, Rafael Correa called for a "countermarch" which gathered, according to the government, 60,000 demonstrators, and proudly announced his opponents' failure to destabilize his administration.
The battle is also taking place in court. In January 2012, the Sucumbios Province court confirmed on appeal the 2011 historical decision that condemned Chevron/Texaco to pay $9.5 billion for polluting the Amazon rainforest for years. In July 2012, a Kichwa community from Sarayaku in the Amazonian Pastaza Province won a landmark case against Ecuador for abusing their land rights. The Inter-American Court of Human Rights sentenced the Ecuadorian State to pay $1.390 million. It ruled that the government had ignored their rights when allowing a consortium led by Companía General de Combustibles, an oil Argentinean company, to explore the area, in 1996, prior local consultation. By 2003, the company had drilled 467 boreholes to be filled with 1,433 kilograms of explosives to conduct a seismic survey in a sacred site around the village of 1,200 inhabitants. The explosives never detonated and still remain on site.
Since 2006, Correa has shown two faces to the world. As a leftist, he has led popular social policies, but in doing so, he has depended on foreign investments, flirting with his foes. Unlike his predecessors, he "survived" a coup d'état in which, for the first time, the indigenous groups did not take direct part. However, Pachakutik asked for Correa's resignation and CONAIE condemned his policy. Even though these groups have proved to be weakened by Rafael Correa's popularity, could they raise their voice again and be heard? Could they play their once significant role in Ecuadorian politics and destabilize the re-elected president? Or will Rafael Correa succeed in allying his enemies behind him or in reducing criticism to silence?

Follow Sounds and Colours: Facebook / Twitter / Instagram / Mixcloud / Soundcloud / Bandcamp

Subscribe to the Sounds and Colours Newsletter for regular updates, news and competitions bringing the best of Latin American culture direct to your Inbox.
Share: