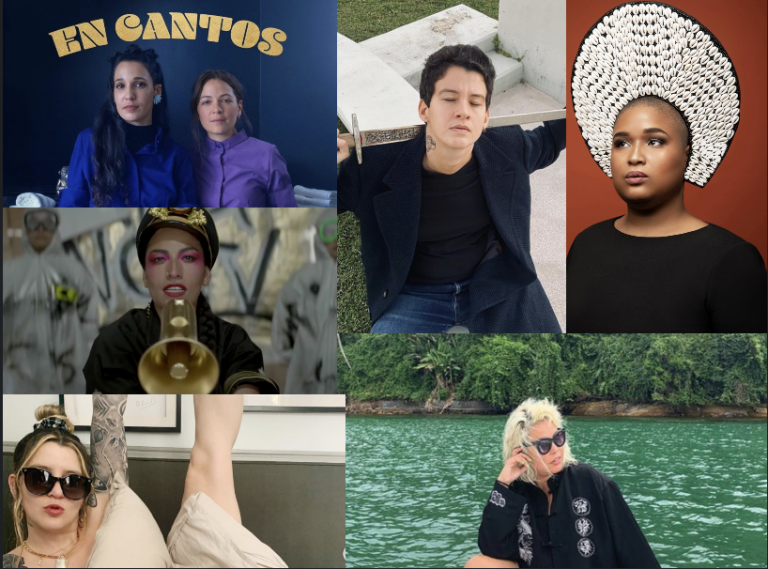 Music by Latinx Women Who Rock: Ana Tijoux, Rita Indiana, iLe & Natalia Lafourcade, Mai-elka Prado, Linapary, Plus a Playlist Curated by Zuzuka Poderosa
28 April, 2020
Women are being affected in a variety of ways as the battle against the COVID-19 pandemic rages on. In the United States, one in three essential workers is a woman. And nonwhite women are more likely to be doing essential jobs than anyone else. (source)
Globally, according to a new report by the United Nations Secretary General, across every sphere, from health to the economy, security to social protection, the impacts of COVID-19 are exacerbated for women and girls simply by virtue of their sex. (source)
And, thus, we've some new music by some of our favorite women artists to share. We're dedicating this to every woman around the world as they work outside or inside the home during this pandemic.
Dominican Republic: Rita Indiana, 'Como Un Dragón'
It's been 10 years since Rita Indiana has released an album, and, boy, are we glad to hear there's one in the works. The acclaimed Dominican artist and author's new single, "Como Un Dragón," is accompanied by an official music video directed by Noelia Quintero.
"This first single is a good introduction to the album," Rita explains. "It has a lot of metal but the framework is a dembow. There is a darkness cloaked in comedy. It has layers of Caribbean folklore and electronica. The result reflects my admiration for the theatricality of bands such as Os Mutantes, Aramis Camilo and Iron Maiden."
Chile: Ana Tijoux, 'Antifa Dance'
The new video by Ana Tijoux, the Chilean hip hop icon serves as an announcement of a forthcoming album of the same name, Antifa Dance —her first in six years. The new record will include her song "Cacerolazo," which became a viral anthem during last fall's transformative Chilean protest movement. Regarding Antifa Dance, Tijoux says:
"A few years ago, it was unthinkable to reassess the word fascism. Facing authoritarianism, unrelenting hatred for the other, we again return to 'Art,' with all its force. Art that is charged with music and color. Art that responds in dance, an organized movement of beautiful rebellion. This is why we decided to make a danceable album. It is our profound belief that from pain, the purest act of love and resistance is born. Antifa Dance."
Puerto Rico/Mexico: iLe and Natalia LaFourcade: 'En Cantos'
What do you get when two powerhouse Latinx singer-songwriters collaborate? A beautiful product, which is exactly what we have in the new track by Puerto Rico's iLe along with Mexico's Natalia Lafourcade.
"'En Cantos' is a pun," says iLe. "It means 'in-pieces' and if put together as one word it means 'enchantment'. This song is about the uncontrollable curiosity that comes from creating this 'mystical someone' who we believe makes us feel complete. A strong sensory feeling that moves us towards the satisfaction of fulfilling what we desire.
"That's why the music video intends to portray this unreachable person that we, as characters, needed to feel closer to by distilling an enigmatic drink made from different traces of himself."
Brooklyn/Panama: Mai-elka Prado, 'Cuidao'
Afro-Panamanian singer-songwriter Mai-Elka Prado presents her debut solo single Cuidao: a powerful message of wisdom to the beat of Afro Diasporic drums and electropical sounds. Mai-Elka's lyrics narrate a story of humility through life's many lessons. Cuidao offers a dual interpretation: as one who is blessed and protected, or as a warning for those actively looking for trouble. The song calls for introspection and analysis of one's own journey. The track features Nuyorican rapper and spoken word artist Caridad de la Luz "La Bruja", as well as Peruvian guitarist/producer Erni Lú.
Colombia: Linapary, 'Sin Pena'
Linapary, based in Paris, France, and born in Barranquilla, gifts us a neoperreo track for your quarantine dance party, even if you're not an avid dancer.
"It's a song for anyone who normally does not want to dance," she says. "Every night is a party wherever you are, with whoever you are, and that whatever is done is done so without regret. It is a song of liberation, a cry of empowerment for everyone, making them feel capable of enjoying their body, and their environment however they want; WITHOUT SHAME!"
Brazil: Zuzuka Poderosa's playlist via 'Quarantimes'
part of the project of @vytisgruzdys & @elboe.tv to invite DJ's & musicians you share their music during the covid-19 and lockdown called "Quarentimes" https://tiny.cc/quarantimes. It's a mix of 2020 releases of Brazilian, Latin & African music, with lots of #cariocabass influence of course!

Follow Sounds and Colours: Facebook / Twitter / Instagram / Mixcloud / Soundcloud / Bandcamp

Subscribe to the Sounds and Colours Newsletter for regular updates, news and competitions bringing the best of Latin American culture direct to your Inbox.
Share: