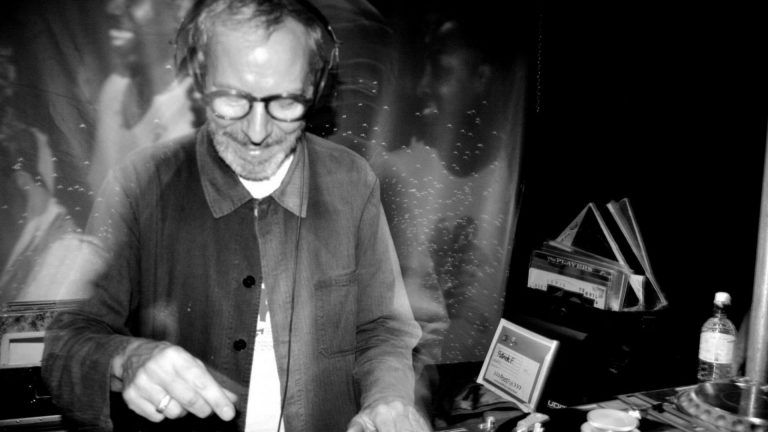 Capturing the Joy of Brazilian Music: 5 Minutes with Patrick Forge…
08 May, 2018
DJ Patrick Forge is a true legend of London's jazz and Latin music scene. The Dingwalls icon, NTS Radio resident, founder member of Afro-Brazilian group Da Lata, and long-time collaborator of Gilles Peterson has attracted a cult following over more than two crate-digging decades in the music industry. Ahead of his headline performance at The Sounds of Brazil in Brixton on Friday 11th May, I caught up with Patrick to discuss DJing, digging and Da Lata.
What was your first ever taste of Brazilian music?
I think the seed of my passion was sewn in my childhood. As a child of the 60s, the bossa nova influence was pretty ubiquitous; later I found myself thirsting for a sound that I was still too ignorant to really understand as Brazilian, and that sound was samba fusion. Later, when people like Joe Davis and DJ Cliffy started bringing back vinyl from Brazil, the whole thing really opened up for me and the love affair got much deeper.
Why does your passion for music from Brazil endure?
For me, Brazilian music has the depth to keep satisfying because it's so rich and diverse. There are so many styles and influences – from rootsy to super slick – as well as the sophistication rhythmically and harmonically, plus a unique soulfulness.
Can you name one song that captures the spirit of Brazil?
It's impossible to capture the essence of Brazil in one song, but I'm going to choose Milton Nascimento's "Cravo E Canela", because it captures the joy!
Can you share some of your other favourite Brazilian music?
I love the music of Minas Gerais – Milton Nascimento, Lô Borges, Toninho Horta – and the obvious greats including Elis Regina, Antônio Carlos Jobim, Edu Lobo, Jorge Ben, João Bosco and Hermeto Pascoal. There was an incredible outpouring of great music through the 70s, which is probably my favourite period, though I love some of the bossa jazz from the 60s. Now there is a new wave of artists like Graveola and MUV, who I dig for the way they both embrace and reinvent the tradition.
How do you tend to make new musical discoveries?
Although I've acquired a lot of my Brazilian collection from dealers, there's also been plenty of serendipitous discoveries digging in shops. One of my favourite discoveries is a 1983 album by Orlando & Patricia, Num Dia Azul, which just blew me away when I got it home. But there are so many other artists I've discovered over the years – Filo and Sergio Meriti to name a couple.
What are your favourite memories of visiting Brazil?
I know it's a bit crazy for someone who's so passionate about Brazilian music, but I've only been once. Back in 1995 I was invited by Joyce to DJ alongside her shows, which I'm forever grateful for. The second night I was there, I met Nina Miranda, which had fairly epic consequences for me both professionally and personally. On the Saturday night, I was spinning alongside the resident DJ Eduardo, which went from me playing samba to him playing the Beatles and Rolling Stones – interesting!
What are some of the highlights from your Da Lata work?
Da Lata was born out of the remnants of Batu band. I produced and co-wrote for my first release back in 1993 and have been going ever since. For me, the highlights would have to include playing New York's Central Park Summer Stage with Eddie Palmieri when we were promoting the Songs From The Tin album – amazing. Another was the sadly short-lived period with Jandira Silva as lead vocalist when were promoting the last album, Fabiola. The first gig with Jandira and that line-up was at Another Sunday Afternoon Sessions, which is my session with Gilles Peterson. The chemistry with Jandira and that line-up of the live band was just perfect.
Are there any forthcoming releases from Da Lata?
My partner in Da Lata, Chris Franck, is currently working on new material which sounds amazing. But I'm very much taking a back seat as my life has changed extraordinarily since becoming a father to identical twin boys two and a half years ago – I've been busy!
Patrick Forge headlines 'The Sounds of Brazil' on Friday 11th May, an event celebrating the best of Brazilian culture with live music, dancers, DJs, food and drink, at Brixton's Prince of Wales. Also featuring Samba Do Chapéu, South London Samba and DJ D.Vyzor,  For more information visit facebook.com/events/235116587038160/
Patrick also presents a monthly show on NTS Radio, which features tropical rhythms, devotional boogie and soulful shenanigans with a heavy jazz undertone. You can check out the show at nts.live/shows/patrickforge

Follow Sounds and Colours: Facebook / Twitter / Instagram / Mixcloud / Soundcloud / Bandcamp

Subscribe to the Sounds and Colours Newsletter for regular updates, news and competitions bringing the best of Latin American culture direct to your Inbox.
Share: