Our Latin Thing: A New York Cultural Explosion
01 November, 2011
The element that unites all the best music documentaries – a pack led by Stop Making Sense and The Last Waltz – is a feeling of experiencing a moment of music at it's creative zenith. Our Latin Thing must therefore join this illustrious company. It's documentation of a performance from the Fania All-Stars in a New York club in 1974, captures some of the Latin world's musicians at the top of their game.
Yet, as well as documenting a ferocious live performance, the camera also ventures onto the streets to give a mesmering glance into Latin life in Manhattan at this time, with these scenes giving the film some of it's most vivid moments. But, let's go back to the club for a moment…
During the scenes in New York's Cheetah club it's almost possible to feel the sweat dripping of your face. It really does feel as if you were there. The cameras move around the stage and dancefloor; couples spin round in their finest 70s threads; trombones blast towards the camera lens; singers take it in turn to grab the mic and wow the audience; and congas and cowbells are endlessly pounded. The music speaks for itself. Musicians and singers like Johnny Pacheco, Ray Barreto, Hector Lavoe, Larry Harlow, Cheo Feliciano and Ismael Miranda are reverred as some of the finest musicians in Latin music history, and it's easy to see why. Intricate rhythms and harmonies are played with a gusto that is unrivalled in it's levels of joy. At one point Barreto picks up his conga and starts banging it on the ground – it's as if he has to find a new outlet to let out his excitement and energy.
These scenes at the Cheetah are intertwined with footage shot on the streets and in other locations in Manhattan. They depict a time when New York was really embracing the Latin culture brought over by the new largely-Puerto Rican community. Director Leon Gast (When We Were Kings, The Grateful Dead Movie) was victim of this embrace. One of his aims with the film was to show it's musical stars interacting with their neighbourhood, so we get to see the Larry Harlow Orchestra hitch up on the side of the street and entertain an enlarging crowd, Ismael Miranda buying a gift in a herbal shop, as well as a flute-led parade of the local area, and a number of other interesting diversions.
The scene which makes the most impact is without doubt a trip into a testosterone-fuelled cockfighting ring where it's hard to know what's worse: watching the weaker cock slowly lose the fight, or it's owner being held back as he tries to jump in and stop proceedings. The scene ends with the losing cock circling on the floor as a thumping beat emerges and we prepare to head back to the club. It's a scene that would probably be left on the cutting room floor if the film was made these days – for fear of causing outrage – but which reflects a side of Latin culture – namely a sense of machismo and drama – that few scenes could.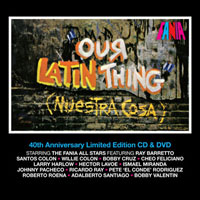 The mistake to make with this film would be to treat it simply as an artifact for lovers of salsa. It is so much more than that; an engulfing immersion into an explosion of culture predicated by the meeting of Puerto Rico and New York whose impact is still felt to this day. Think of this film as a rare insight into Nuyorican culture at the point of it's joyous formation, that just happens to be soundtracked by some of the finest musicians of their generation.
Our Latin Thing is released by Strut / Fania and available as a 1DVD and 2CD or 2LP boxset, which includes the original music from the live performance, including songs not featured in the film.

Follow Sounds and Colours: Facebook / Twitter / Instagram / Mixcloud / Soundcloud / Bandcamp

Subscribe to the Sounds and Colours Newsletter for regular updates, news and competitions bringing the best of Latin American culture direct to your Inbox.
Share: