Review
Algodón Egipcio – La Lucha Constante
I feel a little under-qualified to review this record, as if maybe I'm missing something in the whole scheme of things. Normally everything follows a clear path and I can trace the steps; that band influenced that band and then that band took a little bit of that band's sound and then made something different with it, etc., etc. When I started listening to La Lucha Constante by Algodón Egipcio it left me confused. Where did this sound come from?
Does it come from early 90s US indie bands like The Vaselines and The Raincoats? Was there the more-English touch of Television Personalities in there? Maybe, this was a more contemporary sound, aping Animal Collective or El Guincho? Or was it influenced by other South American groups in Mexico and Chile with their indie/electro/pop experiments? In truth, it doesn't really matter. We've got to a point where a band can exist geographically remote to any particular scene but yet sound like it is part of all of these scenes. This may be harsh to Caracas, where Algodón Egipcio, is from (there may be an excellent underground music scene there and I hope that's the case) but it certainly seems appropriate.
La Lucha Constante is one of those albums that simply sounds great. Yeah, there may be little glimpses in there of countless other bands, but this is effervescent stuff, there's a sparkle in there, revealing itself a little bit more on each listen. Initially I wasn't sure how this would compare to Jovenes y Sexys, a glorious lo-fi strum which also features Algodón Egipcio. In that group he has a partner. Here he is solo. This is Panda Bear compared to Jovenes y Sexys' Animal Collective. It's a comparison that fits extremely well. This is an album all about melody and wave after wave of gorgeous sound.
The album starts with the electronic beat of "El Día Previo," a song which opens itself up into a breezy new wave number halfway between one of New Order's more subdued numbers and Crystal Stilts. It's use of odd rhythms and loud percussive blasts continue throughout the album and are one of the reasons why comparisons with El Guincho and Animal Collective are inevitable. The genius of La Lucha Constante lies in the ability to play with this, using truly inventive structures and a wilfulness to build big melodies. "El Ingenio Humano" starts a flickering industrial beat before a tough beat precursors a ripple of pop excess across its tightly-constructed structures.
"El Día Previo"
[soundcloud url="http://api.soundcloud.com/tracks/10962654″ params="show_comments=true&auto_play=false&color=ff7700″ width="100%" height="81″ ]
It's really hard to find a flaw with this album. With each listen I become that little more addicted. The building up of vocal melodies halfway through "Los Párpados Caídos," the way that song then explodes into some strange rave fantasy before returning back to vocals, the subtle, beautiful melody that is "La Repetición, La Repetición," that Twin Peaks intro to "Los Temas Turbios," there are so many great moments on this album, and I'm sure I will find plenty more. This is undoubtedly the first great album of 2011.
"El Ingenio Humano"
[soundcloud url="http://api.soundcloud.com/tracks/10962391″ params="show_comments=true&auto_play=false&color=ff7700″ width="100%" height="81″ ]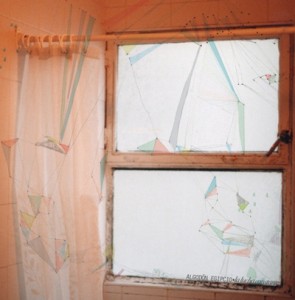 Release Date: 22nd March 2011
Record Label: Lefse Records
You can buy/download the album in mp3 format at Algodón Egipcio's Bandcamp page.
The CD version of La Lucha Constante is available from Lefse Records.
More info:
www.algodonegipcio.net
www.myspace.com/algodonegipcio

Follow Sounds and Colours: Facebook / Twitter / Instagram / Mixcloud / Soundcloud / Bandcamp

Subscribe to the Sounds and Colours Newsletter for regular updates, news and competitions bringing the best of Latin American culture direct to your Inbox.
Share: