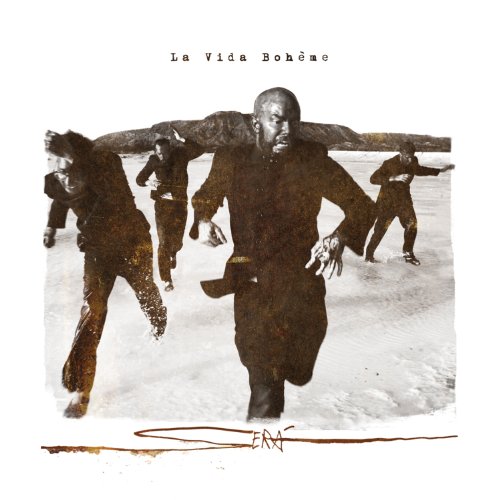 La Vida Boheme crashed on the scene in 2010 with the punk rock fury of Nuestra, an album so angsty and so fun that it managed to blow up everyone's radar. That's why their sophomore effort Será may come as a surprise to those fans waiting for that trademark sound. This is not to say that punk has left the building for the band, but Será demonstrates a more mature sound for La Vida Boheme, where they're more willing to experiment with different tempos and genres. From new wave to folk and cabaret punk, La Vida Boheme's Será signals a new era for Latin American rock.
From the opening tracks, "Cementerio del Este" and "Cementerio del Sur", you can hear they're treading a darker path, as both songs deal with the pressing political issues of their homeland. The horns and the synths in "Cementerio del Este" make the song bombastic and urgent, yet this comes to a screeching halt when the track blends into "Cementerio del Sur". With its organic acoustic guitars and Henry D'Arthenay's wailing vocals the song has an almost funeral march quality, yet it manages to sound hopeful.
This seesaw of moods and emotions is evident throughout the record, which is what makes it sound so honest and exciting, a quality that I feel a lot of current rock music in Latin America lacks. The next three tracks range from raucous punk rock to the more melodious pop of "La Bestia". But then you get a beast of a track like "Viernes Negro", which blends some merengue-like percussion with a little bit of hardcore punk guitars. It is completely fitting as the chorus has D'Arthenay shouting "¡Ya no creemos en ti!" (We don't believe in you anymore) in a song about corruption and distrust.
One of the best tracks of the album, "La Piel del Mal", follows roughly the same theme, except this time everything becomes more introspective and existential. The song runs just under five minutes but, wrapped inside a super catchy disco beat, the band manages to ask two very important things: 1) how long can one ignore injustice? and 2) who do I have to become to survive in this world?
The second half of the record only gets crazier, as the band mixes in folk rock in a song like "Aún" and incorporates more acoustic instruments like the harmonica in "Antes Era Major". They also go down the cabaret route in "El Futuro Funciona" and "La Vida Mejor", which make for a bombastic ending before the closing track, the mellow "Ariadna".
The answers to all their questions will vary, but such strong moments like "La Piel del Mal" are what make Será the sonic and lyrical powerhouse that it is. It's a record that plays with moods and emotions in so many ways that at first listen it may come off as bleak, or sometimes even sarcastic. But, in the end, you can tell La Vida Boheme's brutal dose of truth comes from a place of hope for what the future brings.
Será is available from Amazon and iTunes

Follow Sounds and Colours: Facebook / Twitter / Instagram / Mixcloud / Soundcloud / Bandcamp

Subscribe to the Sounds and Colours Newsletter for regular updates, news and competitions bringing the best of Latin American culture direct to your Inbox.
Share: