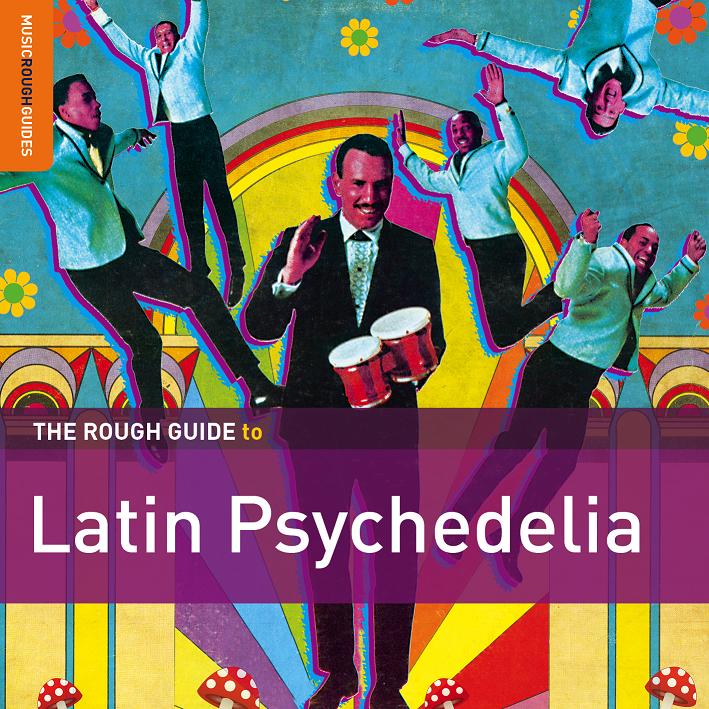 Review
The Rough Guide to Latin Psychedelia
The sixties and the seventies were, depending on who you ask, two of the most important decades for the development of music all around the world. Not only was there a political, cultural and sexual sea change from San Francisco to Paris and London, but it was also an era for some of the most interesting and intense musical experiments, most of which inform the music produced by a lot of the musicians we celebrate today. With that in mind, World Music Network are releasing The Rough Guide to Latin Psychedelia, an 18 track collection of re-mastered classics that offers a complete glimpse into the music, the history and the artists that made the dance party happen then, and the ones that are still bringing it today.
The playfulness (and sexyness) of seventies Latin psychedelia is announced from the get go with the opening track "Psychedelic Baby", from the legendary Joe Cuba Sextet. The song is tropical humour and Latin brazenness at its finest, specifically with Cuba vying for the attention of a girl that's driving him insane via kitschy come-ons. From here on out, this compilation only gets cooler with "Cloud Nine"by Johnny Rivera and the Tequila Brass Band. Rivera, a Bronx-born Puerto Rican, packs as many drug references as he can into roughly three minutes and a half of dance-worthy brass and kettle drum awesomeness with a laughter track to boost. "Dame un Tipi", courtesy of Frankie Dante and Orquesta Flamboyan featuring Larry Harlow, is one of the definite highlights of the collection. This Latin funk jam from 1972 has Frankie Dante asking a girl for a kiss and the famed judío maravilloso providing the acid rock-tinged arrangement.
While a lot of the musicians featured in this compilation were based out of the United States, The Rough Guide to Latin Psychedelia also highlights musicians from three of the most important enclaves for the psychedelic movement in Latin America: Colombia, Venezuela and Peru. From Colombia, the record features cuts by Afrosound and Tita Duval y el Nuevo Ritmo de Bobby Ray, with Duval being the only female vocalist and musician featured on the compilation. From Venezuela, we have Spiteri, a band established in the UK who created a fusion of psychedelic rock, Brazilian rhythms and Cuban guajira. Nonetheless, this compilation excels at highlighting Peru's prolific stock of psychedelia with tracks by Los Pakines, Los Destellos and Los Texao, among others. In fact, the compilation includes an amazing bonus full length record by Los Destellos.
One of the interesting parts about this record is that, not only does it manage to provide a great overview of Latin psychedelia for beginners; it also traces the movement to its present incarnation with contributions by Brownout and Ocote Soul Sounds, two bands that sprung out of the ashes of other Latin funk/psychedelia groups. Both groups bring updated versions of the sound that wouldn't be out of place in any party today. Listening to this compilation you can also tell how much these bands influenced each other and how they, like many cutting edge artists today, took folkloric sounds and instruments and incorporated them into the psychedelic movement. You can also tell how much this era continues to influence and inform the music of many contemporary South American and Latin American artists like Palenke Soul Tribe, Calle 13 and Frente Cumbiero, to name a few. The Rough Guide to Latin Psychedelia also features liner notes in English and French detailing the history of the movement and its artists.
I must admit that I jumped into this record with only a vague knowledge about the psychedelic movement and its influence on Latin artists in the United States and South America. While the music of Santana, Larry Harlow and the Fania label roster were always a fixture in my home stereo, I never fully grasped what these sounds meant for a generation, how they changed Latin music, and much less how they would inform and influence a lot of the musicians we hold dear today. With its intense educational focus, The Rough Guide to Latin Psychedelia is a perfect and complete introduction, not only to the diverse genres that form Latin psychedelia, but also to the history of the movement that changed a generation. It's also a great way to immerse yourself in music history and dig deeper into the sounds and idiosyncrasy of the era. And not only that, but The Rough Guide to Latin Psychedelia will have you dancing any day of the week, so "shake it, baby!"
The record is slated for a 29th April 2013 release on World Music Network.

Follow Sounds and Colours: Facebook / Twitter / Instagram / Mixcloud / Soundcloud / Bandcamp

Subscribe to the Sounds and Colours Newsletter for regular updates, news and competitions bringing the best of Latin American culture direct to your Inbox.
Share: