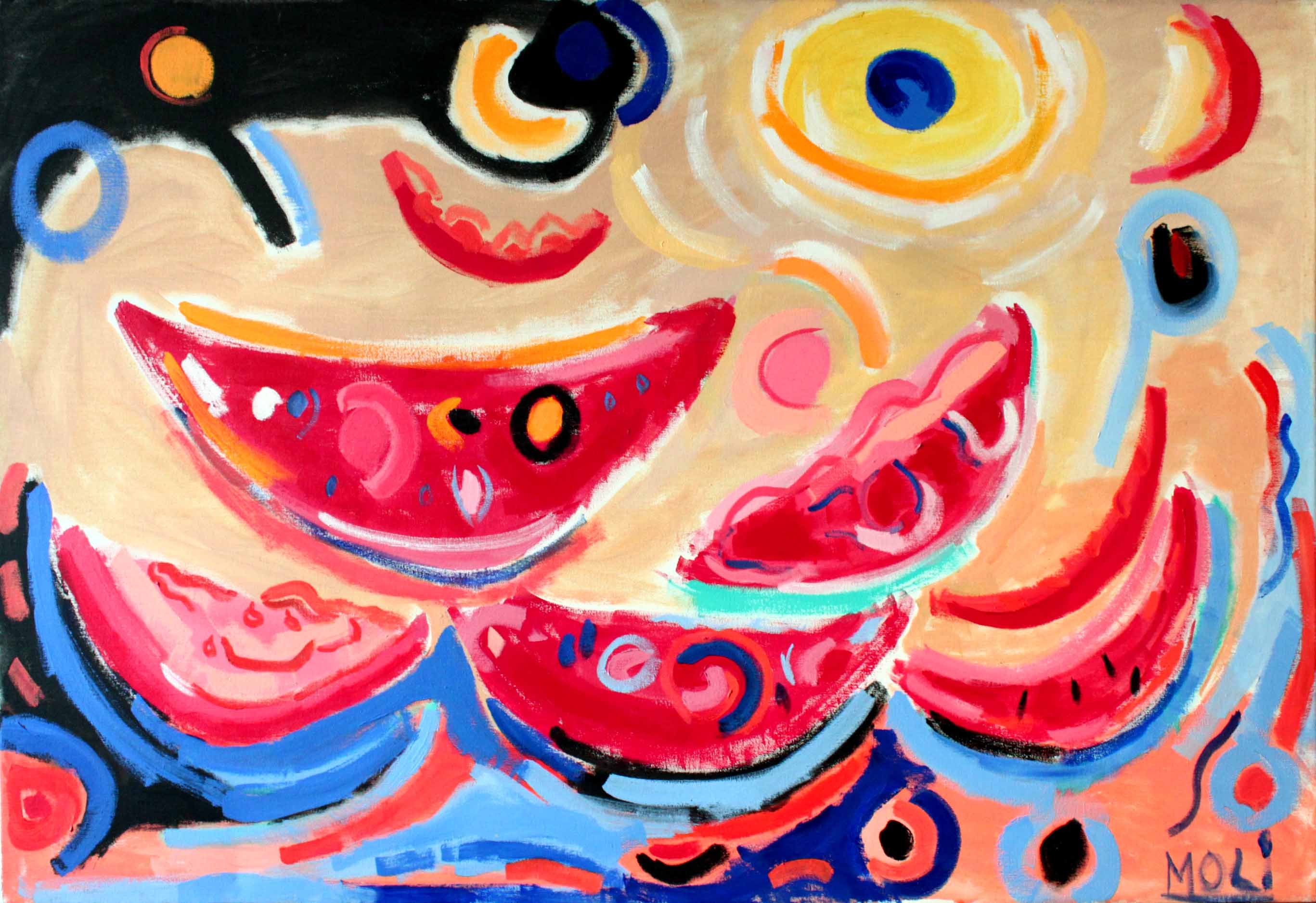 Sandías (Watermelons), 2001 – Molinari
Art in the Land of Silver / The Contemporary Art of Molinari, Essés and Wainbarg
|

20 November, 2014

Ed Hart offers a brief overview of art history in Argentina and the works of three contemporary artists, Dolores Molinari, Deborah Essés and Graciela Wainbarg.

A horse called Art

Art in Argentina has followed a similar trajectory to its literature. It was slow to get going and for a long period was rooted in the romantic obsessions and interests of criollismo. Things were similarly restrained during the transition from the colonial era to nationhood, when the predominant styles were characterised by naturalistic sentimentality, the sterile tradition of the Aesthetic Movement or realism. The development of impressionism in late 19th century Europe barely impinged on the country at all.

Art in the time of ism

Whilst this article abridges things to a considerable degree, it is true to say that for the arts as a whole, the real impetus to expansiveness and exploration came with mass migration from Europe in the early 20th century. Thereafter, it was more exposed to ideas such as post-impressionism and the newly emerging movements such as naïvism, cubism, surrealism, expressionism, futurism, symbolism… Many works dating from this period form part of the collection of Fundación Costantin, Museo de Arte Latinoamericano de Buenos Aires, among them examples by such domestic luminaries as Xul Solar and Antonio Berni.

Form does what it likes

Pre-World War II and immediately afterwards, it is also worth mentioning that abstraction and modernism became more influential, initiated in part by the MADI movement begun by naturalized Argentine, Gyula Kosice, but also through a more internationalist approach to culture in general. There was a similarly important development in mural painting within Argentina, centred on the newly founded Escuela de Muralistas Tucumanos/School of Tucumano Muralists.

Today, as the works of Molinari, Essés and Wainbarg show, the dynamic in Argentine art continues to thrive in a spirit of transculturation.

Dolores Molinari

Dolores Molinari, the Buenos Aires-born (1962) artist and fine arts lecturer, works in the medium of colour, or as she puts it, chroma. She studied at the Instituto de Bellas Artes Beato Angelico in Buenos Aires under variously, Professor Molina (painting), Professor Martin Echeverria (ceramics), Professor Maticoli (restoration), Father José Luis Duhourq and Professor Muñeza (sacred art).

Her work is figurative, abstract or a combination of the two. Whichever it is, it is marked by her sensibility for colour. Indeed, with it she imparts to the viewer not just an irresistible intensity but structure, order and depth. Often, as in El Baile (Dance), she uses saturated and luminous colour combined in a spontaneous way to convey mood. There is exuberance and joyousness too, which moves easily from the pleasingly expansive and soothing abstraction of Pleamar (Foreshore) to the figurative and abstract in the seemingly random compartmentalisation of Atrapados (Trapped).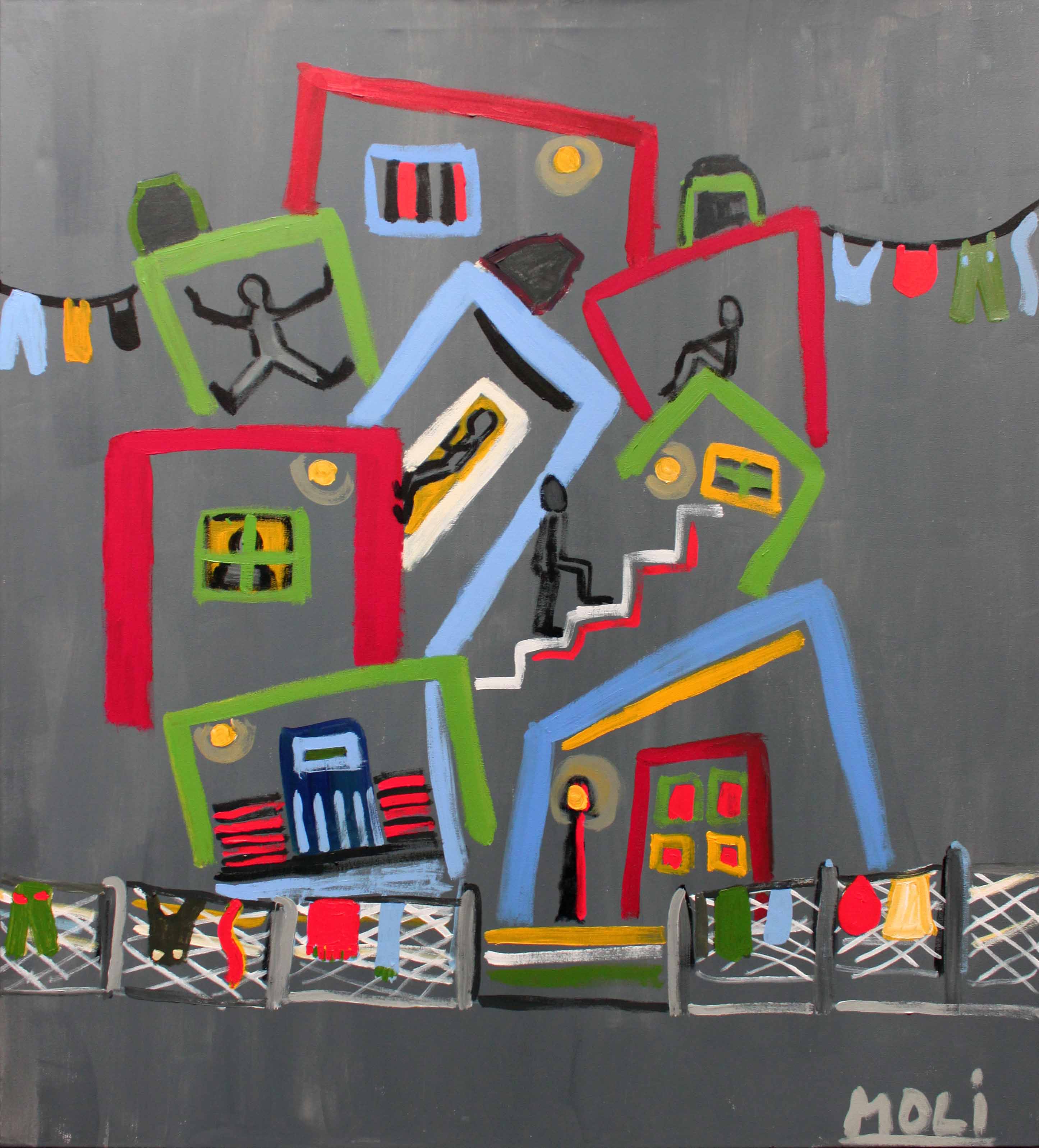 Even in more portentous works, such as Caos (Chaos), she uses colour to manipulate mood. Who are the binary figures in the piece? What do the shapes and openings represent? It could simply be the architectural jumble of La Boca by night but it could equally reflect the vagaries of life played out for real in a twilight version of snakes and ladders or some spectral limbo.
Molinari explains her intentions thus: "Each line, each colour, whether floating in the air or developing towards a recognisable form, is trying to express the inalienability of the freedom of the human spirit. Colour has a life of its own and drives the rules. The reality shows shapes that hide other realities which are more sensitive to life. Hidden on the surface, they are nevertheless connected both to our inner thoughts and with everything else around us."
Molinari has exhibited at Consejo Federal de Inversiones, Galería Hoy en el Arte, Los Patios de Guemes, Centro Cultural Ciudad de Miramar, Centro Cultural Municipal Teatro San Martin (all Buenos Aires), as well as exhibiting stained glass designs at Nuestra Señora del Rosario de Andacollo Chapel, Neuquén, Argentina.
facebook.com/dolomolinari
doloresmolinari.net23.net
Deborah Essés
Deborah Essés was born in Buenos Aires (1966) but now lives and works in London. She works in paint and mixed media. Essés' work is rooted in narrative. She invites the viewer into a particular moment in time, space and state. Here is a journey where you know B but you have to guess the referents A and C, or to it put another way, triangulate to find the angles, A and C. It's the geometry of the moment. In Don't Look, None to Tango, Now What? and Feeling Pop, you can only guess what that is. Booze? Ennui? Love lost? Disappointment? Satisfaction? It doesn't matter. You're in. You are precisely where the artist wants you to be; pondering the moment. What you do know is that by the simple device of having their backs to you, the subjects don't directly engage, instead they engender curiosity. Even in "Vulterine" or "Feeling Feather", there is no direct entreaty to the viewer. Here and there are snapshots, episodes, moments about which you can speculate.
Essés says: "I would describe myself as someone highly emotional and passionate about my work, whose permanent state of mind buzzes with a desire to give form to a collection of anecdotes and images. That is my aim: to squeeze all those flashes into a canvas."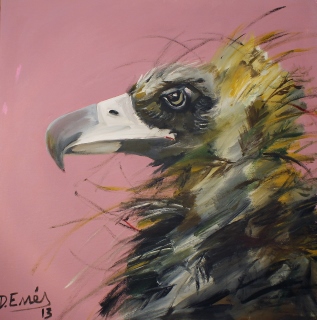 Essés continues: "Travelling and moving around the world have made a storyteller of me, a storyteller who re-traces the anecdote with each picture, preferring to show people's attitudes rather than issues determined by a particular place in time.
"My work doesn't depend on any manifesto, any orthodoxy, or any political solidarity. Art for me is the very definition of life and I strive to keep working continuously, to take out the cotton wool balls from my ears, to round up the beast in me at the end of each day… that's where usually the inconvenience lies. Ultimately, I strive to keep the elasticity of my ideas using the media that suits me best at the time of starting work.
"If for any reason, one of these days I don't want to go all the way with the truth, I'll get up and leave with my shoes on."
She has exhibited at the follow events/galleries among others: Casa de Corrientes, Manzana de las Luces, Consejo Federal de Inversiones, Centro Cultural Ricardo Rojas (all Buenos Aires); Universidad del Litoral and Consejo de Turismo, Corrientes, Argentina; Tango Rojo Festival, OBS (Olympic Broadcasting Services) during the 2012 London Olympic Games, Parallax Art Fair, Bow Wharf Gallery, The Crypt Gallery, White Space Gallery, Acquire Gallery (all London); Source 53 Gallery, Singapore; Gallery 0-68, Arnhem, The Netherlands and the Parallax Art Fair, New York.
facebook.com/pages/Deborah-Esses-Gallery/118463811499013
deborahesses.com
Graciela Wainbarg
Graciela Wainbarg is a teacher of fine art and a contemporary artist and once again a former alumnus of the Instituto de Bellas Artes Beato Angelico, Buenos Aires.
Her métier is pure abstraction sometimes formed by boundless disintegrated colour (Sentimientos/Feelings 1 & 2), random psychedelic-like swirls (Untitled) or deliberately segmented canvases deconstructed into pre-determined elements (Geometrias Urbanas (Urban Geometry), 1-3). In the latter example, she creates dynamic relations and tensions through the use of three or four contrasting colours or monochromic spatial relationships, which depict angular or geometric forms. These are canvases that both invite perception and challenge it by engaging our sensory imperative; the constant desire to formulate, comprehend and determine those most elusive of things, feeling, reality, meaning and purpose.
Wainbarg says of her work and career: "This allows me to switch between my two greatest passions: teaching art and working on art and gives me the scope to alternate between the realms of reason and passion. This alternation is reflected in my work, in which the line and the colour, or 'non-colour', dominate the creation of complementary spaces and shapes. I 'consciously' show contrasts so as to demonstrate 'unconsciously' human contradictions; that un-staggering straight line and that frightening, blurred colour stain are the symbolism that characterise me as an artist."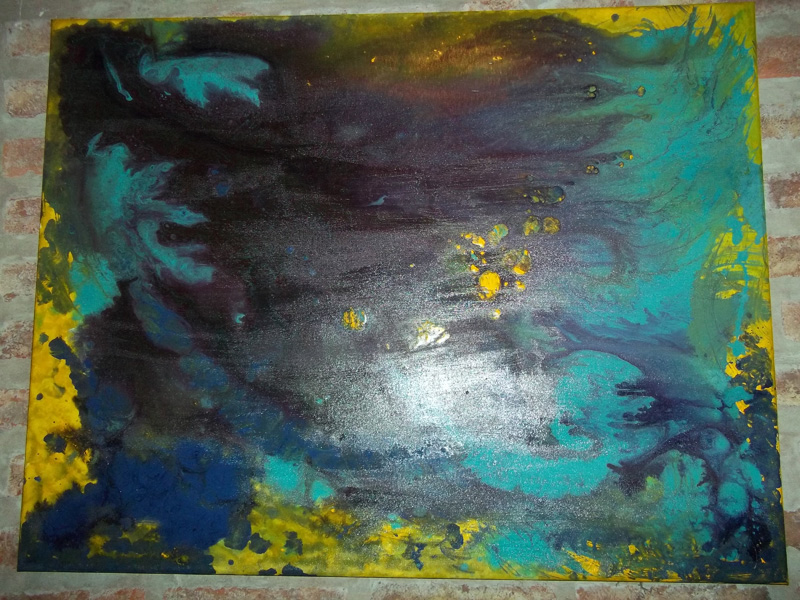 "Not by chance, but by choice, I work in abstract paintings, because I am constantly asking questions of myself, and I expect to pose the same questions to the viewer. My work does not show certainty and it does not look for it. It just looks," says Wainbarg.
"Just as Lucio Fontana explored unknown worlds in telas rasgadas (deliberate cuts to the canvas), my future will probably feature a search for new means of expression."
Fontana, born in Argentina, was the father of spatialism, which in the form of telas resgadas was reified in creative destruction (i.e. works whose expression involved intruding into or coercing the integrity of the preferred medium), which in his case consisted of applying slashes to a canvas or piercing a sculpture with holes.
Graciela has exhibited at the Biblioteca del Docente, Museo Casa de Yrurtia, Belgrano, Bar Abierto, El Conventillo Verde, La Boca, Espacio de Arte "La Oreja Negra", Galería Palermo H and Galería de Arte Espacio 10, Palermo (all Buenos Aires and environs).
facebook.com/pages/Graciela-Wainbarg-artista-contemporanea/176942722377270

Follow Sounds and Colours: Facebook / Twitter / Instagram / Mixcloud / Soundcloud / Bandcamp

Subscribe to the Sounds and Colours Newsletter for regular updates, news and competitions bringing the best of Latin American culture direct to your Inbox.
Share: