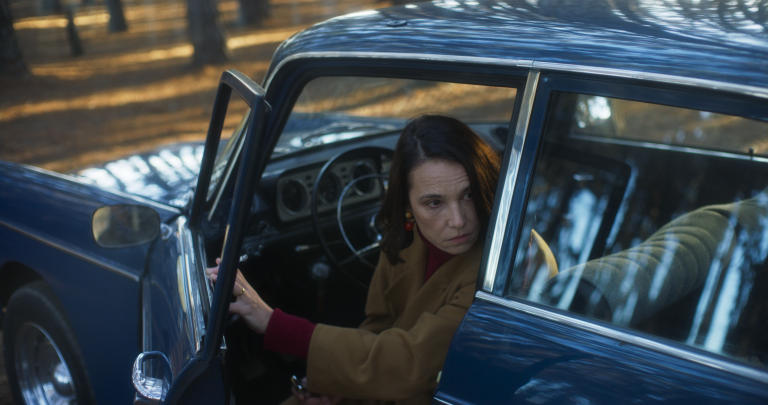 '1976': A Poignant Tale of an Alienated Woman During Chile's Oppressive Military Regime
24 October, 2022
1976 was one of the bloodiest years of Augusto Pinochet's extremely sanguinary dictatorship in Chile. That same year, Chilean actress and film-maker Manuela Martelli's maternal grandmother, whom she had never met, took her own life as a consequence of severe depression. This private affair has served as inspiration for the film Martelli wanted to make. And she cleverly sets her directorial feature debut in 1976 without exposing the gore and horror of the political turmoil that surrounded the country for nearly two decades. During the writing process, in collaboration with Alejandra Moffat, she comes across forgotten Super8 tapes from her late grandfather. Going through the footage of such precious family moments helped Martelli to shape the story she was going to tell. As opposed to the memorable happy events captured by her grandfather, she wanted to know what ordinary family life was like during those terrifying years of Chilean history. Martelli inventively visualised her film being the impressions between those joyful life memories.
1976 is a captivating character-study narrative told from a female perspective under an oppressive regime. The film dives into the tormented and supressed life of the middle-aged bourgeois housewife Carmen (Aline Küppenheim) who is alienated by her family and struggles to cope with her own feelings.
We first meet Carmen, elegantly dressed in royal blue, in a paint shop. She is flicking through a Venice guidebook until she spots a picturesque image of the Doge's Palace at sunset. The image reflects a mixture of peach blue purple and light dusty pink. She is picking the ideal tone of pink for her family's beach house that is under renovation for an upcoming family reunion. Blue and pink dominate the creative colour palette throughout the film. The image of the Palace stands as a sacred and quiet place where nothing seems to happen. However, it is known to have housed thousands of prisoners who were tortured in its dreadful gloomy cells. Later in the film, it is revealed that Carmen's surgeon husband Miguel (Alejandro Goic) collaborates with Pinochet's regime. While we watch the colours being mixed in a close-up, screeching of car tyres followed by muffled screams of a woman being taken can be heard. No one sees anything but the tension and suspense are set. As Carmen reaches for her car parked outside the shop, she notices a female leather shoe under the vehicle, suggesting it belongs to the kidnapped woman. Carmen drives on a countryside road accompanied by her housekeeper Estelita (Carmen Gloria Martínez). The elderly woman holds a glass bottle with two small fishes on her lap. The orange limbless creatures will be placed in a koi pool that is being built in the house's living room. Listening to the radio presenter in the car, it is understood that we are set in the repressed Chile. Carmen's addiction to pills and cigars is also unveiled.
The story develops in the coastal Chilean town of Las Cruces, the same location as Martelli's grandmother's house. Although we follow the actions of a fictitious character, the memories and emotions evoked by the writer/director's family past resonate with the poignant storytelling. After a restless night, Carmen – a former Red Cross volunteer who was forced to give up on her medical career to marry Miguel – is woken by long-time family friend Father Sánchez (Hugo Medina). The local cleric suggests she could secretly help a young priest named Elías (Nicolás Sepúlveda) who was staying with him. In her first visit to the church, she learns that Elías is a revolutionary who had been shot in the leg. At this point the stakes are heightened. Father Sánchez' special request takes the protagonist back to her instinctive aptitude as a good carer. The ambiguity of being the wife of a respected surgeon who cooperates with the regime leads Carmen onto a meaningful journey of conspicuous audacity and self-conscious zeal. She even removes her wedding ring before getting into action, detaching herself from any commitment with someone who plays for the opposition.
To justify her frequent outings to the church to take care of Elías' wounds, Carmen volunteers to read to a group of blind people. The reading sessions are liberating. Mentally oppressed, she takes comfort expressing her own feelings through an excerpt from Manuel Rojas' The Glass of Milk. The extract faithfully reflects the mundane and predominant feeling dwelling in Chilean frustrations. Later in the film, in a second reading session, Martelli borrows words from Horacio Quiroga's The Suicidal Shipmates, which depict mental illness and hallucinatory states, and the struggle of man and animal to survive. There is a weighty metaphor in those scenes that plays in between the physical hostility of a political system and a patriarchal society and the conscious psychologic strain that haunts Carmen. The recurrent use of door and window frames, dim lights, mirrors and reflections emphasise the sense of enclosure and being caged, a state of mind clearly illustrated by the fishes trapped in different confined spaces.
The family arrival allows a fresh interpretation of Carmen's interactions with each clan member. The sea is also a strong subject in the film. Shots of rough waves hitting rocks depicts a dangerous space which is also where human bodies are disposed and never found. Sarcastic conversations over food and drinks embellished with subliminal sharp dialogue adds extra flavour to the set of circumstances. A fish carcass of what is left after a plentiful family meal rests in the centre of the table while a cynical conversation on political preferences takes place. Another piercing conversation between her husband Miguel and a doctor friend drinking whiskey (that was gifted by a certain Colonel) instigate a joke about Carmen's addiction to pills. Defensively, she says her own neurosis is what keeps her sane. In another scene as she watches Super8 footage with her grandchildren, showing their own mother playing by the seaside, her daughter walks in and comments: "What a sad holiday". Her granddaughter then asks: "What happened?" to which Carmen replies: "I went crazy". The film skilfully plays with time and space parallels suggesting the story repeats itself within generations in a continuous loop. Carmen flirts with the regime as the story evolves. Her boredom and lack of purpose naturally leads her to try and help Elías to be reunited with his comrades, a calling that entails considerably risks. She is on a quest to find meaning in life. What she may not foresee is that her inconsequent actions can cost the life of others.
This boldly well-crafted work is remarkably jammed with analogies and symbolisms that takes us to a spectacular sensorial voyage into Carmen's inner world. The tense relationship with her family seems to be aggravated by her own resentful state of mind. Martelli's extensive experience on set in previous acting roles and her all-female crew have genuinely contributed to achieve such a refined piece of film-making with a bold feminine insight. Brazilian musician Mariá Portugal's score adds an uneasy mood that emanates uncanny impressions. Generous use of 70s synths help create a nostalgic tone of tension and suspense with an eerie atmosphere, especially when combined with Yarará Rodríguez's evocative cinematography and Jesica Suárez's haunting sound design. Imbued with Hitchcockian elements and masterfully crafted suspense, this film establishes Martelli as a fresh new voice to look out for.
1976 [to be released as Chile '76 in the USA] is produced by Omar Zúñiga (The Strong Ones), Dominga Sotomayor (Too Late to Die Young), Alejandra Garcia (Spider) and Andrés Wood (Violeta Went to Heaven).
1976 premiered in the Quinzaine des Realisateut at Cannes 2022. It was the winner of the Sutherland Award for best film in the First Feature Competition at the BFI London Film Festival 2022. It will be released in cinemas around the world and streaming platforms in 2023.

Follow Sounds and Colours: Facebook / Twitter / Instagram / Mixcloud / Soundcloud / Bandcamp

Subscribe to the Sounds and Colours Newsletter for regular updates, news and competitions bringing the best of Latin American culture direct to your Inbox.
Share: