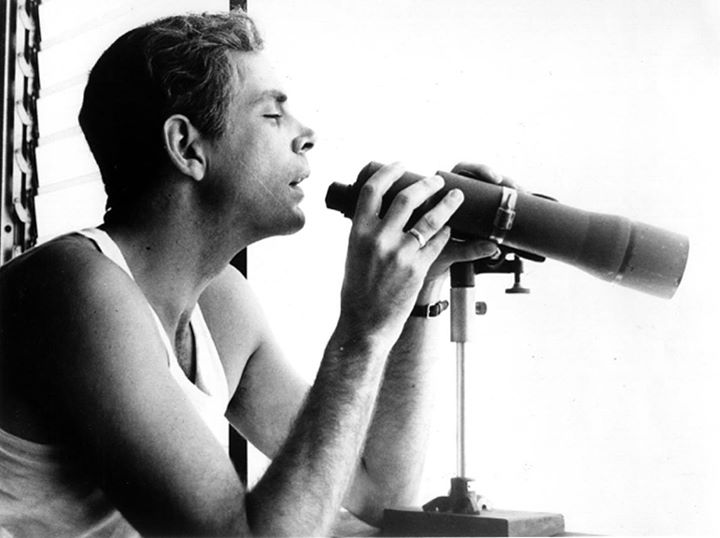 Adam Feinstein's Five Latin American Cinema Masterpieces
20 September, 2017
As the author of Pablo Neruda's biography, Pablo Neruda: A Passion for Life and an adviser on Neruda (Pablo Larraín's recent biographic feature film), we can safely say that Adam Feinstein is an authority on the Chilean poet. However, he's also a major authority on film, and Latin American cinema in particular. With that in mind we asked Feinstein to pick out five of his favourite Latin American films. However, before we get stuck in, I had to ask Adam one question: how does one become the biographer of Pablo Neruda? It wasn't exactly an advertised career path when I was at school.
"If I could have a pound for every time I get asked that question," he chuckles. "I read his autobiography as a student in Paris, and thought what an extraordinary passion for life he had. However, his life is so intimately woven in his work that knowledge of his life is necessary to understand his poetry. If you know about his life, you know about his work". Adam took it upon himself to write a complete, uncensored English biography, and retracing Neruda's footsteps he travelled all over the world in order to produce the masterful biography that he published in 2004. He was also asked to advise in the production of Pablo Larraín's Neruda (2016), although he admits that the facts were somewhat warped in the film (and hence the reason he calls it an "anti-biopic") in accordance not only with Larraín's non-linear, non-realist cinematic style but also with Neruda's "lyrical logic," or imaginative interpretation of life.
Adam has always been interested in cinema as one of the great art forms. As well as the leading Nerudaist, he is an authority on the life and work of Michael Curtiz – the man who made Casablanca – and has written about and given talks on Curtiz around the world. Currently, he teaches Latin American cinema and he is preparing a book on Cuban cultural policy. Here is just a snippet of some of the most memorable Latin American films in Adam Feinstein's endless repertoire:
1. Memories of Underdevelopment (Memorias del Subdesarollo), 1968, Tomás Gutiérrez Alea
This Cuban classic is about a middle-class aspiring writer, Sergio (Sergio Correri), who remains in Cuba after his wife and friends leave for Miami around the time of the revolution. He reflects on Cuba and the way it changed through a fragmented narrative, in flashbacks. Sergio becomes isolated and ends up condemned by his own fear. Adam describes it as "poignant, political and playful with time". This chronological mix-up, which although now is a common technique, was quite revolutionary (being the operative word) for Cuban cinema in the 1960s. However, a feature more quintessential to the time is the ambiguity of the political messages and multiple interpretations which characterises Cuban films made in quenquenio gris, the five year period in the late 60s when the creative industries suffered the most severe political repression. "Tremendously accessible, creative, deep and a film which gave Cuban cinema a great voice."
2. Time Regained (Le Temps Retrouvé), 1999, Raúl Ruiz
Based on the book In Search of Lost Time by Marcel Proust, Time Regained, starring Catherine Deneuve, is about an anonymous narrator who 'Searches for Lost Time' whilst he reflects on his memories on his deathbed. In Adam's opinion, it the captures the original spirit of the book better than any other film in world, let alone in Latin America. It's "playful, dreamlike and it shows how important past is as well as the future." It's told in different timescales with an astonishing attention to detail and accuracy. Loyal to the book, Ruiz conveys the intricacy and complexity of the characters. A superb production complete with great period furnishings.
3. Nine Queens (Nueve Reinas), Fabián Bielinsky, 2000
The Argentinian thriller involves two con artists, primarily Marcos played by Ricardo Darín who then meets wealthy Spanish business man, Juan (Gastón Pauls), in a newsagents and Marcos agrees to show Juan some of the tricks of the trade. However, the plot thickens (or becomes muddled) when we gradually realise that not only are they both conning each other, but we the audience have also fallen victims of their scam. The 'nothing is what is seems' theme is very common in post-dictatorship Argentinian cinema, reminiscent of the deception and lies that occurred during those dark years. "It's like a Latin American The Sting but better than The Sting," Adam tells me. "A superb performance by everybody and a delight to watch".
4. The Dance of Reality (La Danza de la Realidad), Alejandro Jodorowsky, 2013
This musical drama by French-Chilean director Alejandro Jodorowsky is an autobiographical account of his troubling childhood with a brutal Stalinist father, growing up in the town of Tocopilla in Northern Chile. Although facts and the characters of the film are real, his poetic, psychedelic style adds a strong fictional element. Curiously, his mother Sara (Pamela Flores) sings throughout the whole film and there is an unusual cast: the director's son, Brontis Jodorowsky plays Alejandro's father and his grandson Cristóbal Jodorowsky plays Young Alejandro. It's not an easy watch, as there are some distressing images but "it makes an important point about the acceptability of disability – how incomprehensible for Jodorowsky's parents, anything that deviated from the norm was" and also a beautifully executed film.
5. Gloria, Sebastián Lelio, 2013
Adam points out how a lot of modern Chilean films like to talk about their understanding of the past; for example, Patricio Guzman's wonderful documentary, Nostalgia for the Light (Nostalgia de la Luz) (2010), which focuses on the paradox that Chilean astronomers are prepared to look back millions of years into the origins of the universe while still not facing up to the country's military coup little over four decades ago. However, Gloria offers a fresh take on this recurrent theme; a 57-year-old woman played by Paulina García sets out to find a new man in middle age. Subtly and gradually, baggage seems to get in the way of the relationship with her new partner, alluding to the impacts and perpetuated complications of the past. Interestingly, according to Adam, the director says that it's a story about revenge, "but that makes it sound like it's cold and unsympathetic, when really it's a film that is warm and full of life," he insists and also "a fantastic performance by Paulina García in every scene."
Adam Feinstein will be at Rich Mix in London on Saturday 23rd September talking more extensively about his experience in cinema and with directors, cameras techniques, montages, and clips of many other Latin American's cinematic gems. A commemorative event to mark 44 years since Pablo Neruda's death, this is not one to miss! You can find out more about the event at richmix.org.uk/events/film/alborada-adam-feinstein-latin-american-cinema.

Follow Sounds and Colours: Facebook / Twitter / Instagram / Mixcloud / Soundcloud / Bandcamp

Subscribe to the Sounds and Colours Newsletter for regular updates, news and competitions bringing the best of Latin American culture direct to your Inbox.
Share: