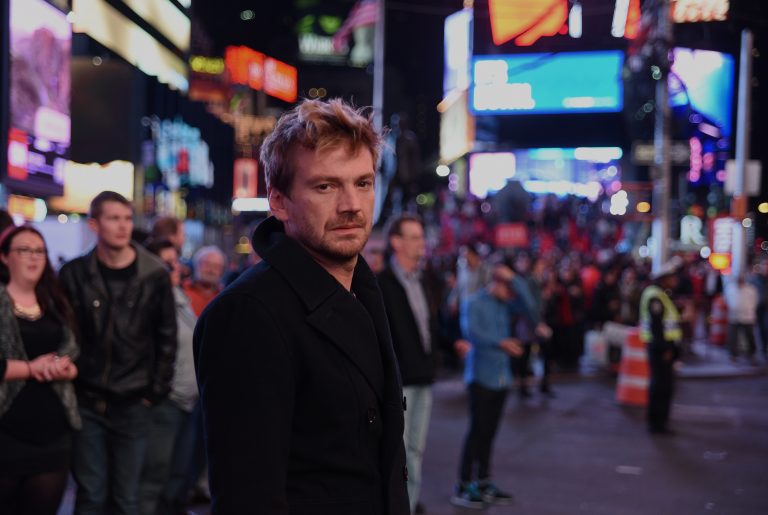 Nobody's Watching (Nadie Nos Mira)
14 September, 2017
"Look at him, he's clueless." In a busy New York park, a sandy-haired Argentinian actor, famous back home, awkwardly fashions a nappy onto a baby whilst a group of Latin American nannies snigger at his childminding incompetence. "He doesn't speak Spanish" one confidently reassures another, after he shoots them a grimace. In this opening scene, we witness the first of many rejections that Nico (Guillermo Pfening) experiences. Ironically, the nannies dismiss him as not one of them because of his fair skin and blond hair. A recurring problem it seems; later on he can't land even the Latino role as he doesn't fit the stereotyped profile. Even in a very multi-cultural setting such as New York, he struggles to belong
Julia Solomonoff's third feature length, Nobody's Watching (Nadie Nos Mira) puts to light the identity issues and isolation that accompany Nico as a middle-class immigrant in a strange and intimidating land. Similarly to Solomonoff's second feature, The Last Summer of La Boyita (El Ultimo Verano de la Boyita), social issues are of interest and solely the characters' interactions tell the story.
Nico Lencke leaves behind his fame and feuds in Argentina as he tries to make his name internationally. Initially, it seems he went to escape his reputation as the guy from Rivales, a popular Argentinian soap opera. However, we soon discover that he fled an affair gone sour with a married colleague, Martín (Rafael Ferro) as well. In New York, he was promised a role in a Mexican director friend's film, but this falls through when the director tells him that the film isn't going to happen. Nico assures him that it's not a problem and that he has lots of other gigs lined up when really he's strapped for cash. What might have started as a white lie not to make his friend feel guilty develops into a double life. He does everything in his power to persuade his friends and family in Argentina that he's living the American dream.
Solomonoff shows that without a strong network of people around you, it's easy to pretend you're someone you're not. For this reason, it's easier for Nico to bury his head in the sand rather than confront the reality of his increasingly desperate situation. His precarious friendships suffer and he becomes alienated from everyone in a kind of 'Nobody's Watching' denial, where he convinces himself that 'Nobody Knows' and 'Nobody Cares' what's really going on.
Yes, Nico's immigration to New York is at the core of his problems but the focus is really on relationships; we discover how and why he has become so isolated by the way he interacts with people. Indeed, we couldn't help but do so, because this forms the fabric of every scene – this is not an action film. For example, he inappropriately asks his flatmate Claire (Kerri Sohn), to marry him for a Green Card, or constructs a fake apartment to show his fellow Rivales actor Pablo (Marco Antonio Caponi) that he has his own place. His pride and inability to communicate his problems make him his own worst enemy.
The plot is not complex, but the intricacies and details of Nico's life keep us fixed to the screen. He appears in every scene and we follow his every move like flies on the wall, almost like a sort of reality show. Pfening's award-winning performance is intense, but also subtle and subdued; a very hard balance to get and one that he achieves perfectly. So it's no surprise that he won; he is a well-deserved winner of the Tribeca Film Festival 2017 Best Actor award.
Nobody's Watching is unique in that it has a quirky mix-up of roles, contrary to traditional immigrant stories. The women almost exclusively hold the positions of power; the producer Kara Reynolds (Cristina Morrison) by whom Nico wishes to be noticed, Andrea (Elena Roger), the mother, of Theo (Pfening's own daughter, Asia) for whom he babysits, his flatmate who owns the flat in which he's allowed to stay, and even the nannies in the park who snigger at him. Above all, Nico is blond and openly gay, which shoots down the traditional idea of a Latino man.
Without a safety net of friends and a real place in society, Solomonoff shows how immigration can turn a life into a false misery. Being a fair-haired Latino and a resident of New York herself, the moral of this story could well be one close to her heart. An easy, entertaining and thought-provoking watch, Nobody's Watching is a fresh new take on Hispanic life in the states.

Follow Sounds and Colours: Facebook / Twitter / Instagram / Mixcloud / Soundcloud / Bandcamp

Subscribe to the Sounds and Colours Newsletter for regular updates, news and competitions bringing the best of Latin American culture direct to your Inbox.
Share: