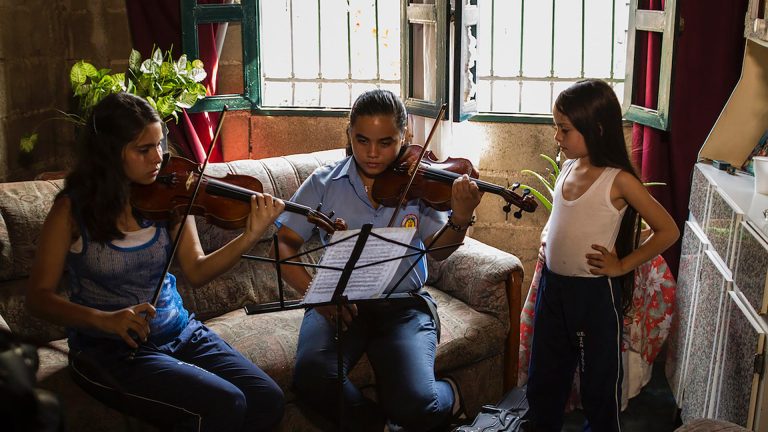 Marianela Maldonado's Children of Las Brisas. Photo courtesy of Sheffield DocFest.
Sheffield DocFest launches 29th edition under new Head of Programmes Raul Niño Zambrano
23 June, 2022
Sheffield DocFest, the UK's leading non-fiction festival, returns for its 29th edition this 23-28 June, and has a new Head of Programmes, the Venezuelan-born Raul Niño Zambrano
Zambrano, who joined the DocFest senior team earlier this year after 14 years at IDFA (International Documentary Film Festival Amsterdam), has a profound expertise in Latin American cinema and LGBTQIA+ documentary films.
During his time at IDFA he consistently supported Latin American filmmaking, curating the programme Cinema do Brasil in tandem with a retrospective on auteur Eduardo Coutinho, and fostering a collaboration between IDFA and the International School of Film and Television of San Antonio de los Baños de Cuba (EICTV) in 2020 as an act of solidarity with the film school during the pandemic, amongst his many activities. Through the IDFA Bertha Fund, he also supported the production of Gloria Carrión's Nicaraguan Heredera del viento (Inheritor of the Wind) a film of which he's said he's extremely proud. In addition, Zambrano also spearheaded a groundbreaking study on the position of women within the documentary world The Female Gaze, and initiated the IDFA Queer Day.
The 2022 line-up at Sheffield DocFest, will be the first helmed by Zambrano and features a number of outstanding Latin American documentaries. 
The International Competition includes two Latin American titles: Sansón and Me from Mexico, in which Rodrigo Reyes reconnects with Sansón, a Mexican migrant sentenced to life in prison, who he met when the director was a translator at his trial, and Swing and Sway (Vai y Vem) from Brazil, where two filmmakers Chica Barbosa and Fernanda Pessoa, conduct a cinematic experiment exchanging video letter over the course of a year with just one rule, each letter will be inspired by the work of a different female experimental filmmaker.
Marianela Maldonado's observational documentary Children of Las Brisas (Niños de Las Brisas) charts nine years in the lives of young Venezuelans whose musical talent offer a chance for them to escape poverty, and will compete in the International First Feature Competition. In the International Shorts Competition Latin America is represented with two films: Gloria Carrión's Leaves of K (Hojas de K) from Nicaragua, which tells the story of K, a 17-year old girl who was arrested by the police in 2018 following an anti-government protest organised by high school students, and the horror of her time in jail, and Ana Galizia´s The Rightful (Quem de direito) from Brazil, which looks at the landless workers of Guapiaçu who for decades have been fighting for the right to farm the land, and must now fight a dam project that threatens to flood their entire community.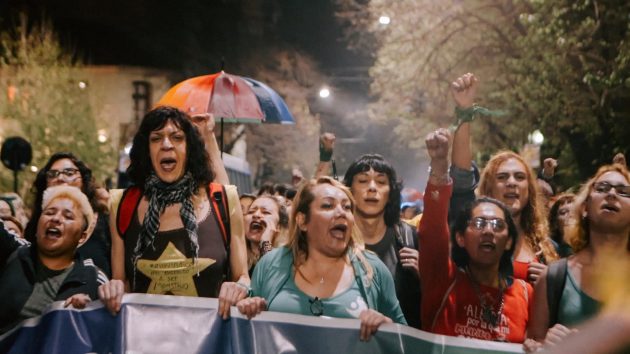 As well as the main competitions, the Sheffield DocFest programme also includes a number of strands organised around different themes. This year's Rebellions strand, which focuses on those striving for social change, features the most Latin American documentary features with three films screening in this section. In Our Bodies Are Your Battlefields (Nuestros cuerpos son sus campos de batalla) Isabelle Solas casts a powerful, moving and urgent spotlight on the fight for trans rights across Argentina's polarised political landscape. Breaking the Brick, co-directed by Carola Fuentes and Rafael Valdeavellano, finds two Chileans, on opposing sides of the political spectrum, experiencing a year of turmoil in 2019, when a popular revolt by millions of Chileans results in a radical call for change to the constitution imposed by the Pinochet dictatorship and its economic neoliberal model, referred to as 'The Brick'. Alex Pritz´s The Territory focuses on a young indigenous leader in Brazil and his environmental team's fight against farmers involved in the wholesale destruction of vast swathes of the Amazonian rainforest.
The People and Community strand, celebrating togetherness, features the Colombian film Alis, directed by Nicolas van Hemelryck and Clare Weiskopf and winner of the Crystal Bear at the Berlin Film Festival, which follows a group of teenagers in Colombia who conjure up a classmate names Alis, who manifests their concerns and desire to break the cultural cycle of violence and hope for a brighter future. In the Debates strand, which highlights issues that need to be discussed, Brazil's Rising Sun Blues (Rua dos Anjos) from directors Renata Ferraz and Maria Roxo, centres on an actress who asks a sex worker to help her create a film in which they share secrets of their profession. Finally in the Memories strand, bringing new light to facts of the past, Vincent Carelli and Tatiana Soares de Almeida´s film Goodbye Captain (Adeus, Capitão) recounts the story of Captain' Krohokrenhum, leader of the Gavião indigenous people, from Pará state in northern Brazil, who died in 2016.
Sheffield DocFest runs 23-28 June 2022 with screenings across Sheffield and online. 

Follow Sounds and Colours: Facebook / Twitter / Instagram / Mixcloud / Soundcloud / Bandcamp

Subscribe to the Sounds and Colours Newsletter for regular updates, news and competitions bringing the best of Latin American culture direct to your Inbox.
Share: