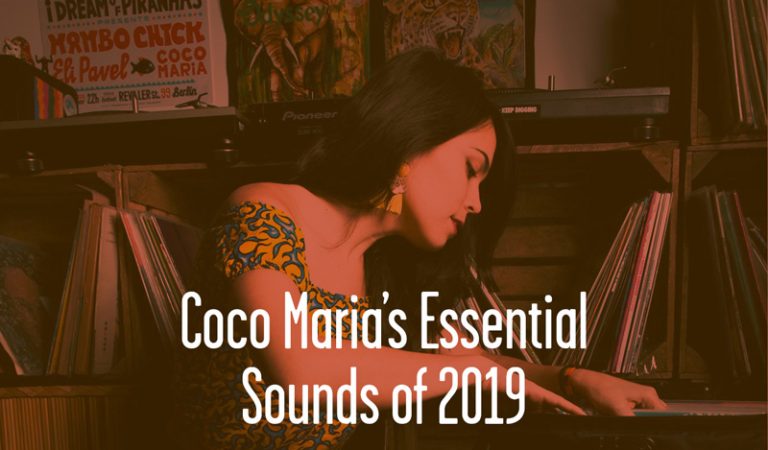 Coco Maria's Essential Sounds of 2019
20 December, 2019
It's been a real honour to feature a couple of mixes from Coco Maria on our site over the last year or two (check them out here and here). It's no surprise to us that she is becoming an ever more in-demand DJ and authority on Latin music. Hailing from the north of Mexico, she has a record collection vibrating with mellow, life-affirming vibes from Brazil, Peru, Colombia and her homeland, as well as a few other stops on the way.
And we wanted to hear more from Coco Maria so we asked her to pick some of the tracks that she's been digging this year, and here they are, a collection of tracks and albums they she says are from those "whose work and creativity I admire deeply." Adding that they are "dreamy, delicate sounds with some craziness and humour in the middle; organic sounds combined with subtle touches of synthesizer. These tracks are all into that vibe."
The Mauskovic Dance Band and L'Eclair "Homo Sapiens" (Bongo Joe Records)
Mauskovic are one of my favourite new bands. I love their sexy and trippy sounds. On stage, they are pure fun and fireworks. This is a really fresh new track they did with L'Eclair.
Malphino "Sleep Tree" (Lex Records)
Malphino have their special and sweet way of reinterpreting tropical sounds. For me this is one of the songs that most reflects all the members of the band. Tropical mood with a touch of nostalgic.
Alogte Oho & His Sounds of Joy "Mam Yinne" (Philophon Records)
Philophon Records is a label really worth checking out. Every song that is released by them comes straight from the heart. Beautiful work, music, and videos!
Daniel Haaksman, Ori Kaplan, Dengue Dengue Dengue and Coco Maria "La Añoranza" (Man Recordings)
This track I can't skip because I contributed to its making and it makes me happy to share it. Really cool to see how things happen in a studio with such pros. It was definitely an experience worth repeating.
Romperayo "Alegria de No Tener Pensión" (Discrepant Records)
Romperayo is a brilliant band from Colombia. When I listen to them I end up somewhere I didn't expect. They are punk and cumbiancheros and psychedelic all at the same time. Really excited about their future!
Anadol "Yılının En Uzun Dakikası" (Kinship)
I discovered this track thanks to my friends at Zabriskie Bookshop. Anadol is a very mysterious artist from Turkey, based in Berlin. This album was improvised during different sessions. I drown in the atmosphere of this one.
Ralph Weeks "Algo Muy Profundo" (NYC Trust)
Sweet sounds from Panama via New York. Latin Soul and romance. Feels like driving your car with the windows down and warm, pleasant wind touching your face.
Carioca & Devas "Canto dos Pescadores" (Altercat)
Hypnotic Brazilian Style. Another Label you should really check out. Handmade, high-quality reissues and more.
Black Sugar "Viajecito" (Matasuna Records)
Matasuna Records is a great label based in Berlin. They keep reissuing almost forgotten Latin soul/funk gems that have a sound that will never expire.
Os Muiraquitãns "A Misturada" (Analog Africa)
Favourite track of this "must have" compilation by the one and only Analog Africa.
You can listen to Coco Maria's latest sounds on Soundcloud and see what she's up to on Instagram.

Follow Sounds and Colours: Facebook / Twitter / Instagram / Mixcloud / Soundcloud / Bandcamp

Subscribe to the Sounds and Colours Newsletter for regular updates, news and competitions bringing the best of Latin American culture direct to your Inbox.
Share: