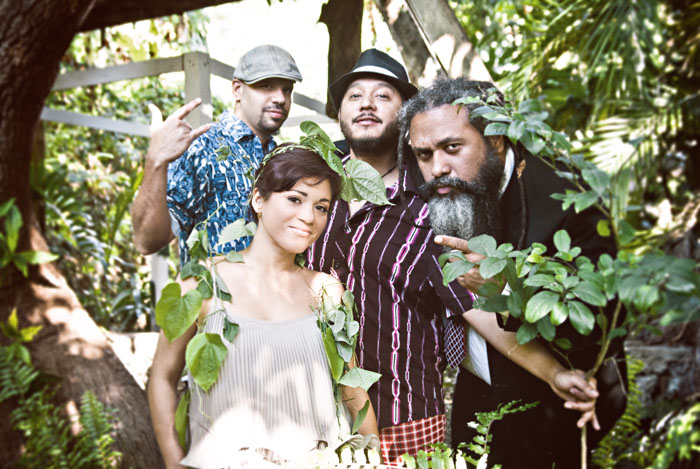 Courtesy of the band/ Clockwise: Andres Ponce, David Burgos, Buffalo Brown & Sofy Encanto
Miami's Elastic Bond: Retro-futuristic Vibe with an Edge
31 July, 2013
There's something special about a band that can seamlessly transition between songs in English and Spanish, all the while offering a distinct sound in what seems like every track.
A band based in Miami, FL., has it down to a science.
Meet Elastic Bond, the latest group to join Nacional Records, the Latin Alternative label that helped catapult acts like Manu Chao and Los Fabulosos Cadillacs to wider success.
Elastic Bond bills itself as having "an urban edge with a tropical twist to the alternative music scene." During a set at their recent record release party at New York City's Nublu, we bought into their "retro-futuristic" vibe. We heard some samba sounds, retro dance pop (think DeeLite. Remember them?), folkloric rhythms, funk, electronica, and sultry ballads. Oh, those ballads. (More on those later.)
The band is comprised of producer and Venezuelan native, Andres Ponce, Honduran-born vocalist, Sofy Encanto, trumpet player, David Burgos, also from Venezuela, and guitarist Buffalo Brown, an American of Dominican descent.
Ponce and Encanto met in 2004, started collaborating under the band name Elastic Bond, later adding Burgos, Brown, and the occasional guest musician and/or vocalist. They tell us the name of the band was loosely inspired by a molecular chemistry term (Swoon! We love smart artists!) and "suggests the idea of eclectic sounds and musical genres held together by a common vibe."
The band released their third album, Real, on June 18, where it debuted at #1 in the Alternativo & Rock Latino Albums chart on iTunes. The 12-track record features well-crafted pop songs, catchy melodies, and urban tropical funk (in both English and Spanish), with a nod to classic soul and traditional cumbia, while staying true to the tropical and modern dance sounds of Miami.
The single, "Find a Way," is currently getting tons of blog and radio love. (Check out the video below.)
I caught up with Ponce and Encanto right before their second set at the aforementioned record release party in downtown New York City (the band was also in town for the Latin Alternative Music Conference (LAMC) as well as a few dates in upstate New York.) Here's what they had to say:
Sounds & Colours: You guys were very recently signed to Nacional. For a band that has been DIY since 2004, please tell us what that feels like:
Sofy Encanto: We're so excited. We're inspired to work even harder. And now we have an opportunity to share our music with a wider audience. [Nacional is] certainly helping us a lot.
S&C: Many people equate Miami with a resort/party town and the music of Pitbull or Gloria Estefan. Elastic Bond has a wonderfully unique sound. Was it challenging to build a following there?
Encanto: We've been taking baby steps and it just kept on building. We've been a band for seven years now. It certainly didn't happen overnight.
Andres Ponce: Miami is so diverse—so international, rich, and cultured. There are so many people from all over the world that just go through there. We were blessed to have the opportunity to provide a lot of entertainment for tourists. There are great opportunities [in Miami] for musicians. We've been blessed.
S&C: Tell us about the new record. What can listeners expect? Each song feels like it can stand alone and the ballads are sweet and romantic, but not over the top. We loved them!
Encanto: Our songs are mainly about love. Some are about people and places that have inspired us. Each song has a different feel and story. Listeners can expect some funk and some African rhythms with electronic sounds. There's some down-tempo stuff, too—the type of music you can listen to in the afternoon. Again, lots of love.
Ponce: It's a very soulful record—a reflection of who we are as humans, our influences, our background. We tried to push the envelope a bit, and be innovative in what we do—our retro sound—but we also try to bring some modern elements into the mix.
S&C: Where can we find out more about the band and tour dates?
Ponce: Right now we [just finished] a NYC tour, but the future is wide open for us!!! We would love to go to Europe and Latin America, of course. Our album is coming out in Japan, so that's very exciting.
Stream "La Curandera," a cumbia track from the album, which the band wanted to share exclusively with Sounds & Colours readers. And download their album, Real, online.
[soundcloud url="http://api.soundcloud.com/tracks/103441546″ params="" width=" 100%" height="166″ iframe="true" /]

Follow Sounds and Colours: Facebook / Twitter / Instagram / Mixcloud / Soundcloud / Bandcamp

Subscribe to the Sounds and Colours Newsletter for regular updates, news and competitions bringing the best of Latin American culture direct to your Inbox.
Share: