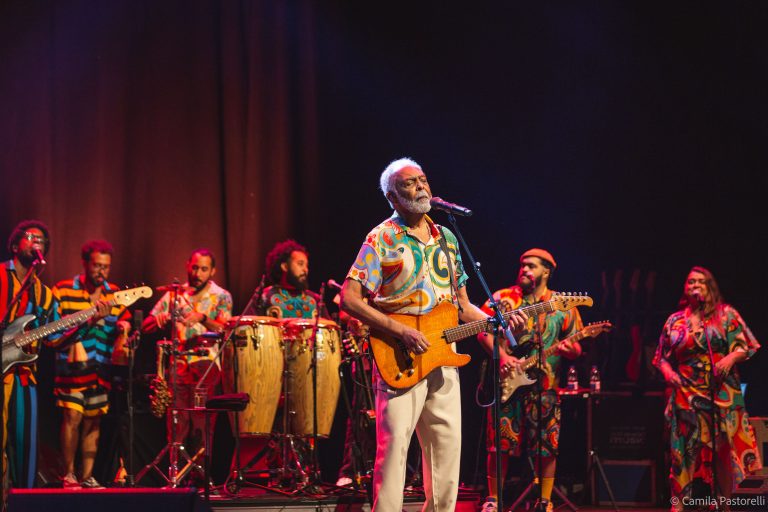 Gilberto Gil & Family Bring Their Joy to London on 'Nós A Gente' (We The People) Tour
01 August, 2022
Gilberto Gil is a musician and songwriter who has been a beacon of light in Brazilian culture for nearly sixty years. Amongst the many feats of his long-lasting career, he was one of the main creators of the countercultural artistic movement Tropicália, which resonates to this day with its affirming understanding of the value of all the arts: popular and avant-garde, local and global. His political awareness and social activism led him to serve as Brazil's Minister of Culture for five years of Luiz Inácio Lula da Silva's presidency (2003-2011).
Gil turned 80 in 2022, a year in which he also become an "immortal" of the prestigious Academia Brasileira de Letras (The Brazilian Academy of Letters). He is the first musician and only the second Afro descendant to occupy one of the institution's chairs since its founding in 1896 by writer Machado de Assis, who was a mixed-race Afro descendant himself. Gil's role in helping elevate lyrics to the status of poetry — and, therefore, literature — cannot be understated.
The occasion of his 80th birthday has been marked by the launch of a fantastic online retrospective celebrating his life and career by Google Arts & Culture — including a newly-found album from the early 80s that he'd recorded in the USA. In Brazil, an expanded new edition has been released of a book with his collected lyrics, Todas As Letras (All The Lyrics). Furthermore, the series Em Casa Com Os Gil (At Home With The Gils, directed by Rebecca Diniz, Andrucha and Pedro Waddington) and its album have recently been released worldwide on streaming.
The Prime Video series shows the communal creation, which took place during the COVID-19 pandemic over one month in 2021, of a concert where different generations of Gil's family are brought together on stage with him for the first time. Each of them — a large group of over thirty-five people which includes Gil's wife, children, grandchildren and in-laws — got to pitch one song that was close to their hearts. The resulting five episodes documenting these moments are heart-warming, informative and deeply emotional.
In June and July, Gil and his family toured Europe with Nós A Gente – We The People, the concert engendered from the family reunion shown in the series. They performed in Germany, Denmark, Italy, Slovenia, France, Switzerland, Spain and Belgium – with an extra stop in the North African country Morroco. The last stop of the tour was in the United Kingdom, where they performed in Liverpool, London and at WOMAD in Wiltshire. A new Prime Video series called Viajando Com Os Gil (Travelling With The Gils) was filmed to document it.
I was fortunate enough to attend the sold-out one-nighter at London's Barbican, which took place on Saturday 30 July – with quite a few people looking to purchase last-minute tickets on the door. Besides it being a special event to see the Gil family perform together, the expectation was also high because of its patriarch's connection with London, the city where he lived for two years whilst in exile from Brazil's 1964-1985 military dictatorship.
The main line-up of the tour was formed by Gilberto Gil (lead vocals), Nara Gil (vocals), Preta Gil (vocals), Mariá Pinkusfeld (vocals), Bem Gil (vocals, guitar, bass), João Gil (vocals, guitar, bass), Francisco Gil (vocals, guitar), José Gil (vocals, drums, percussion), and Flor Gil (vocals, keyboard, percussion). In London, they were joined throughout the whole concert by Pedro, Lucas, Gabriel and Bento Gil on percussion.
It's important to point out that some members of Gil's family are stars in their own right, whilst others are potential stars in the making. And they all got their time to shine at the centre of the stage, duetting with Gil or on lead vocals.
Nara Gil, his eldest daughter, has been Gil's backup singer for many years – since the album Extra (1983) – and became famous for her role as DJ Black Boy in the TV series Armação Ilimitada (Rede Globo, 1985-1988). Nara sang the moving "Amor Até o Fim".
Preta Gil (daughter) began as an actress in 1991, participating in Marina Lima's videoclip for the song "Criança" (directed by Gringo Cardia), and has become mostly known as a singer after releasing her first album, Prêt-à-Porter (2003). Preta brought the house down with two songs from her own catalogue, "Sinais de Fogo", her no 1 breakthrough single in Brazil and Portugal, and "Vá Se Benzer", which was originally sung on record as a duet with her godmother, the legendary singer Gal Costa.
Bela Gil (daughter) is a chef specialised in vegan and macrobiotic cuisine with an interest in Ayurveda and its holistic understanding of healing, which includes one's diet. Bela's work has become known through her cable TV show, Bela Cozinha (GNT, 2014-present). She has written award-winning recipe books, and currently owns a YouTube Channel. In 2021, she opened a restaurant called Camélia Òdòdó in the city of São Paulo. Bela didn't sing in the concert, but danced whilst her father performed the evocative "Andar Com Fé".
José (son), João (grandson) and Francisco Gil (grandson) are members of the "progeny" trio Gilsons, which was formed in 2018. After putting out an EP and a couple of singles, they've released their first album this year, named Pra Gente Acordar. They performed their first hit, "Várias Queixas", which was requested enthusiastically by some audience members.
The two stars in the making are the teenagers Flor (granddaughter) and Bento Gil (grandson), who paid tribute to two bossa nova classics. Flor beautifully sang "Garota de Ipanema". Bento and his grandfather had the stage for themselves to perform "O Pato", in which the former played acoustic guitar.
This was a concert of many highlights from Gilberto Gil's extensive career. He was greeted by a standing audience, which rarely set-down throughout the roughly two-hour-long setlist that kicked off on a high note with "Barato Total". Of the twenty-one songs performed, "Nossa Gente (Avisa Lá)", "Palco" and "Vamos Fugir" were amongst the most danced and sung to.
During the encore, the thirteen people on stage grew to seventeen when they were joined by Bela; plus two of Gil's younger grandchildren, Dom and Sereno; and his first great-granddaughter, Flor de Maria. The choice of these last three songs were absolutely genius in its storytelling, opening with "Back in Bahia" – written by Gil after he returned to Brazil from his years in the UK –, "Aquele Abraço" – which he wrote as a farewell to his home country right before going in exile –, and "Toda Menina Baiana" – which celebrates the heritage of Bahia, the state where he comes from.
Gilberto Gil's seemingly deep care for the UK's capital city and this unique opportunity to have so many family members with him on stage made for an unforgettable night – when audience members were part of a loving, joyful and hopeful community. The occasion felt like a party on stage and in the audience, where all surrounding Gilberto Gil praised him with gratitude for his music and existence.

Follow Sounds and Colours: Facebook / Twitter / Instagram / Mixcloud / Soundcloud / Bandcamp

Subscribe to the Sounds and Colours Newsletter for regular updates, news and competitions bringing the best of Latin American culture direct to your Inbox.
Share: