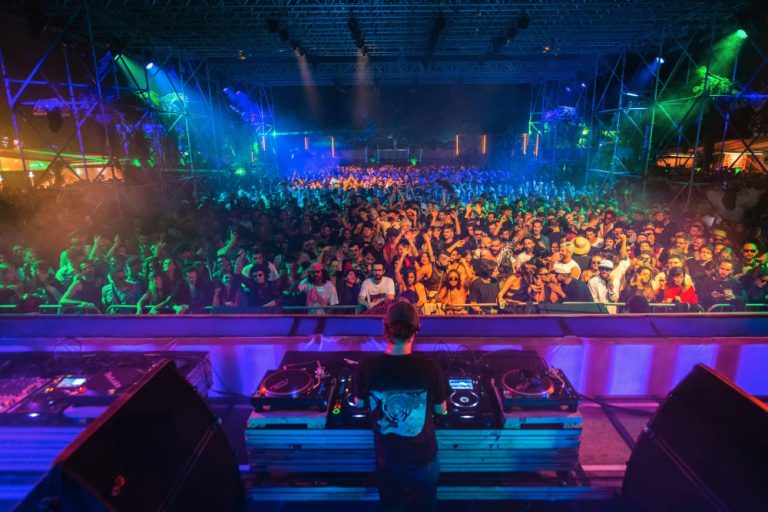 Baile, Throwback, Glitch, Techno and Summer Funk at the Inaugural Gop Tun Festival
05 April, 2022
It's the first edition of the Gop Tun Festival, celebrating ten years of the Gop Tun label. They've previously put on raves and large scale parties but this is their first stab at an electronic music festival, with a line-up that's as diverse and genre-defying as their own label. We found ourselves inside an old abandoned complex of swimming pools next to the Canindé football stadium, near the centre of São Paulo, São Paulo being so huge and malleable enough that it still offers up these large derelict areas that can be adapted into festivals. During the day they exude a drab concrete greyness but at night they catch the light and transform into adventurous urban clubbing landscapes.
Ten countries are represented but there's no big crowd-drawing names (barring MCDE and maybe Lone), the Gop Tun brand is strong enough to fill the festival comfortably with 5,000 people, with each of the four stages full of revellers but easy enough to manoeuvre around.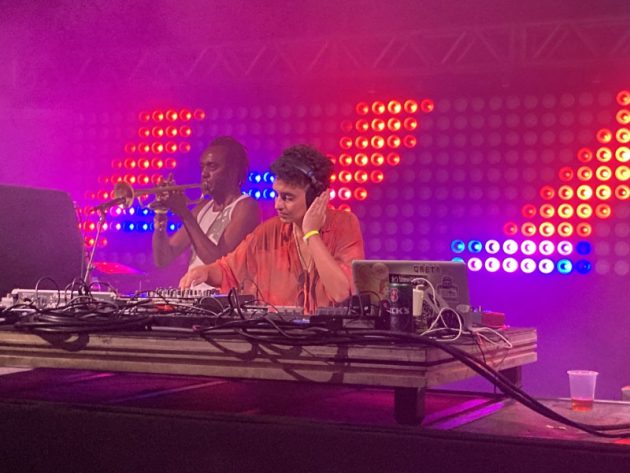 On arrival, I head to the live stage. I was unfortunately too late to see Fronte Violeta, a drone duo which features Carla Boregas from Rakta, so the first thing I managed to catch was a live set by Raiany Sinara, a producer from Mato Grosso de Sul, playing with Romulu Alexis, whose work I've reviewed before with free jazzers Radio Diaspora. Raiany was tweaking her experimental productions which take in scattered break beats and danceable bass lines while Romulo improvised various wind instruments, a Moroccan pipe and trumpet, over the top to hypnotic effect. The beguiling Moroccan textures contrasted with the electronics, which even at this early time slot had everyone bopping around.
The following set was a high energy performance by L'homme Statue, which is Loïc Koutana, model, singer and performer, with Pedro Zopelar, a Brazilian producer currently at the top of his game production-wise with his 80s-based releases. Zopelar dabbled in funky throwback jazz riffs over the heavily deep bass lines and beats that took in house, baile funk and kuduro. From the off Loïc had the audience in the palm of his hands, jumping and gyrating wildly while the bass pulsated throughout the tent. So confident was Loïc's stage presence that he jumped right into the middle of the crowd with everyone going crazy around him, certainly one way to get everyone to post about you on social media, but it also shows the magnetic effect of having a charismatic front person when doing an electronic-based live show.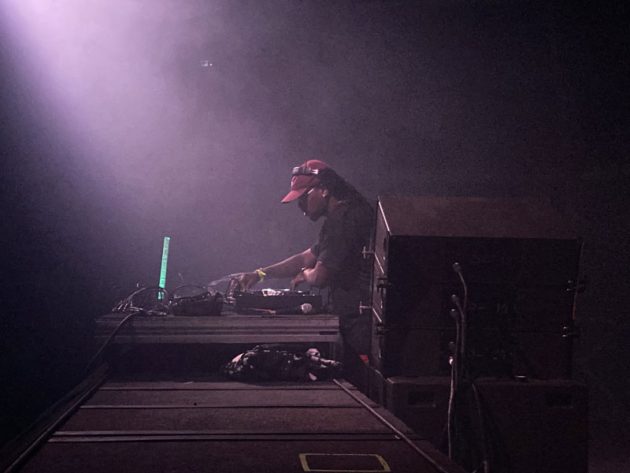 I had a quick chat to Dj N****fox before he was up, it was his first time in São Paulo and he had the unenviable task of playing before baile funk maestro Sany Pitbull, but he's a young lad and was confident he could pull it off. Originally from Angola, he's now based in Lisbon, and you could see he was really enjoying showing off his mix of kuduro, batida, and afro-house with some touches of fado to lighten the bass-heavy onslaught.
Sany Pitbull put on an unforgettable show with his fast and furious cutting and attention-deficit mixing, all to his own dubplates and mashups. Dancing furiously he worked the crowd into such a frenzy that there was a stage invasion. It's easy to forget that baile funk is not really an underground dance music; sure it has grassroots origins, but it comes from the 70s bailes of Rio, dances that were designed for the favela population to let their hair down on a Saturday night. Its origins are not in sonic envelope pushing, as in something like dubstep, but in making that Saturday night crowd dance and sing along, so it shouldn't be a shock that Sany's set was so unashamedly pop. He dropped everything from Icona Pop to Queen and the crowd lapped it up, but his crowning moment was playing the Red Hot Chilli Peppers and everyone went ballistic, the crowd loved it – I'm by no means a fan of the Chilli Peppers – but hats off to him, everyone stopped dead to sing along in what was quite a communal moment.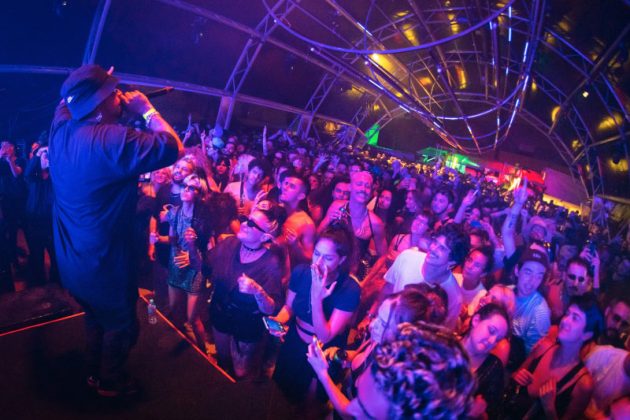 We had the present in the performance of FBC and Vhoor who look set to break through into the mainstream with their baile hit "Se Tá Solteira" which had the crowd chanting "charmosa, cheirosa!", the past was represented by Sany Pitbull, now it was the turn of the future in the form of Badsista who closed the live tent with a DJ mix of her definition of pitched up techno, glitched out baile and global bass, it was relentless and delivered with deft shock and awe. I didn't count the BPMs but it was too fast for me, I retired to find calmer pastures.
The Paraguayan Mussi family dominated the "Supernova" techno stage. Amanda Mussi, originally from Paraguay, is a DJ, producer and promoter based in São Paulo, and played alongside her cousin, the prolific Victoria Mussi, herself a main mover in the Paraguayan scene – check her latest release "En Construcción" on Bandcamp for a sample of her percussive techno. The two worked together presenting a hip shaking trancey techno, but not cheesy trance, I mean trance inducing, repetitive, percussive and driving, it gets under your skin and into your hips. Later I spoke to Amanda, she told me about why it took so long for techno to arrive in Paraguay: "Before the internet things used to arrive in Brazil five years after they had happened, and then it would take yet another five years for things to get to Paraguay". I asked her to define Paraguayan dance music, " It's uplifting!", she yells at me.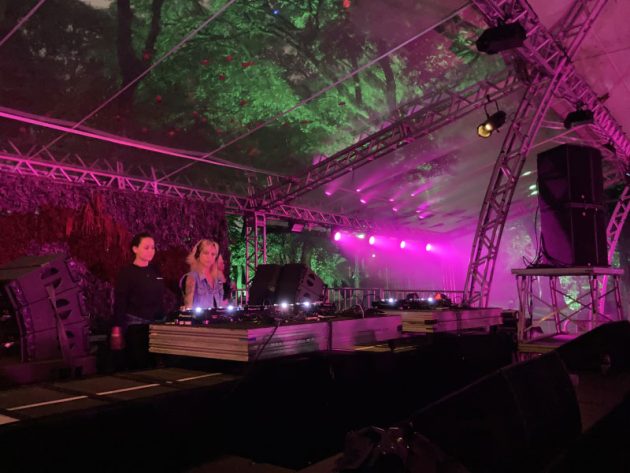 On the mainstage I caught some of ex-Selvagem Millos Kaiser's DJ set, where he mixes up some old school 808 funk with his perennial summer funk tunes. The fireworks exploding over our heads filled the venue with the smell of sulphur. But perhaps the most jarring moment in the whole festival came when listening to probably the biggest name at the festival, MCDE (formerly Motor City Drum Ensemble), Daniel Plessow, amongst the disco and vocal house, he dropped at the peak of his set Talking Heads' "I Zimbra", it sounded phenomenal. "Ah it must be remixed" my companion said, "no" I replied "it's the original", a jarring slice of fourth-world post-punk, connecting my sixteen-year-old self, at the time joining the dots between Bowie, Eno and Byrne, with the current me in this maelstrom of global bass and electronic beats set in a dilapidated abandoned old swimming pool on the brink of South America. Who could have predicted that?

Follow Sounds and Colours: Facebook / Twitter / Instagram / Mixcloud / Soundcloud / Bandcamp

Subscribe to the Sounds and Colours Newsletter for regular updates, news and competitions bringing the best of Latin American culture direct to your Inbox.
Share: