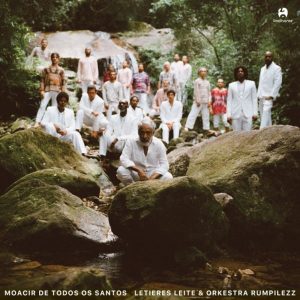 Review
Letieres Leite & Orkestra Rumpilezz – Moacir de Todos os Santos
The recent singles round-up flagged up an artistic polymath by the name of Sylvio Fraga. As the creator and artistic director of the Rocinante label, he recently brought out a distinguished album of his own, Robalo Nenhum. He also produced an album by a renowned composer, arranger and multi-instrumentalist that came out in May and is now available on vinyl. The artist in question, Letieres Leite, sadly died last year just as this historically significant album was being mixed. It's a homage to one of the greats of Brazilian jazz, Moacir Santos, whose debut solo album Coisas (or "Things") came out in 1965. It was a ground-breaking fusion of Brazilian rhythms and the language of what one might call the kind of symphonic jazz associated with Gil Evans. Letieres' repertoire includes seven of the nine "things" from his predecessor's album, including the celebrated and widely covered "Nanã" with its haunting vocal refrain.
The bandleader began his music studies with a Fine Arts course at the Federal University in Bahia and later studied and lived in Vienna. On his return to Salvador, he collaborated with a whole plethora of celebrated Brazilian artists and founded the Orkestra Rumpilezz big band, which took its name from the double "z" of "jazz" and the names of the candomblé drums, "rum", "pi" and "lé". Its creator's commitment to what he called the Bahian Percussive Universe was reflected on stage by the inversion of the classic big band organisation. Having the percussion up front with the wind instruments behind – no piano and no double bass – gives a presence to the drums that recalls the recent 80 Anos release by Orquestra Afro-Brasiliera, but with less emphasis on the spiritual and more on the jazz element. On disc and record, the sound on this, the Orkestra's third album, is beautifully balanced: as a co-producer, Letieres wanted to record on tape and the label made history in bringing out the first recording in Brazil made with (count 'em) three 24-channel tape machines.
Aside from co-producing and playing flute, Letieres' presence is felt most profoundly in the sumptuous arrangements. The Gil Evans analogy is not an idle one; there's more than a hint of Miles Ahead, Out Of The Cool and such like, even down to the scheme of a single prominent soloist à la Miles Davis in counterpoint to the orchestral backing – in this case, Raul de Souza's trombone features prominently on "Coiza no 4″, while the leader's flute, Joander Cruz's alto sax and Marcelo Martin's light and beautiful tenor sax grace "Nanã", "Coiza no 8″ and "Coisa no 9″ respectively.
It may not be the kind of contemporary cutting-edge big band music purveyed (on a slightly smaller scale) by the likes of Nomade Orquestra and Bixiga 70, but this is a rich, rewarding album that deserves investigation and serves as a fitting legacy to its departed leader. Let's hope that the Orkestra Rumpilezz will continue without him.
Moacir de Todos os Santos by Letieres Leite & Orkestra Rumpilezz is out now on Rocinante. Some imported vinyl are available at Mr Bongo (UK).

Follow Sounds and Colours: Facebook / Twitter / Instagram / Mixcloud / Soundcloud / Bandcamp

Subscribe to the Sounds and Colours Newsletter for regular updates, news and competitions bringing the best of Latin American culture direct to your Inbox.
Share: