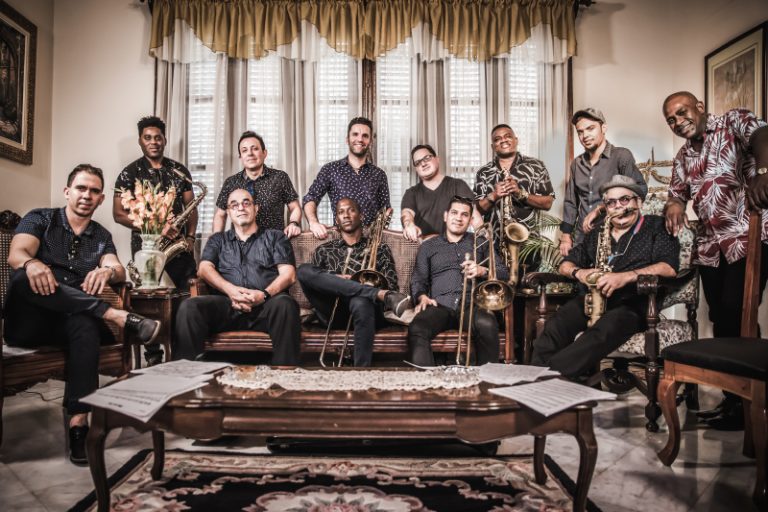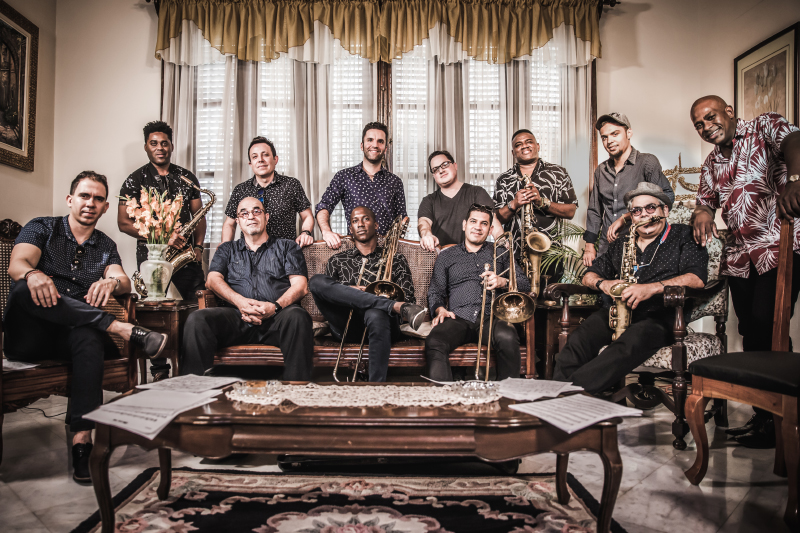 Adrien H. Tillmann
Orquesta Akokán: A Gift From The Heart
20 June, 2018
Picture a warm tropical night caressed by fresh breezes from the Caribbean Sea, palm trees against the starlit sky, a cool drink in your hand and your partner by your side. You are with your loved one, family and friends from the barrio at your favorite open-air club in Havana, celebrating after a long hard week of work. In front of you is a magnificent Art Deco stage adorned with an impressively large orchestra of well-groomed gentlemen in white suits with black bowties, each with his own instrument, from gleaming brass to a deep ebony flute, peppered with an array of glinting percussion and anchored by a grand piano to one side and a stand up bass next to it, with a Cuban tres guitar added for occasional sabor criollo (creole flavor). In the center is a suave and debonair sonero (singer) who seems to float above the haze of cigarette and cigar smoke as he rhythmically dances and sings the song. The emotion in his voice sends a thrill through the crowd and you know that this guy is the man! He is flanked on either side by his wingmen, the 'coro' (chorus), secondary singers who provide essential support with the call and response of the motherland. They also play maracas, clave and güiro, assuring that the singer is propelled and surrounded by a bed of raspy percussion that helps mark the time. The number finishes, a brief pause for applause, and another one hits. This is your song! You take your partner's hand and head out onto the dance floor as the orchestra starts to crank up the tempo like a well-oiled machine. You lose your sense of gravity and self as you become one with the clave pulse, which is a key that unlocks the rhythm and your soul at the same time, you and the couples around you moving in an ancient ritual made glamorous by the circumstances but deeply rooted in ancient African and Spanish traditions. This is your favorite Latin big band, Orquesta Akokán, and like the Yoruba concept behind the band's name, you love them because every song is like a gift "from the heart."
The alarm clock rings and José "Pepito" Gómez awakes. Was it a dream? It must have been, because he's in his apartment in Manhattan, but the lingering memory of a tropical night full of singing backed by an incredible big band orchestra of seasoned veteran Cuban musicians, soon to be replaced by a stimulating infusion of the morning's first cup of strong coffee, seems so real. Back to writing songs for the new musical piece he is a part of with his compañeros, guitarist Jacob Plasse and pianist Michael Eckroth.
The project in question, Orquesta Akokán, is indeed very real and not just the magic stuff of dreams, as their exciting new debut attests, but first it was a concept born of Renaissance man Jacob Plasse's unquenchable thirst for expanding his horizons with ever-challenging musical quests. In order for the impossible to happen, you first have to dream it so, and often the seeds of that 'sueño' are sewn long before the thing becomes a final reality. This is the most important aspect of the creative process, and one that Plasse knows well. In the case of Akokán, it all started years ago with his apprenticeship to master tresero (tres player) Nelson González.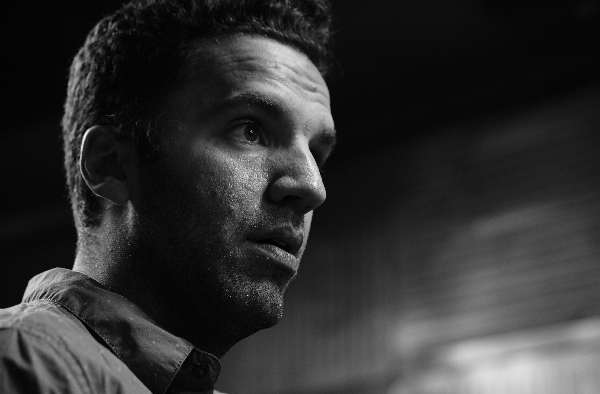 Jacob Plasse (photo by Joel Pront)
González exposed Plasse to the classic recordings of the 1950s and 60s by Arsenio Rodríguez and as he got more into performing and recording Latin music, Plasse says he "started to think about why I thought everything that was coming out now was so uninspired compared to these recordings, and that led the way to me getting into producing. I don't really know what I'm doing, but I try to figure out how to make things sound like those recordings I bought with Nelson." Plasse told me that "Pepito was one of my favorite singers for a while," as he knew his work from his stints with Orquesta Maravillas de Florida, Azúcar Negra, Habana Ensemble, and the mega-popular Pupy Y Los Que Son, Son, and eventually Gómez did a bunch of gigs with Plasse's band Los Hacheros, one of which I myself attended and enjoyed immensely. "We started working on some songs. We got along really well, and this thing kind of evolved," Plasse told me in his low-key manner. One day Gómez mentioned to Plasse he was "going to do a 15th year anniversary with Pupy, and did I want to come? I said yes. Then he said wouldn't it be cool to record some of the tunes we had been working on there? And I said of course, although I was pretty sure that that was a pipe dream. And then suddenly we are buying flights to Havana and figuring out studio time…"
Instrumental in this endeavor was Gómez's intimate boots-on-the-ground knowledge of the incredibly rich pool of Havana musicians and engineers that would be capable of pulling off such an ambitious undertaking. What lay ahead would be the logistical challenge of making the recording happen, a daunting task that Plasse and Eckroth were not sure would go as planned, no matter how much they had thought out beforehand.
But before we continue with the story of recording the songs, it's important to investigate a little more into the impetus behind them. Aside from his early schooling from Nelson González in the work of Arsenio Rodríguez and his conjunto (small group with trumpets), Plasse was not so enthused about a lot of the more polished-sounding florid big band old-school Cuban artists, though that was eventually the direction in which he would go. Ironically, at first Plasse was not a fan of Beny Moré (some spell it Benny), the famous Afro-Cuban crooner that is still a staple of every Latin music fan's collection and who once fronted "La Banda Gigante," a dynamic big band of the type that Plasse and Gómez would end up assembling and recording with in Havana.
Plasse confessed to me that he "would hear artists doing these hokey-ass versions of 'Como Fué' and 'Yiri-Yiri Bon,' and I would think that this wasn't really where it was at; that it didn't have the soul of Arsenio's music, which I thought of as the other end of [the spectrum] of Cuban music." Enter Michael Eckroth, Jacob Plasse's chosen compadre on this journey (and a member of Plasse-led bands Melaza and Peliroja), who, when Plasse mentioned his dislike of Moré, "looked at me like I was crazy; he lent me a CD and it began to dawn on me how deep this music was."
Eckroth had access to a music library in Florida that had some really obscure recordings by Beny Moré and Pérez Prado, and Plasse was blown away by what he heard: "They were so killing! The arrangements, the melodies, everything was perfect and was drawing on so many traditions—the son from Oriente, rumba from the solares [working class gathering places] of Havana, the [jazz] big band harmonies of [Duke] Ellington and [Stan] Kenton that was being played at the casinos—it was some of the most sophisticated music I had heard, and somehow never really listened or appreciated it. And what I also couldn't get over was the four saxophones playing these montunos [riffs] with just percussion—it was so elemental and powerful, a sound you never hear anymore." And so the dream was born! To unite his desire to work with Gómez with his investigations into 'the other side' of classic Cuban music, and bring it all home to Havana. To take Gómez out of the comfort zone of modern salsa and timba and place him into the eclectic and elemental big band mode of Prado when Beny Moré sang with him in Mexico in the 40's, or the early period of Machito and His Afro-Cubans with Miguelito Valdés in the same decade, as opposed to some of the more contemporary or smaller format modes of Plasse's previous projects like Melaza, Peliroja, and Los Hacheros.
Yet Plasse wanted more than to merely emulate the old sound; this had already been done (i.e. Buena Vista Social Club, Cachao's Master Sessions in the 90's), and he did not want to fall into that trap. As Eckroth explained it to me, his process for providing the arrangements was that first he "did mockups (computerized sequences) of a bunch of those tunes [Pepito and Jacob were working on], and we recorded three or four songs with some musicians in New York, but the results, conceptually and performance-wise were not what we really wanted to do with the project. Plasse is always wanting to do something more edgy with the music and I was on board with transforming it into something a bit more expansive, weird, and hopefully, as striking as the early 1950s Cuban music we were both into."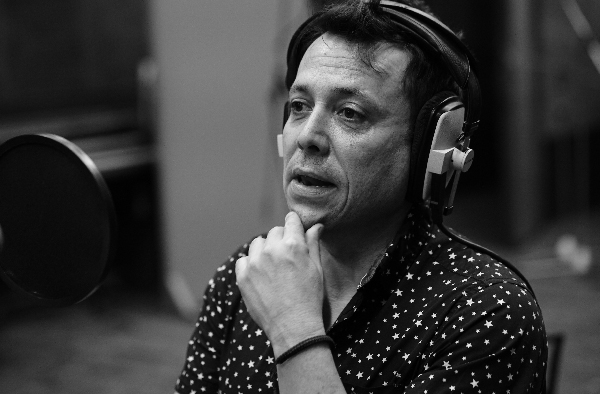 José "Pepito" Gómez (Photo by Joel Pront)
And how did they achieve this? Firstly through Plasse and Eckroth the musical composition and arrangements took on a challenging manner that drew more on the odd harmonics, unexpected time-signatures, and non-salsa style saxophone riffing so apparent in Prado's music, reducing the typical reliance on the piano or tres; second, by bringing the music and lyrics home to madre Cuba, and finally, by allowing for some on-the-spot improvisation at the recording sessions. As Eckroth says of his arranging style for the project, "I also tried to maximize the kinds of textures the ensemble could do and keep it fresh." Crucially, the older Cuban dance orchestra music that Plasse and Eckroth were inspired by played a much wider variety of rhythms and tempos than most salsa bands do today. "We wanted fast conga-rumbas, guaracha-sones, cha-cha-chas, mambos, afros, boleros and guaguancós, which illustrate the kind of variety you'd find throughout a series of sequential 45rpm records by earlier Cuban orquestas"—a fantasy Tropicana time-machine jukebox, if you will.
Eckroth notes that Prado used plenty of high register ranges in the brass, dramatic drop outs, robust all-instrumental sections, and double-time, all of "which you'll find on this record." Yet the project is also a setting for José "Pepito" Gómez, who, as Plasse put it to me, is "a great improvising modern Cuban singer," so "that meant keeping solos in the arrangements, taking advantage of layered mambo instrumental sections, but also opening up the montunos for Pepito" to improvise his soneos (impromptu lyrical inspirations interjected by the singer over a repeating riff). Despite the strong influence of the Prado, Moré and Machito aesthetic, a constant strain throughout much of the album is also the continuing influence of Plasse's fist love, Arsenio Rodríguez, with a dash of the jazzy descarga (jam session) feel of Israel 'Cachao' López as well, which, from a historical standpoint, is fascinating because the result is a rarely attempted mash-up of the three opposing strands that often fight for legitimacy in the claim of "who invented the mambo." The only other bandleader to really try this was Larry Harlow, who also loved Arsenio Rodríguez but utilized a hearty dose of New York brass; however Harlow rarely used a saxophone section. At any rate, the proof is in the pudding (or flan), as they say; their debut proves tastily that all strands are welcome here, and they dovetail perfectly into a whole that makes perfect sense with an elemental swing.
Along these lines, it became clear to the trio of Plasse, Eckroth and Gómez "that there was nowhere else we could have done this record," admits Plasse. He went on to tell me "it's a cliché, but these [Cuban] musicians have this tradition so deeply ingrained and understand the phrasing and rhythm on a cellular-like level. And they were so into it!" Plasse told me he fondly remembered listening to the saxes at the sessions in Havana "sing each phrase to each other, arguing over how exactly it should land on the beat, which note to accent and lengthen—and you can hear it in the recording."
In addition, one should note that the culture of rehearsing is different in Cuba. Musicians are paid by the government to rehearse, and most bands rehearse four or five times a week, so they approach rehearsals with real dedication. And unlike in Europe or the US, the recording set up and gear was practically a non-issue. As Plasse puts it, "The magic came from the players, and the room. I have never heard anything like those saxes playing in that room—there is a power and fullness that can't really be described, but luckily it's right there on the recording. That room (it's more like a large gymnasium) is where most of the classic Cuban albums were recorded, and the ghosts live on there. I could nerd out about compressors and mics and stuff, but it was the players performing live together in that space that is what made the music come alive." Gómez also uses the word magic to describe this experience, calling the entire process "something that will remain with me for all my lifetime," stating that he is thankful for this opportunity because it gave him a much deeper understanding of the musical traditions of his country while also allowing him to bring something new and personal to the table at the same time.
Gómez described to me his creative process for this daring reimagining of the 1950s Cuban big band mambo orchestra as first enveloping himself in the music of the "Golden Epoch" of Cuban music (the previously mentioned Arsenio Rodríguez, Pérez Prado, and Beny Moré, as well as Machito and His Afro-Cubans, Chano Pozo, La Sonora Matancera, Roberto Faz and Conjunto Casino, Tito Gómez with Orquesta Riverside, Desi Arnaz, Vicentico Valdés, Miguelito Valdés, Rita Montaner, Rolando La Serie, and Bola de Nieve), then imagining himself a singer of that period and what some of the common lyrical themes were for the time, and finally drawing from his own personal experience for some of the lyrics.
In some cases Plasse and Eckroth had already written out the arrangements they wanted to try, so it was left to Gómez to write lyrics and a melody that fit the genre, meter, and arrangement. In the Latin big band environment, as in the jazz big band and classical orchestral realm, how the instrumental sections are arranged is just as important as other elements like melody or lyrics because they create a sonic environment to compliment the former elements, and convey a mood as well. Interestingly, not only was Gómez's previous experience geared more to charanga and timba, he told me he had never worked this way before, filling in the spaces in an already arranged piece, but feels he rose to the occasion and admitted it was a challenge that helped him grow as an artist. It helped that the trio from New York were surrounded by some of the best musicians in Cuba. As Plasse enthuses, "We walked into the EGREM studios [EGREM is the national label of Cuba] and sitting in the cavernous recording space were my heroes." There was the Irakere sax section, NG La Banda's percussion, and César "Pupy" Pedroso (Orquesta Revé, Los Van Van, Pupy Y Los Que Son, Son) was at the piano—"I remember me and Mike looking at each other and laughing—how exactly did this happen? Pepito and César [López] really hooked up an unbelievable band."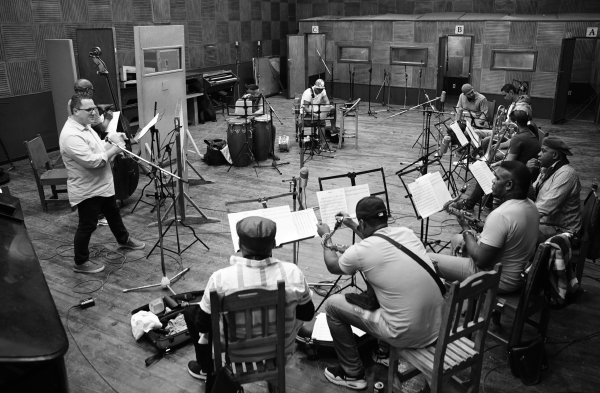 The recording group, November 2016 (photo by Joel Pront)
Probably the most unique and amazing thing about the album is not how it was made, which is incredible enough given the many hurdles encountered along the way (a tight budget, some delays and absences due to visa issues, a questionable political climate, the history of troubled official relations between countries, working with musicians unfamiliar with the music, or as Plasse aptly puts it, "as you can imagine, recording a 16-person band in a Communist country with rolling blackouts has its fair share of trials…"), but rather the seemingly natural and effortless way the music holds together and just feels right. And this, despite it being a modern creation that, in the words of Eckroth, juxtaposes "different time periods," genres, and "styles of record production", not to mention that it has a wealth of experimentation, and is defiantly analog and live to tape, purposefully "leaving some mistakes and inferior leveling of instruments in favor of the huge one-room sound" which "is kind of a strong statement today" when most modern Latin dance music "is ever-more computerized and, in terms of production, innately curated."
As far as contemporary Latin dance recordings go, Eckroth told me, it's "hard for acoustic music to compete with material that is so perfectly organized and compressed as the music that is most popular today". If that is so, then ironically this project may actually may have one crucial element in common with the Buena Vista Social Club franchise that Plasse and co. have so assiduously tried to avoid: it actually does give today's formulaic salsa a run for the money because this type of heart-felt innovation/emulation is sorely needed in the contemporary Latin music scene and will no doubt turn some heads (and feet) with its originality, naturalness and authenticity. And like BSC did in the past, the Akokán orchestra is set to tour and play the United States despite lingering Cold War rhetoric coming from the Trump administration. It makes perfect sense that the recording found a home with Brooklyn's Daptone Records, home of the old-school-yet-fresh artists like the recently departed Sharon Jones (Rest In Power), as well as Antibalas, Charles Bradley, The Frightnrs and James Hunter Six. And like those other artists, Akokán makes earthy music with a lot of heart and soul. Their album is a cross-cultural collaboration made from the corazón as a gift to people from both sides of the Caribbean and beyond, breaking with years of blockade and isolationism, universal in its appeal, retro-afro-futurist and sure to be loved by all who hear it whether they know the back story or not. Akokán, indeed!
Orquesta Akokán is released by Daptone Records and is available to buy/stream on Bandcamp.
Catch the group on these upcoming US tour dates:
July 10 – National Sawdust, New York, NY
July 12 – Midsummer Night Swing at Lincoln Center, New York, NY
July 13 – Green River Fest, Greenfield, MA
July 14 – Riverlink, Amsterdam, NY
July 15 – World Cafe Live Nuevofest, Philadelphia, PA
September 5 – Santa Monica Pier Series, Santa Monica, CA
September 8 – Arlington Jazz Festival, Arlington, VA
Find out more about Orquesta Akokán and the recording of their album in the video below:


Follow Sounds and Colours: Facebook / Twitter / Instagram / Mixcloud / Soundcloud / Bandcamp

Subscribe to the Sounds and Colours Newsletter for regular updates, news and competitions bringing the best of Latin American culture direct to your Inbox.
Share: