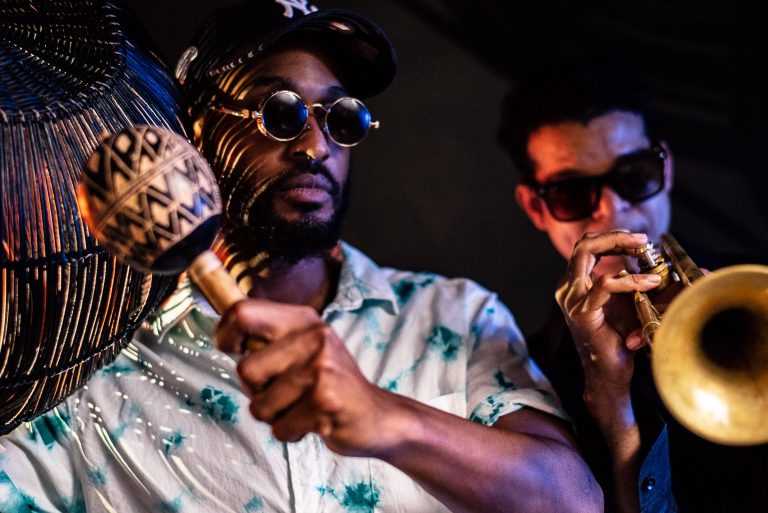 Denis Batuev [photo of Aquiles Navarro & Tcheser Holmes]
Prezident Markon's Singles Round-Up (Azymuth, M.I.S., Aquiles Navarrro & Tcheses Holmes, Cabruêra, ÌFÉ and more)
28 October, 2020
I've dipped my hand into the lucky-bag and picked out some variegated singles and other items for you in keeping with this most colourful of seasons. Happy listening or bonne écoute, as they say in France.
Azymuth "A Redor Do Samba"
Rather like the (Jazz) Crusaders, the estimable Brazilian trio never put a foot too wrong. They're always good and sometimes very good. The new album, with Adrian Younge and Ali Shaheed Muhammad, from which this recent single is taken, is a case in point: it's arguably the best so far of the Jazz Is Dead releases, with a tried and tested repertoire seasoned by the intermittent addition of horns and electric guitar. Starting in the familiar way with an Alex Malheiros bass-line hook in tandem with Ivan "Mamao" Conti's ever-tasteful kit work, "new" keyboard player, Kiko Contentino, establishes a melody that's nicely supplemented by an almost subliminal saxophone and a funk-style guitar riff. Mmmm, nice. Treat yourself and explore the new album.
"Jazz Forever! Samba Forever! Azymuth Forever!": interview with Azymuth
Aquiles Navarro & Tcheser Holmes "Pueblo"
While on a jazzy trajectory, this pair of New York friends are members of the free jazz collective, Irreversible Entanglements. "Pueblo" was rightly chosen as one of the more accessible cuts from an album released earlier this month, Heritage of the Invisible II. Free jazz is always a challenge to these time-ravaged ears, but the telepathic mixture here of Navarro's scorching trumpet and Holmes' urgent Afro-Caribbean percussion positively erupts with energy and a sense of celebration.
Mexican Institute of Sound "My America Is Not Your America"
Here's a timely and urgent musical/political message with the fate of the world hanging on the upcoming US election. "My song talks about two different Americas," explains the band's driving force, Camilo Lara. He urges people to vote for "the America built on immigrants, tolerance and equality. An America that is free and inclusive." An America, in fact, that should celebrate the ethnic and culture heterogeneity highlighted by the video that accompanies this brassy, funky song, which builds to a wailing climax courtesy of Graham Coxon on a very electric guitar.
Cabruêra "Deixa a Gira Girar"
There's some heavy, heavy monster guitar on this one, too. It's the second single taken from this band from João Pessoa's upcoming album Sol a Pino on the Colombian label, Polen Records. Sounding a little like a cross between Nomade Orquestra and DJ Dolores, it's a cover of an Os Tincoãs gem. The surviving members of the band from Bahia will surely be chuffed by this tribute.
Rodrigo Campos "Meu Samba Quer Se Dissolver"
What gives with all these electric guitars of a sudden? This delicious, lazy slice of samba from the Paulistano DJ and musician, who has worked with the likes of Criolo, is heavily spiced with fuzzed guitar and takes the golden biscuit as this month's prezidential pick of the pops. Very roughly translated as "my samba wants to dissolve itself", it's a darker take on a customarily uplifting genre, reflecting the anxiety inherent in the human experience. It's composed, recorded and produced by Rodrigo Campos, who plays all the instruments – including the guitar that gives this a special stamp.
Fernando Grecco "Canto"
Here's another gem from Brazil, with the kind of soaring melody that wouldn't be out of place on an album by, say, Gilberto Gil. Produced by Fernando and Alê Siquera, who have done the business for Tribalistas and Carlinhos Brown among others, and backed by the band Aláfia, the song works on the cusp of jazz and MPB. Singer, composer and guitarist Grecco created the Borandá label and only started his singing career three years ago. His strong, sincere vocal suggests a much longer apprenticeship and the new album scheduled for next year could be something rather special.
Jana Linhares & Zé Motta "Oração à Lua"
Before we set sail for other lands, this is the third of Jana Linhares' monthly releases – and it's quite some contrast to her previous frothy confection with Ilya. This time, in tandem with Zé Motta, she serves up something romantic, mysterious and slightly unsettling. Her vocal suggests that she's wandered into Céu's garden of earthly delights, while the violins and viola of Pedro Mibieli add that unsettling element that makes you feel she could suddenly fall down a pit. If it feels like a song of two halves, it is. Linhares sent the lyrics and melody for the first part to Madame Motta, who returned it with the second part. It all works rather well.
ÌFÉ "Music for Egun Movement 2"
"As we approach the end of 2020, I felt that it was important to acknowledge and celebrate those who have passed before us." Thus spoke Otura Mun, Afro-American producer, percussionist and founder of this Puerto Rican-based "project". This first "movement" of the forthcoming EP, The Living Dead, due on November 17th, is a prelude to next year's keenly anticipated second album. It's an electronic interpretation of Yoruban prayer songs to honour the deceased, of which there have been rather too many in this annus horribilis. Traditional Santeria drums and call-and-response vocals are subtly distorted by modern electronics to produce a haunting, hypnotic invocation of the gods. Even the mere idea of auto-tune makes me break out in a cold sweat, but here it helps to make this sound fresh, modern and quite different.
Jneiro Jarel "Sunwalkers Pt. 2 &3"
He may not be Brazilian, but this Brooklyn-born nomadic producer has apparently a vast collection of Brazilian records – which makes him a good fit for the Far Out label and some of their groovy trance-tastic recent recordings by the likes of Daniel Maunick and "Mamao" Conti. He's worked with artists of the calibre of Portishead's Beth Gibbons, Damon Albarn and Thom Yorke and signed up with the UK label in 2018. The poor man suffered a severe stroke while living and working in Costa Rica, which put back the release of After a Thousand Years, from which this is the third single. Lazy, dreamy and eminently digable, it features Bill Summers on percussion, a key member of Herbie Hancock's seminal Headhunters. Mr. Jarel is happily on the mend and the album is in the offing.
Let's finish with an after-dinner mini-documentary…
Battle of Santiago "Battle of Santiago in Havana"
Anyone like me seduced by this Toronto-based collective's Queen & Judgement album earlier this year will want to watch this record of percussionist Reimundo Sosa's return to his native Havana for the first time in nearly a decade. It's a chance to learn more about the band and their musical methodology and simply to enjoy some fascinating glimpses of everyday life in the island's extraordinary crumbling metropolis.

Follow Sounds and Colours: Facebook / Twitter / Instagram / Mixcloud / Soundcloud / Bandcamp

Subscribe to the Sounds and Colours Newsletter for regular updates, news and competitions bringing the best of Latin American culture direct to your Inbox.
Share: