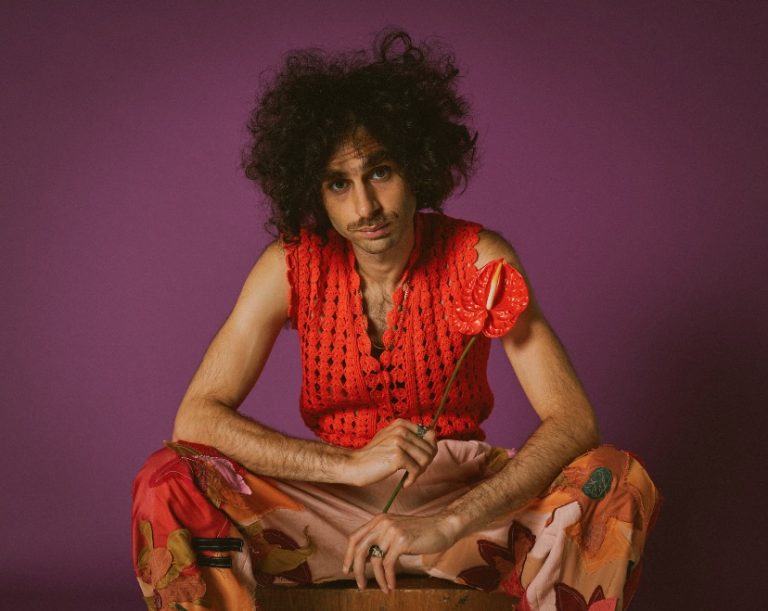 Prezident Markon's Singles Round-Up (Sessa, Daniel Villareal, The Bongo Hop, Spinettango, Trio Bruxo, Pahua and more)
05 April, 2022
What was that I was saying in my February round-up about an apparent dearth of post-Christmas releases? I've been truly hoist by my own petard, because there's now such a rich variety of singles arriving from all over the world that I've been positively inundated. It's quality stuff, too; nothing destined for the landfill site. Here are some of the best on offer.
---
Sessa "Gostar do Mundo"
It only takes a few bars to realise that you have stumbled upon musical gold. I recently reviewed the expatriate Brazilian Raf Vilar's delicious new album, Sou Tropical, and there are shades of Vilar, Tiganá Santana, Toquinho, Caetano Veloso and other such melodic minstrels in this filigree single. It's taken from this singer-songwriter's second album, Estrela Acesa (due at the end of June). A sneak preview suggests that there are plenty more lovely, delicate songs in a "new tropicalia" style to come.
---
Trio Bruxo "Um Girassol da Cor do Seu Cabelo"
I also had cause to review this Montreal-based piano-jazz trio's 2019 album, for the esteemed Ropeadope label, A Bandeira do Bruxo (The Sorcerer's Flag). Its influence was the music of Hermeto Pascoal and Egberto Gismonti. This time around, they've turned their collective attention to the composers of the Minas Gerais state in north-eastern Brazil, birthplace of Milton Nascimento et al. Pianist and composer David Ryshpan developed the music with his cohorts, bassist Nicolas Bédard and drummer Mark Nelson, during a residency as part of Montreal's Accès Culture network back in November 2020, and Ropeadope are releasing the results as a series of EPs.
---
Daniel Villarreal "Uncanny"
If you'll excuse me, I'll just get the jazz out of my system before we go on… This single comes from the Panamanian Chicago-based drummer, Daniel Villarreal, whose debut album, Panamá 77, is out in May. It's released on the International Anthem label, which in itself suggests that the jazz in question will be rather more challenging than Trio Bruxo's more classical fare. The single was born of an improvised rehearsal groove which, according to the drummer, "came out in a strange, wonderful way that surprised us". It's a weird and wonderful slice of psychedelic dub-jazz that leaves me eager to explore the album.
---
The Bongo Hop ft. Nidia Gongora "La Ñapa"
I have a personal interest to declare here: I'm quite fond of bongo-hopping and felt that this Franco-Colombian outfit's Satingarona Pt.1 was a groovy, funky blend of Afrobeat and Latin rhythms. Strictly speaking, The Bongo Hop is a "he", not a "they": French trumpeter, Etienne Sevet, who spent time in Colombia and who enlists guests of the calibre of the ubiquitous producer, Patchworks, and vocalist Nidia Gongora (who has worked with Quantic among others). "La Ñapa" is the single taken from the eight-track EP of the same title due in May on Lyon-based Underdog Records. The word is slang for "that little bit extra", which is what you tend to get from The Bongo Hop, in my 'umble.
---
Flox "Smoke Grass"
While with Underdog Records, why not check out the latest single by this Anglo-French purveyor of so-called "nu reggae"? I might question the element of novelty, but certainly not the infectious, dub-wise groove – anyone who cites Linton Kwesi Johnson among his prime influences has got to be righteous in my book. As a dog lover and erstwhile herbalist, I also like the video and its message.
---
Clinton Fearon "The Human Chain"
Was there ever a more joyful live reggae vocal group than The Gladiators? Their twin lead vocalists always complemented each other beautifully on stage and on vinyl. Albert Griffiths sadly left us in 2020, but Clinton Fearon has been pursuing a noteworthy solo career. I'm delighted to see that Mista Savona has recruited him for the second of his Havana Meets Kingston ventures, out in June on the Cumbancha label. Backed by Sly and Robbie among others, the former Gladiator is filmed here singing with gladiatorial urgency about the many threats to the "human chain" from a rooftop of his adopted Seattle.
---
Lucho Gavilanes "La Danza Del Mono"
Here's the second single from Analog Africa's latest delve into the wonderful world of obscure Latin American musical genres. Rebajada is the name of the music and the sonideros were the Mexican sound system operators who discovered that, by slowing down the cumbia originals from south of the border, they could put a fire under the dance-floors of Mexico City and Monterrey. I'll be reviewing the album, Saturno 2000, next month, so I'll keep it brief: suffice to say, relish the gloriously cheesy organ and then shuffle off to Buffalo with the broadest of grins.
---
Golden Hornet Presents Rubén Albarrán and Ramón Amezcua "Bostich" "Mundo en Extinción"
In its way, this is every bit as extraordinary as the notion of cumbia with the brakes on. What's more, it took five years in the making and involved over 40 artists from Texas and Mexico. The single is part of the MXTX: A Cross-Border Exchange project and album, released this month and involving live performances and an open-source sample library. The album – and this single – builds on elements from this sample library, deconstructed and reconstructed with added parts composed and arranged for chamber ensemble and electronics. This headlong, compelling single was concocted by the Tijuana-based Ramón Amezcua, aka "Bostich", of the Nortec Collective, and the intense vocals are courtesy of Rubén Albarrán of Mexico City. Five years it took, and it'll certainly stick in my mind.
---
Dona Celia Coquista "O Bar"
Now this one's rather special. With a voice that hints at Fabiana Cozza crossed with the dearly departed Elza Soares, Dona Celia Coquista was sometimes known as Dona Celia do Coco in recognition of her important role in preserving the samba de coco folkloric musical form, popular in the north-east of Brazil. She died in 2011, having made a single album four years earlier. The track is one of eight great little-known and remarkably varied examples of black Brazilian music selected by DJs Tahira (of São Paulo) and London-based Tim Garcia. Brasil Novo is out in May on the UK's Musica Macondo label and shouldn't be missed.
---
¿Who's The Cuban? "Bajo Las Estrellas"
We featured this French band's initial single from their EP, Nunca Mataré, back in February. On its follow-up, the septet featuring vocalists Dayron Ramirez Hernandez and Pao Barreto sound (to my ears, at least) a little like two of São Paulo's finest, Nomade Orquestra and Bixiga 70. In other words, big, bold and brassy. That can't be bad. As to who's the Cuban, answers please on a postcard.
---
Pahua "Mujer del Desierto"
We also featured last time this young Mexican singer, Pau Sotomayor, better known as Pahua, who specialises in pan-global collaborations. This time, she's hooked up with the Canadian producer and ambient specialist who goes by the catchy moniker of WX//CLTV. As a contribution to Women's History Month, it's her tribute to the fortitude of women, and especially mothers, and their daily struggles on behalf of their families.
---
Spinettango "Seguir Viviendo Sin Tu Amor"
Nothing like a bit of tango to rev up the ambience, and this really stirs the soul. The single comes from an album that re-imagines the songs of one of Argentina's most popular rock musicians. Poet, composer, singer and guitarist, Luis Alberto "El Flaco" Spinetta was much admired by his hero, Astor Piazzolla, so it's a particularly apt homage to "the skinny one", who died in 2012, and a venture that underscores the lasting impact of both tango itself and "El Flaco"'s songs. But listeners beware! Even with my very limited Spanish, I note that this comes with a parental advisory warning.
---
Veronique Medrano ft. DJ Kane and El Dusty "Mal Ojo"
There's another one of those stickers on this song, the lead single from this young singer's Mexi-Americana, which showcases cultural and spiritual duality. In some ways, it's an updated form of rebajada, rooted as it is in a slightly decelerated cumbia rhythm – and fused with a bit of modern-day trap and electro. I don't know what she's singing about, but it's rather good and probably a little risqué.
---
El Dusty & L'il Ro "Estoy Loco"
That El Dusty, he gets around, eh? Here he is in the company of coastal-Texan rapper, L'il Ro. It's based on the Lebron Brothers' "Estoy Loco" from the Fania vaults and, while I'm not a fan of rap-acious posturing, I have to say it's rather "sick" (as they might say on BBC Three).
---
Daniel Maunick "Just Deserts"
Following hard on the heels of the previous single from the now-available Persistence comes the second single from young Mr. Maunick's second solo album for Far Out Recordings. If you're familiar with how the producer helped to shape Ivan "Mamao" Conti's solo releases, you won't be surprised by the electro-vibe of "Just Deserts". Musically, it has me searching my drawers for those ecstasy tabs I hid under my socks; lyrically, though, it leaves a little to be desired.
---
PUNKU "Ancestral"
We don't get too many singles from Lima, which is a very good reason for giving this one some attention. Another reason is that it's haunting, beautiful and more than a little out of the ordinary. PUNKU is a new project created by the singer Sylvia Falcón and the producer/musician Grimaldo del Solar of the group Novalima. This first single from a debut album scheduled for a spring release has been out for a while now, but somehow escaped my attention. United by a belief in the healing powers of music, the pair have combined to explore a fusion of Andean traditional music and modern musical genres.
---
Joe Samba (feat. The Elovaters) "Losing It"
We'll end with a bit of uplifting reggae deriving from New England. Joe Samba was born Joe Sambataro in a small New Hampshire town, which on the face of it doesn't sound very crew-shall, as U-Roy might have it. The single is a collaboration with Jackson Wetherbee from the reggae-rock band, The Elovaters. They're from Marshfield, Mass., also hardly renowned for its bass culture. The single is taken from the album Far From Forever and Jah Samba describes it as "one of the more upbeat, fun songs on the album; it's got a lot of horns in it and it's just a feel-good groove tune." I certainly wouldn't argue with that.
So long for now, pod'ners. Until next time…

Follow Sounds and Colours: Facebook / Twitter / Instagram / Mixcloud / Soundcloud / Bandcamp

Subscribe to the Sounds and Colours Newsletter for regular updates, news and competitions bringing the best of Latin American culture direct to your Inbox.
Share: