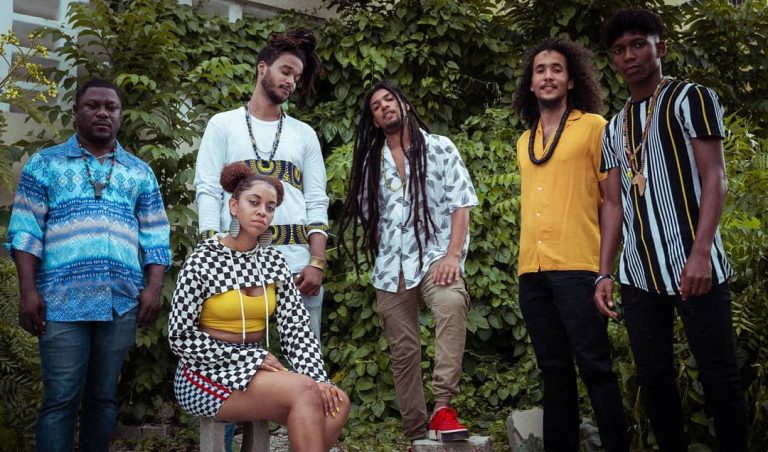 White-Hot Fusion from Dominican Republic: 5 Projects To Keep an Eye On This Summer
27 July, 2021
Extroverted and fiercely unapologetic, Dominican Republic holds some of the best-kept secrets in global music. At the heart of the Caribbean, the nation has birthed many unique rhythms and syncretic fusions like palo muerto, alí babá, carabiné, salve, perico ripiao', you name it, the island's musical ecosystem is rich and diverse, differentiating itself from its contemporaries Cuba and Puerto Rico. Sunny guitars, supersonic percussion and other larger-than-life sounds, there is a lot to discover locally other than just merengue and bachata, so come have a look at a few projects that, in my opinion, are pushing the envelope and redefining our country's sound.
Isaac's music is fractally insular, his sound focusing on the discovery of one's inner path and what lies ahead of us. Harvesting the energy of your spirit means there is no map laid down to follow, and if such a map were to exist, it would ruin the adventure outright. The claustrophobic life of the island is seldom tame, and the longest journey is always the one inside, as for the time found in the now can always be left for tomorrow, and the beginning always washes into shore. Isaac's arrangements are incredibly creative and original lead by his guitar, a rifle of thermal gelatine that smoulders through his compositions. His rhythm sections have a quintessentially Dominican feel to them, melding local patterns with mad jazz harmony and even some electronic elements in pieces such as "El Fukú" from 2018's Raíz. Warm and palpably authentic, this is one of my favourite local projects to date. Watch out for a brand new single and a live concert reissue this July.
---
Life is our child and death is our father, and Zahir, lead singer and frontman of La Gran Mawón, is the newborn, fearless in his resolve to carry the stone of his predecessors into eternity. The orchestra's versatile sound knows no limits, incorporating gagá, sarandunga, amargue and every autochthonous style imaginable into each of their songs. Their eponymous debut album received critical acclaim back in 2016, drawing the attention of homegrown crowds and cementing the group's reputation as a local party heavyweight. Some of their singles such as "Candela pa lo pie" are brutally fierce, while others like "Gana (sillita de guano)" err towards the more groovy side of things. Euphoric anger, melancholic grief and ravaging beauty, all blend seamlessly across their recordings, gliding on the gales that feed our music's eternal fire. Be on the lookout for some very exciting news from the group!
---
Love stories and joyous times with close friends, what more can you wish for? Our lives are shaped by our experiences; morning parties with our favourite musicians, far away woodlands that are at hands' reach, and life-changing moments under the sun. Living the tales being told is the only way to create an authentic experience for the listener, and Jabid & Ararey are able to channel the powerful energy of their stories through nostalgic rhythms and heart-heavy vocals. The ambiance of Aquí Sí Se Baila, the group's debut album, is as close to home as need be, yet there is also a nauseating melancholy beneath the veil which is eerily familiar. The record fuses many elements of traditional Dominican music, using the güira and balsié as its main percussive motifs, and is an ode to the infamous north side of the city Villa Mella, a place known for its cimarrón spirituality and centennial musical history. Sick record!
---
A longtime pioneer of Dominican roots music, Xiomara Fortuna's catalogue is a veritable representation of our island's musical diversity. Whether collaborating with full-blown orchestras or homegrown beatmakers, the Dominican 'Queen of Fusion' navigates the kaleidoscopes of syncretic folklore, urban politics, and popular culture with grace and ease. Some of her albums, such as Kumbajei and Son Verdad, are encyclopaedic and far reaching in nature, interpreting rural folk tales and old countryside choirs with a modern approach, while her very first album, De La Loma Al Llano from 1984, is an incredible journey into rural kiskeya and meticulous iterations of Afro-Dominican fusion. Her newest work, Viendoaver, is fresh and socio-politically charged, coupling hard-hitting electronics with dembow, rap consciente, reguetón, and a futuristic direction for our country's sound.
---
Esoteric and driven with profound emotion, Toné's music explores existential concepts through intricately woven, lyrically-charged tapestries; limitless imagination, death by our thoughts, rebirth in our intention to be better everyday, and nature as a reflection of one's own heart. The first time I met Toné, he was performing with his Carisalve group in the Santo Domingo Zona Colonial, a rhythmic extravaganza of epic proportions that blew my mind. This was three years ago, and his long-awaited EP with his main band Aumbata, Logo, is a recollection of over 40 years of experiences absorbing the expansive breadth of Dominican Republic's musical heritage. The creative input on this one is high; psychedelic guitars with phasey percussions, choral harmonic layering, odd time signatures, and old Caribbean folk tales with a twist. As real as we might think our lives are, Toné reassures us that the barriers between the physical and spiritual world are purely imaginary… and I believe him.
Mauro Ferreiro is an electronic producer and freelance editor from Santo Domingo, Dominican Republic. Frequent collaborator for Truth & Lies Music and bandleader for electronic jazz trio Error Subcutáneo, his works have been broadcast on Radio Nacional Colombia, Radio Alhara, NTS Radio, BBC Radio 6 and much more.
Follow him on Instagram @mauroferreiro

Follow Sounds and Colours: Facebook / Twitter / Instagram / Mixcloud / Soundcloud / Bandcamp

Subscribe to the Sounds and Colours Newsletter for regular updates, news and competitions bringing the best of Latin American culture direct to your Inbox.
Share: