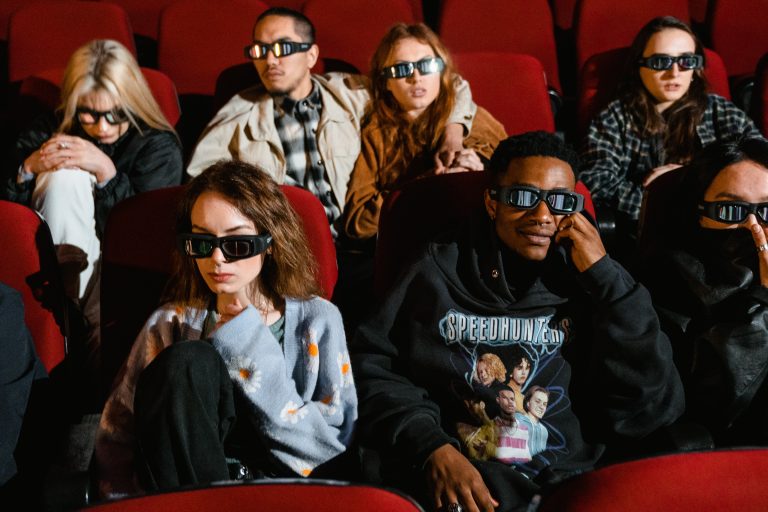 8 Latin American Movies To Watch On Your Next Hangout!
23 May, 2023
Tired of going to the theatres and sitting in those uncomfortable seats with mediocre popcorn? You're not the only one! So instead of going to theatres next time, how about you arrange a nice date/hangout in the comfort of your home? Don't worry! We are here to help you plan your next hangout with friends or a movie night with that special someone easily. 
But you'll need a few things to set the mood and have an enjoyable experience.
Setting Up The Hangout/Date
Here are some of the things you'll need:
Snacks: You should ensure many snacking options for your guest(s). Some popular snacking options are popcorn, chips, nachos, candy, soda, etc.
Equipment: To have a theatre-like experience, we recommend getting a projector and home theatre surround sound system or even just a simple onn soundbar to make the movie-watching experience more immersive. Also, ensure you have comfortable chairs and blankets.
A great selection of movies: Don't worry, we have you covered; we'll recommend some of the best Latin American Movies.
8 Latin American Movies to Watch on Your Next Hangout
City of God
Directed by Fernando Meirelles and written by Paulo Lins, City of God takes place in Brazil in the 1960s. It's a crime and drama movie that depicts violence, drugs, and sexuality. This movie is 2 hours and 10 minutes long and was released back on February 13th, 2004.
The Secret in Their Eyes
Juan Jose Campanella directed this Oscar-winning movie. It takes place in the late '90s and is told as a flashback from the perspective of Benjamin Esposito, a federal justice agent of Argentina. He writes a novel inspired by one of his old cases that involves the brutal raping and, eventually, the murder of a woman named Liliana Coloto.
Benjamin hoped to find and achieve closure for this unresolved homicide, but it still haunts him indefinitely.
La Teta Asustada
La Teta Asustada is a movie about Fausta, a person affected by a dangerous and rare disease called Milk of Sorrow. The only way this disease spreads is through the consumption of breast milk from women that were victims of abuse and violation during pregnancy. Unfortunately, her mother dies suddenly. Now Fausta is living in constant fear of sudden death like her mother. So she takes on drastic measures so that she doesn't have the same ending as her mother.
Wild Tales
Directed by Damian Szifron, Wild Tales is a film divided into 6 parts or segments and rated R. Its 6 segments are as follows:
Pasternack
The Rats
The Strongest
Little Bomb
The Proposal
Until Death Do Us Apart
This film pivots the universally accepted concept of retribution. Even though the 6 stories are different, what unites them is that all the characters in these stories face a reality that is changing and shifting unpredictably.
Amores Perros
Taking place in the City of Mexico, Amores Perros is a film that connects 3 different stories with a car accident. Despite having different stories, the 3 strangers, Octavio, Valeria, and Chivo, are dog lovers, and all 3 are on a journey in pursuit of love.
Octavio always dreams of leaving his currently miserable life. White Valeria's pampered and loved dog disappears. Chivo, on the other hand, regrets not being able to be there for his granddaughter.
Elite Squad
The Elite Squad takes place in the year 1997 in the city of Rio de Janeiro. The Pope will visit this town, and it is up to Captain Nascimento to eliminate any potential risks before the Pope's visit.
However, Captain Nascimento must locate a substitute for himself and take down drug dealers before the Pope visits. In the meantime, two friends decide to join the police academy, and as fate would have it, they receive training under Captain Nascimento. At first, Nascimento believes that Neto is his perfect replacement, but in the end, he realizes that Matias is the right candidate.
The Liberator
Directed by Alberto Arvelo, The Liberator is a biographical drama capturing the epic conquest of the revolutionary leader Simón Bolívar to free Latin America from the reign of the Spanish Empire. Set at the onset of the early 19th century, the movie focuses on liberation, uniting people of various classes, races, and countries.
Starring Édgar Ramírez in the lead role as Simón Bolívar, the movie takes us through a ride of hundreds of battles spanning massive territories, all for the unwavering goal of being liberated. The movie truly shows the passionate struggle of Bolívar and his army for the dream of an equal and liberated Latin America.
Machuca
Machuca is a story of friendship between two young lads, Gonzalo and Pedro. It is set in the backdrop of Santiago, Chile, and was directed by Andrés Wood in 2004. It portrays this friendship between two classes amidst the political tensions and unrest under the reign of Marxist leader President Salvador Allende in 1973.
In the event of a student integration (from different classes) program, a slum boy Perdo receives a scholarship to attend a prestigious school where he meets the privileged Gonzalo. The two become friends and explore one another's lives. With the ongoing political unrest gradually escalating to a bloody coup, it begins to take a toll on the friendship between the protagonists.
External circumstances of political and economic realities slowly compromise the friendship between the two boys and reshape them. Overall, Machuca depicts the impacts of political events on the personal lives of individuals standing on the polar ends of class difference.
To Conclude
Movie nights at home can be a very fun and enjoyable experience if you can pull it off correctly. If you make the necessary preparations and put in effort, there's no reason for it to fail. Try to get a wide range of snacks and treats and ask your guest(s) to mention their favorites.

Follow Sounds and Colours: Facebook / Twitter / Instagram / Mixcloud / Soundcloud / Bandcamp

Subscribe to the Sounds and Colours Newsletter for regular updates, news and competitions bringing the best of Latin American culture direct to your Inbox.
Share: