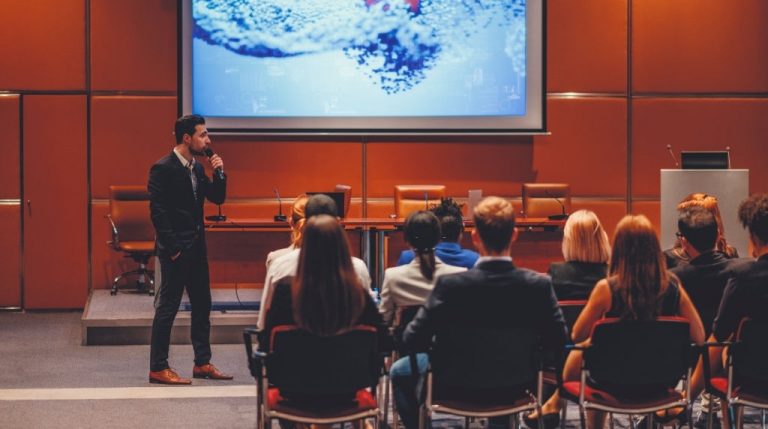 How To Launch A Successful Latin American Conference
30 July, 2020
If you are considering starting a business, then you might want to consider producing a conference. These events not only have the ability to generate a great deal of revenue, but they also provide other opportunities for you to leverage other ventures you are working on.
For example, if you are a musician or artist, then it can provide you a platform to promote your art. Or, if you are interested in entrepreneurship, then running a successful conference can help you gain leverage within your industry. Whatever the reason may be, there are many great benefits to launching your own conference.
That being said, producing these types of events will take a great deal of effort. Here are some of the things you will need to work on when planning your conference:
Establish Your Budget & Objectives
Whether your conference is sponsored or not, you will need to put together a budget. You will need to know where your money is coming from and where it is being spent. Setting a budget will also help you set the price for attending your conference. Here are some of the most common things to include in your budget:
The venue of the conference
Accommodation
Transportation
Restoration
The costs of the speakers
Activities
Marketing
Team members
Preparing a budget with realistic estimates will be of great help to you when looking for a site and negotiating contracts.
Identify Your Theme
Any major conference requires a theme. Whether the event focuses on business, education, or music, you are going to need to focus on one main topic. What message will your speakers communicate and what are the key points for its participants? The best themes are easy to remember, easy to deliver, and they trigger an emotional reaction.
Your conference needs to inspire and stimulate conversation. Your theme must allow this. For example, "Future Trends In Music" is probably a better theme than "Improving music production through increased cross-collaboration". The role of the theme is not limited to bringing together all the participants; it will also guide you in developing your brand and promotion, from designing a logo to creating hashtags for social networks, including printing your posters, brochures and other marketing materials.
Identify & Hire Your Speakers
This is probably the most crucial step after you have identified your theme. Your speakers are the stars of your conference. Your program will need to be solid to attract participants and ensure professional experience.
One sure way to gain momentum is to be the first to book a real speaker who can fill your venue. You are going to need a well known and a respected keynote speaker in their field. Your credibility will be boosted in the eyes of other potential stakeholders and the likelihood of them signing up will increase.
Start by looking for recognized experts who are interested in the same topics as those of your conference. For example, if your conference is focused on business, then make sure to hire a business speaker. Create a prioritized list of potential speakers you would like to invite. Then start making phone calls and sending emails.
Build up your list as you allocate niches to quality speakers. But don't get rid of this list just yet! You will need to provide many emergency responders in case one or more of them desist. You should always have a plan B. You can also consider recruiting local speakers. You will save transportation costs and give your conference a more local and authentic touch.
Put Your Team Together
Chances are you won't organize the entire conference on your own. It would even be amazing if you did. You will need a team of committed collaborators to take responsibility for the different aspects of planning, negotiation and promotion. The core of your team will certainly include:
A planning team – the place where the conference will take place, accommodation, activities, catering.
An administrative team – to manage the budget, participant registrations, ticket sales. This team / person will also be the main point of contact for questions relating to the conference.
A marketing team – to contact the media, create promotional materials, manage your website, blog and social media activities.
A sponsorship team – responsible for finding sponsors, submitting grant requests and raising funds. (Obviously only applies to conferences dependent on external funding).
Volunteers – to help manage all on-site activities on the day of the conference: manage entrances, scan tickets, monitor the guest list, manage locker rooms, guide participants, etc.
Your main job will be to coordinate the team, set priorities, and delegate responsibilities. Keep in mind that as the leader, your team will be following you. They will be looking to your for guidance and motivation. According to Motivation Ping, if you want to keep your people motivated, then make sure you delegate efficiently and acknowledge people for their work.
Create Your Agenda
Now that you have your speakers in place, it's time to put them together into a detailed agenda. Ideally, you should have your agenda in place at least four months before the start of the conference. Remember that the main purpose of your conference is to inspire attendees and broaden their horizons. You will only do this if your participants understand you.
Try to put yourself in the shoes of a typical participant and answer a few simple questions: What knowledge do they already have and what topic would they like to learn more about? What types of sessions (presentations, workshops, etc.) could help them absorb the ideas discussed? This information will allow you to start developing an agenda. The agenda for a higher level conference could be presented as follows:
Day 1:
Introductory keynote speech of the theme by an influential personality
Guest speakers presentations
Common dinner
Day 2 and following days:
Shorter practical sessions and workshops
Networking and team building activities
Final day:
Speech by a motivational speaker to end on a high note.
When it comes to the shorter sessions, you'll be spoiled for choice: small group classes, workshops, interactive sessions, question-and-answer sessions, and more. Their duration will generally vary from 1 to 2 hours and will depend on the theme of the conference. You will also need to decide whether everyone should participate in all the sessions, or if several of them will run in parallel and will then be chosen by the participants based on the topics that interest them most.
Final Thoughts
Organizing a conference can be a great rewarding experience so long as you are ready to roll up your sleeves and work hard. Just remember that the first two years of your event are the hardest. If you focus on putting systems in place, the process will get much easier for you.

Follow Sounds and Colours: Facebook / Twitter / Instagram / Mixcloud / Soundcloud / Bandcamp

Subscribe to the Sounds and Colours Newsletter for regular updates, news and competitions bringing the best of Latin American culture direct to your Inbox.
Share: