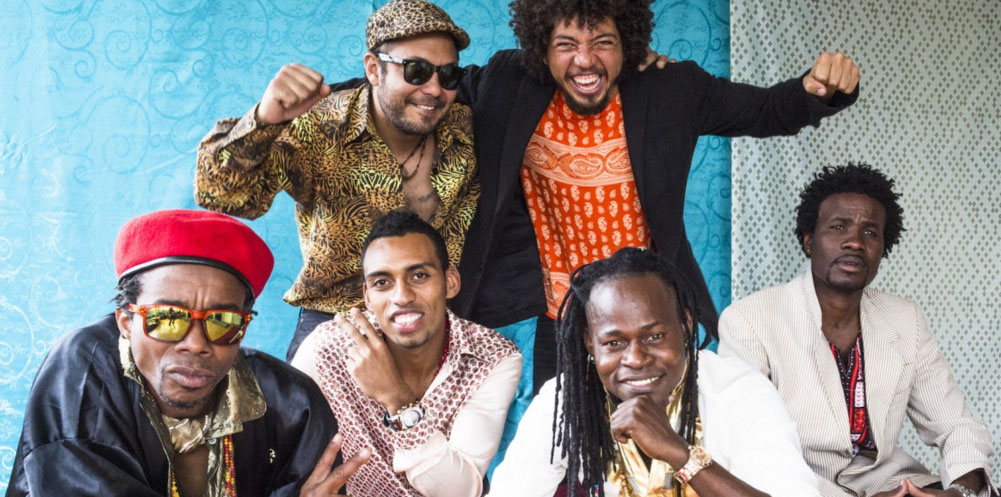 Tribu Baharú
APAP Conference & Global Fest Preview: Top Picks
12 January, 2016
The Big Apple is bursting at the seams with world musicians as artists and performing arts professionals from all 50 United States and more than 30 countries are in town for the next two weeks for the Association of Performing Arts Presenters (APAP) conference. But that's not all. Global Fest, a nonprofit music platform which features a variety of world musicians, will present its 13th annual concert at Webster Hall on the 17th of January.
Taking place from the 15th to the 19th of January, the APAP conference includes more than more than 1,000 artist showcases. As always, there are unofficial shows going on ahead and during the official event since so many music folks are in town. Here are the Latin American performances we're most excited about during these two weeks of Global Fest and APAP goodness:
Thursday, 14th of January
Delsonido at Rockwood Music Hall on Jan. 14: Led by a Colombian, fronted by a Panamanian, and mixed with Colombians and Americans, Delsonido is a lively bunch. They play a couple of sets late (11:30 p.m.) on stage two and are joined by DJ Mickey Perez.
Friday, 15th of January
Buyepongo and Dutty Artz at Meridian 23 on Jan. 15: Our friends at Dutty Artz are co-presenting "Fresh Pan Latino Future Roots" with Kokako Music of the Netherlands, the Global Club Music Network, and the Los Angeles-based Qvolé Collective. This event includes artists and DJs that have been featured or mentioned in the online pages of Sounds and Colours, such as Rafi-El, Atropolis, and DJ Ripley, as well as one we're excited to check out for the first time, L.A.'s Buyepongo, who draw heavily from the merengue, punta, and cumbia sounds from Colombia, Haiti, Belize, Honduras, and the Dominican Republic. (See more of their APAP dates here.)
Septeto Nacional de Ignacio Piñeiro, Battle of Santiago, and Palenque Soultribe, at DROM on Jan. 15: Established in Central Havana as a sextet in 1927, Septeto Nacional is credited with expanding the Son musical style before Arsenio Rodríguez. They're known for adding the trumpet to percussion, vocals, and strings. Toronto's Battle of Santiago play "AfroCuban post rock" (yes, we're curious, too). Old favorites (for us) Palenque Soultribe play the late set at 1:15 p.m. The bands are joined by a host of other emerging world music talents, including French singer Francesca Blanchard, and Haitian roots band, Lakou Mizik.
Saturday, 16th of January
Presented by Barbes and Electric Cowbell, the show will include sets by the vinyl-spinning DJs of Peace and Rhythm. DJs Andujar and Bongohead (real name: Pablo Yglesias) are DJs, collectors, producers, and more. Bongohead, a graphic artist and overall curator of Latin culture, is also the author of Cocinando!: Fifty Years of Latin covers. Their DJ set will include vintage gems from the Afro Latin diaspora as well as new releases from their Peace & Rhythm label. They also play this New Latin Music showcase on the 17th at Subrosa, which will be full of Boogaloo, Cuban dance music, salsa, funk, and world beat rhythms.
Helado Negro at Blue Note on Jan. 16: We're certain is not an APAP show, but being that Helado Negro is amazing, he played APAP shows in 2014, and the Blue Note is a premiere jazz club in New York City, why not spread the word?
Sunday, 17th of January
Tribu Baharú at Webster Hall on Jan. 17: Champeta Afro-Caribeña at Global Fest? Yes, please. Based in Bogotá, but hailing from the Cartagena area, this Colombian band makes their debut in the United States by playing the big Global Fest concert, and we're looking forward to dancing to lively songs such as this one:
Arturo Stable at the West End Lounge on Jan. 17: "MondoJazz: A night featuring live progressive Jazz, Latin, and soul music" is put together by Afrotaino Productions from Philadelphia. The show features Cuban Master percussionist and composer, Arturo Stable, who will debut his new Cuban salsa ensemble, Songosón.
Tuesday, 19th of January

Follow Sounds and Colours: Facebook / Twitter / Instagram / Mixcloud / Soundcloud / Bandcamp

Subscribe to the Sounds and Colours Newsletter for regular updates, news and competitions bringing the best of Latin American culture direct to your Inbox.
Share: