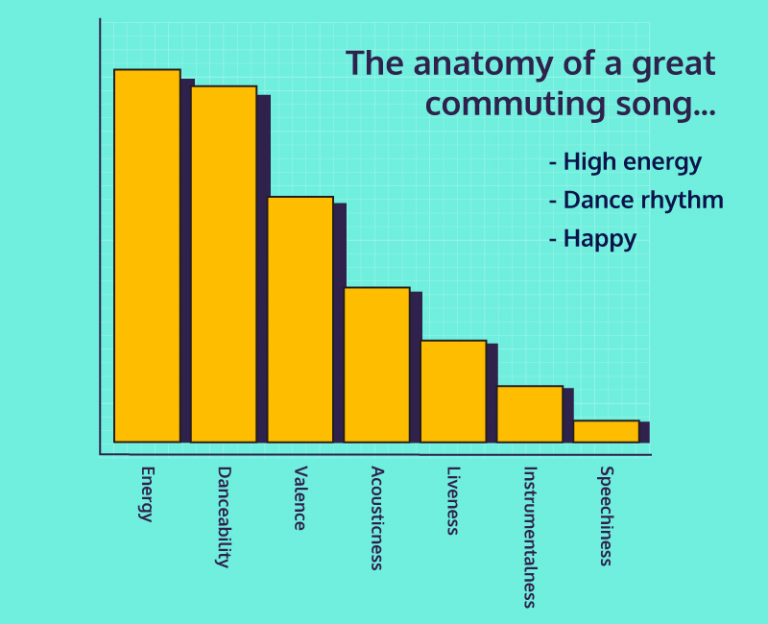 The Ultimate Latin Commuting Playlist
08 September, 2020
As much as you may like your car, one thing we can guarantee is that you don't like having to drive 10mp/h for several hours every single week. Unfortunately, commuting has become an unavoidable fact of life for many of us in large urban areas. Also, it doesn't seem like it's going anywhere anytime soon. In fact, it seems the regular commute is only going to increase in the future.
If you are anything like us, you'll almost definitely want any and every opportunity to listen to some sweet, sweet música. As a matter of fact, Latin music has been a staple on every aficionado a la música ever since the age of Ritchie Valens. And that's why we have assembled the best and most commuter-friendly playlist currently on the air today. Now, let's jump into it!
Maluma — "Hawái"
With his recent VMA win, Maluma has solidified his position as a Latin Pop and Reggaeton legend. Even more, his new single "Hawái" is, on a whole nother level. The question now isn't whether it will become a number one hit, but when. If it continues to gain numbers this fast it may very well become the biggest single, as it's currently the world's second most-streamed song, just behind the monster that is WAP.
It's no secret Maluma has been making rounds all year but, "Hawái" is an incredible leap for him as an artist. The song itself is an age of tale of two ex-lovers entwined in a war of jealousy, with her using a new lover to inflame him. It can hardly get more relatable than that. Hawaiian beaches, with seemingly sarcastic "congratulations" set the tone for the entire track, as an almost fairytale-like love story.
Incredible catchiness doesn't hurt "Hawái," either. Sporting a reggaeton inspired dance beat with a decidedly modern twist to it, incredible hook, and singing so raw you can undoubtedly hear his heartbreak through the entire track — "Hawái" is truly one of modern Latin pop's most moving ballads!
Ricky Martin — "María"
We should all know by now about the absolute legend that is Ricky Martin, but something most of us might not know is his 1995 single "María." Unfortunately, this song gets sidelined and overlooked due to the unimaginable popularity of his other tracks like "Livin la Vida Loca" and "Copa de la Vida."
The song is a story about a genuine and unspoiled love that perfectly matches the lust of falling for someone and just getting to know each other. It's a crying shame it isn't among Martin's biggest hits, because it's such a fun and inspiredly cheerful track with all the hallmarks of a number one hit worldwide. Perhaps with even more charisma than some of his chart-toppers.
In recent years, with the insane resurgence of popularity of Latin Pop, we wouldn't be surprised to see this overlooked classic go mainstream again and hear it on even the most popular commuter playlists sites like Leasefetcher.
Enrique Iglesias — "Bailando"
Enrique Iglesias' "Bailando"still manages to be the No.1 track in the history of Billboard's Hot Latin Songs chart to this day. It rose to numero uno and stayed on top charts for 41 weeks straight, which even modern tracks like Despacito can't do.
So, it's no wonder why the song deserves a spot on any playlist, not just on Latin pop ones. We all remember its unabashed energy. Well, if you were alive in the 2000s and listened to Latin songs.
Shakira — "Hips Don't Lie"
With over 830 000 000 views on Youtube, there's nothing we can say about this song that hasn't already been said. Well, maybe this. Everybody and their momma danced to this song at least once in their life, and even if they weren't born when it came out, they 100% know about it.
Shakira is famous not only for her domination of Latin music but also worldwide pop star and a role model of millions of girls in every country around the globe. Unlike the cuts we gave earlier on the list, this is an unashamed Party jam, no love story included. The pure energy of dancing to the beat and enjoying yourself to the fullest.
A banger by any standards, we think "Hips Don't Lie" stand for much more. The song is an expression of an era when even though the new millennium and wars brought significant changes, we should just all come together now and let our hips do the talking.

Follow Sounds and Colours: Facebook / Twitter / Instagram / Mixcloud / Soundcloud / Bandcamp

Subscribe to the Sounds and Colours Newsletter for regular updates, news and competitions bringing the best of Latin American culture direct to your Inbox.
Share: