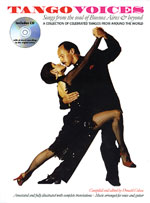 New Tango Voices Book Tells the Global Side of the Genre
19 April, 2010
They say that every fifteen minutes, somewhere in the world, someone is playing Tango Jalousie, one of the most beloved of all tangos. Dizzy Gillespie jammed to it. The British blockbuster film "The Full Monty" includes it. Tenor Placido Domingo recorded it, as did the Boston Pops Orchestra. But it wasn't until influential KCRW DJ Tom Schnabel handed music professor, folklorist and retired attorney Donald Cohen a Vietnamese recording of it that he realized few know its story. In his newest book Tango Voices: Songs from the Soul of Buenos Aires and Beyond, (complete with scores, lyrics, and a CD recording), readers have a chance to both hear and learn the stories behind the Danish-composed, Khanh Ly-recorded Vietnamese translation of the English lyricized tango favorite.

But where, many shocked tango aficionados may ask, is Argentina—land of the tango—in all of this? Tango today reaches far beyond its birthplace in the late 19th century slums and outskirts of Buenos Aires, the then thriving immigrant center of Argentina, but has never lost touch with the global roots that made tango what it is. Carlos Gardel, tango singer extraordinaire, longs for his "beloved Buenos Aires" ("Mi Buenos Aires Querido") in the same way that Algerian singer Lili Boniche laments his lonely, dried-up wandering in Allah's land ("Ana El Owerke") or that Finnish singer Sanna Pietiäinen yearns for the "happy isles…over the high seas" ("Satumaa"). Tango Voices explores the human elements that make tango translatable almost anywhere.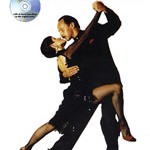 Cohen's tango journey begins with the diverse mix of ethnicities and cultures that populated Buenos Aires around the turn of the 20th century. Many of the tango cancións, or tango songs, in Tango Voices capture the historical moment through their lyrics, a prime reason editor and compiler Cohen chose to focus his tango study on the vocal aspects. "Lyrics are an insight into a culture," he says. "Words reflect the people, thought, environment. It is also true of tangos in other parts of the world. It's a picture of how the world was to them at the time".
It's how "Papirosn" found its way into the book. Not intending to include a Yiddish tango, Cohen couldn't resist when he heard a rare tango version of this Polish-Yiddish song—originally a dance tune—by Zully Goldfarb. Papirosn is the Russian, Polish, and Yiddish word for "cigarettes" and the song tells of a poor boy trying desperately to sell his  meager stock of cigarettes and matches. But the word "papirusa", adopted  from the same source, also means "beautiful woman" in the lunfardo dialect, a mysterious linguistic mixture of immigrant languages and native slang in Buenos Aires connected with the lower classes, most likely referring to the beautiful, mainly Polish immigrant women that worked in Buenos Aires as bar hostesses and prostitutes in those early days.
Other songs paint vivid pictures of daily life in the outskirts, from the tale of lost love in "Caminito", one of the most well-known Argentine tangos, to the desperate, hard-fought struggles for existence in "Yira, Yira" or "El Bazar de los Juguetes", to the sordid lives of pimps, prostitutes and drinking in "Mi Noche Triste." Cohen says that these gritty, aural biographies bear some resemblance to other "port musics" of the world, including fado, New Orleans jazz, and Greek bouzouki music: "All of these musical forms started out in the docks, the houses of ill repute, the bordellos, the little mean bars." And they were all "made respectable. There is a relationship between all of them."
Though he doesn't dance tango, Cohen is no stranger to exploring linkages between popular on-the-street music forms. He's been doing it for decades, from his discovery of foreign and American folk music as a youngster in New York City, which led to his exploration of country-western recordings, and then on to his collection of early African-American recordings. In California, he continued this exploration with Greek, Spanish, Yiddish, Russian and Yugoslav songs. He eventually took up the guitar while studying in California, and continued mining musical gold,  performing with various international folk ensembles and, on occasion,  participating  in informal events in which  prominent folk performers might appear, such as Guy Carawan, Woody Guthrie, and Odetta. He subsequently spent several years teaching guitar at UCLA, as well as privately.
While at UCLA Cohen performed with the folk music and dance group that would evolve into the popular Aman Folk Ensemble and later played major folk and blues clubs, accompanying prominent performers in concert and dates in celebrated venues such as the famous Lighthouse in Hermosa Beach.
His discovery of tango is thanks to the Argentinean side of his family. His mother migrated to America when she was only 14, and though Cohen never visited Argentina as a child, he knew that she and the older generation in his family loved  tango. While visiting there for the first time as a lawyer, relatives (one of whom was a leading impresario who helped book everything from Rolling Stones to Disney shows in Argentina and also launched Mercedes Sosa's return from exile) introduced him to some great old tango recordings. It was then that he knew there was much more to tango than dance, much more than even most die-hard tango lovers outside Argentina knew about.
Yes, Astor Piazzolla, Carlos Gardel, and the seductive styles of the dance form may forever solely represent tango in the minds of many. But as for the many other tango greats, Tango Voices exposes the humanity behind them. There is the shy, 16-year old Uruguayan student who sold his rights to a march he composed, not realizing that it would go on to become one of the most widely recognized tangos of all time; the Viennese lyricist who likely marched to his execution at a Nazi concentration camp to the strains of his own tango (thanks to an earlier global tango craze that had even stormed Germany); the mysterious, as-yet undiscovered object of affection in "Malena"; and the celebrated tango vocalist who left the profession after a bitter breakup with her married lover to become a secluded nun. By compellingly telling these little-known stories (accompanied with historic audio recordings and eye-catching photographs for the fan and music scores for the aficionado), Tango Voices tells the musical and global side of the genre like never before. Forget the dance shoes, there's enough behind-the-scenes drama here for even the most ardent of lovers.
Provided by World Music News Wire

Follow Sounds and Colours: Facebook / Twitter / Instagram / Mixcloud / Soundcloud / Bandcamp

Subscribe to the Sounds and Colours Newsletter for regular updates, news and competitions bringing the best of Latin American culture direct to your Inbox.
Share: