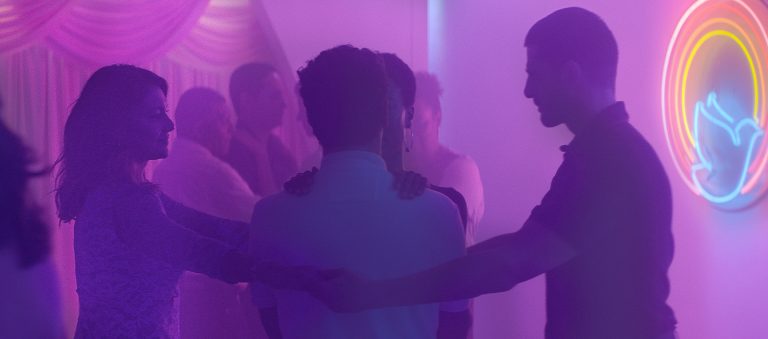 5 Great Latin American Films of 2020
23 December, 2020
In spite of the barrage of setbacks and postponements that hit the entertainment industry—and ultimately the forced revaluation of the future viability of theatrically-releasing titles in a world ravaged by a pandemic—movies that don't entirely rely on box office still lit up our (small) screens this year. Among those, Latin American film continued to make waves at home and abroad with challenging stories from artists with sharp perspectives that peer underneath the surface on sociopolitical issues. Out of the large pool of releases that came out this year, these five standout selections highlight voices sharing specific stories with global appeal.
Divine Love (Brazil)
For his new feature, Divine Love, director Gabriel Mascaro (Neon Bull) paints a near-future vision of Brazil that warns about religious ideology infiltrating secular society. In this alternative, but not entirely unfeasible, reality an evangelical rave has replaced carnival as the South American country's biggest party. Here, Christianity has been so utterly commodified that one can use a drive-through setup to get spiritual counselling from a pastor. There's a satirical quality to Mascaro's writing that shines as the plot veers into absurdity. Abusing her position as a bureaucrat, Joana (Dira Paes), a devout woman, preys on couples trying to file for divorce and encourages them to visit Divino Amor, a cult-like group that can help rekindle the flame in their relationship. Besides the Bible's teachings, their radical interpretation of the scripture allows for extramarital sexual encounters if it means saving the sacred bond of marriage. To call the film provocative is an understatement. Neon-drenched, the visual aesthetic courtesy of Mexican cinematographer Diego García provides an alluring atmosphere as Joana, desperate to become pregnant, realises she may be the vessel for the ultimate miracle.
I'm No Longer Here (Mexico)
Set amidst the Kolombia subculture of Monterrey, Mexico, this coming-of-age drama from film-maker Fernando Frías de la Parra serves as a window into a previously unseen identity born out of intermingling influences. Known as kolombias or cholombianos, the young people portrayed exhibit fashion and linguistic traits lifted from cholo culture in the United States. Most key to their worldview are the cumbias rebajadas, a slowed down take on the famous Colombian music genre. In Frías de la Parra's fiction, our guide through this is Ulises (Juan Daniel Garcia Treviño), the teenage leader of the Terkos, a gang that provides kids with a sense of community in a violent and impoverished environment. Introspective and inventive in its execution, I'm No Longer Here takes on the form of an immigration narrative when the protagonist runs away to New York City to save his family's life. Isolated from those who validate him, Ulises is forced to look at his life with hard-earned perspective, while trying to hold on to some of the superficial aspects that have defined him. Garcia Treviño, a first-time actor from the same areas where the movie takes places, delivers a superb performance in a one-of-a-kind exploration of the perils of growing up.
READ: 'I'm No Longer Here': A Coming-Of-Age Story About Music And Migration (REVIEW)
La Llorona (Guatemala)
To discuss the genocide committed against Mayan Indigenous people in Guatemala during the regime of dictator Efraín Ríos Montt, acclaimed auteur Jayro Bustamante resorted to the horror genre. In La Llorona, the storyteller repurposes the legend of the Weeping Woman, popular across Latin America, and presents the folk character as an avenger for all those murdered. Bustamante centres his story inside the home of the ageing tyrant (under a different name), where he and his family must grapple with the past and the nation's collective anger. The ghostly entity, cleverly presented in an ambiguous manner, haunts them to demand justice in a movie that operates as both political allegory and effective scary flick. With La Llorona, the astute director completes a trilogy that tackled major social issues in his Central American homeland, and continued his working relationship with Indigenous actresses María Mercedes Coroy and María Telón—who starred in his debut Ixcanul. The significance of this piece is such that Nobel Peace Prize laureate Rigoberta Menchú, a survivor of the very atrocities the plot interrogates, has wholeheartedly supported it and even has a cameo in a crucial sequence.
READ: Oscars 2021: Latin America's Contenders
Los Lobos (Mexico)
Tender like few other stories about immigration, this hybrid delightful tale by Samuel Kishi follows two young Mexican brothers and their mother as they begin a new life in Albuquerque, New Mexico. Taking on multiple jobs to stay afloat, Lucía (Martha Reyes Arias) leaves Max (Maximiliano Nájar Márquez) and Leo (Leonardo Nájar Márquez) alone for most of the day in a sparsely furnished apartment. She has promised to take them to Disneyland soon, even if that's clearly not financially viable for them. Banking on their imagination, the energetic boys make a magical kingdom out of their four walls, unaware of the challenging neighbourhood affected by addiction and poverty outside. Through the use of wonderful animation, stylised to give the impression of having been drawn by the young leads themselves, we get an insight into these children's minds as they fight villains in the form of their animated alter egos: small ninja wolves. Kishi never dwells on their circumstances and observes the characters, and the real people in the area where he shot the project, with a hopeful and compassion gaze. It's a cinematic hug as heartwarming as they come.
READ: 'Los Lobos': Brothers Fend For Themselves In A Mexican Equivalent To 'The Florida Project' (REVIEW)
The Mole Agent (Chile)
A geriatric take on James Bond, this endearing Chilean documentary introduces us to the charming spy we didn't know was missing from our lives. Seasoned director Maite Alberdi crafts a film noir atmosphere through the visual aesthetic and the score, for a rather unique use of the non-fiction medium. Private detective Rómulo Aitke needs an elderly individual to infiltrate a retirement home and find out if one of the women there is suffering from any abuse. In comes 83-year-old Sergio Chamy, a widower eager for purpose who is willing to take on the mission. From inside, he must report on the dynamics at play between staff and residents and make note of anything out of the ordinary. Being the suave new guy, he quickly becomes an object of desire for the numerous ladies there (who outnumber men 10 to 1). While he develops meaningful friendships, a profound realisation about growing old and loneliness becomes apparent for both him and the viewer. As hilariously entertaining as it is thoughtfully bittersweet, Alberdi's latest film resonates with relatable truth despite its unusual premise.

Follow Sounds and Colours: Facebook / Twitter / Instagram / Mixcloud / Soundcloud / Bandcamp

Subscribe to the Sounds and Colours Newsletter for regular updates, news and competitions bringing the best of Latin American culture direct to your Inbox.
Share: