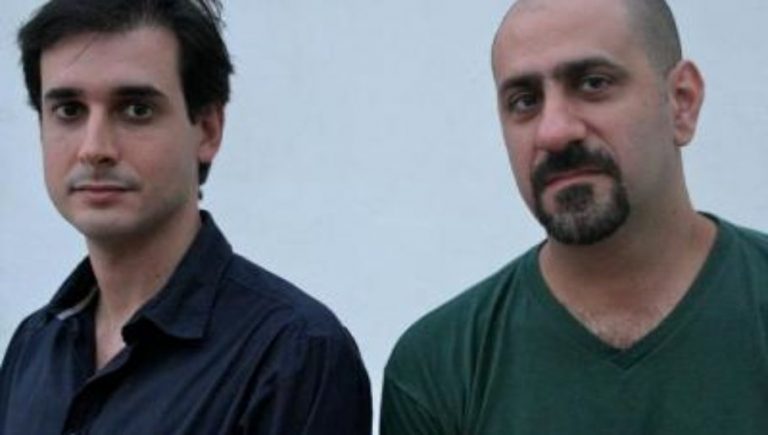 Directors Ricardo Calil and Renato Terra, photo courtesy of CinemaEscrito
54 Days With Caetano Veloso: Ricardo Calil and Renato Terra discuss the making of their documentary Narcissus Off Duty
17 August, 2021
The documentary Narcissus Off Duty (2020) is a deep dive through Caetano Veloso's own oral history into his imprisonment from the Brazilian military dictatorship in 1968. It is a minimalistic and poignant film based mainly on Veloso's account of the event and was recently shown at the 2021 Sheffield DocFest.
Sounds and Colours caught up with directors Ricardo Calil and Renato Terra to discuss their third feature (following their previous co-directed films A Night in 67, 2010 and I am Carlos Imperial, 2016). The interview took place before the tragic fire in one of the warehouses of Cinemateca Brasileira on 29th July 2021. The Brazilian Cinematheque is based in São Paulo and is responsible for the preservation and dissemination of the largest document and film collection in Latin America. An estimated four tonnes of material were destroyed, and the fire was attributed to poor maintenance due to lack of funding by the state. Even though this event couldn't have possibly been addressed in the interview, the value of documenting memory is patent throughout it and in the projects that our interviewees chose to direct.

S&C: Caetano Veloso was one of the subjects you interviewed in the documentary A Night in 67. Did that first experience somehow lead to the making of Narcissus Off Duty? How did the idea for the latter feature come about?

RT: Yes, it did. I was in an artists' meeting at Caetano's house and he remembered the interview for A Night in 67. When his wife and producer Paula Lavigne had the idea of making Narcissus Off Duty, she invited me and I asked Calil to join in.

RC: The idea of making Narcissus Off Duty came when Caetano decided to release as a separate book the chapter about his imprisonment in the biography Tropical Truth: A Story of Music and Revolution in Brazil (1997). Finding the official reports from the Brazilian dictatorship about his arrest also helped in the decision to make the film.
S&C: What was it like to interview Veloso a decade after you had done it for A Night in 67?
RT: Caetano is one of the great Brazilian heroes. Hearing him is always enchanting. Narcissus Off Duty refers to Caetano's arrest in 1968. It is a kind of continuation of A Night in 67, which portrays the festival that revealed Caetano to Brazil. Between 1967 and 1968, Caetano and Gil revolutionized music and customs in Brazil. This, in the end, was the reason that led the Brazilian military dictatorship to arrest them.

RC: Listening to Caetano is always a privilege. Not only because of his importance within Brazilian culture, but because he is a great thinker of Brazil. Narcissus Off Duty allowed us to delve even deeper into Caetano's memories, as the film is only with him and about 54 days of his life. His memories are so vivid and, at the same time, so cinematic. For us it was a moving experience.

S&C: The interview was filmed at Cidade das Artes (City of Arts), a cultural complex located in Rio de Janeiro, in a room with concrete walls. Was there a particular reason for choosing this location?

RT: We thought the interview environment would be important to help us tell the story. When we saw that huge grey room, we thought it would be ideal. It was a setting that made reference, even poetically, to a prison. And that grey immensity made Caetano even lonelier.

RC: Paula Lavigne suggested filming in this never-finished space in Cidade das Artes, where she had already made a video. By a happy coincidence, the place would be a movie theatre that was never finished. And, years later, we put it to cinematic use.

S&C: Whilst on A Night in 67 you made use of archive footage, on Narcissus Off Duty you didn't utilise such artifice, only showing some still images as part of the film's epilogue. Could you tell us about these choices?
RT: In the case of A Night in 67, the story was of a festival that revolutionised Brazilian music. Archive images have a strength that justifies the film. And the interviews, carried out 40 years later, provide an overview of the passing of the years and show how that festival has withstood time.

RC: On the other hand, Narcissus Off Duty was about a non-media event, hidden by the dictatorship, not covered by the press. It was a lonely, painful event of confinement and isolation. And we thought it made sense that everything came from Caetano's memories, not from external elements. The film invites the viewer to spend an hour and a half inside Caetano's head, inside that cell. And we believe that this experience leads them to think about the horror that was the Brazilian dictatorship in that period.
S&C: The story Veloso shares before there's a fade out which then cuts to his performance of 'Hey Jude' was the film's most poignant moment to me. Was there any story that he shared whilst being interviewed, or any moment during filming, that particularly moved you?

RC: Personally, I am always very moved when I hear that same story, about the sergeant who was arrested for allowing Caetano to meet in the cell with Dedé, his wife at the time, It was in that cell that Dedé gave him a copy of the Manchete magazine with the photos of Earth taken from space, which inspired him to write the song Terra ten years later. Upon receiving the magazine from us with those photos and remembering the story of the sergeant, Caetano was deeply moved. And I think it moves a lot of people who see that moment in the movie.

RT: Caetano hadn't seen those photos for 50 years. A lot went through his mind there. It was very beautiful.

S&C: What is the importance of this story being disclosed?
RT: It is very important to remember how cruel the Brazilian dictatorship was. Caetano's account is full of details and indisputable evidence. Fortunately, Caetano was not tortured. Many Brazilians were arbitrarily arrested, tortured and killed by the military dictatorship.

RC: At this moment in time – in which we live under the threat of a new authoritarian regime, in which we have a president like Jair Bolsonaro and in which part of Brazilian society misses the dictatorship – this is a story that needs to be even more remembered and debated.

S&C: Do you have any upcoming projects that you could tell us about?
RT: I'm going to make a film about [Brazilian singer and composer] Belchior's album Alucinação (1976).

RC: I am working on a documentary project with two other friends, Camila Appel and Pedro Bial, about how a gravedigger who graduated in Philosophy has faced the pandemic in São Paulo.

Follow Sounds and Colours: Facebook / Twitter / Instagram / Mixcloud / Soundcloud / Bandcamp

Subscribe to the Sounds and Colours Newsletter for regular updates, news and competitions bringing the best of Latin American culture direct to your Inbox.
Share: